Within the past couple of years, innovations under the blanket moniker "fintech" have taken international banking and technology industries by storm — and Kansas City is no exception.
But, many ask, what exactly is it?
The term "fintech" originated as an abbreviation for "financial technology" and encompasses a wide berth of processes, including payment exchange systems like PayPal and Venmo, artificial intelligence and any tech related to digital, online or mobile financial transactions.
Over the past few years, in-bank interactions have dropped dramatically in favor of digital and mobile transactions. A 2017 survey from financial services and technology firm FIS found that 72 percent of bank transactions are performed digitally, and that rate has only increased with the momentum of financial technology.
Fintech startups also have hit a meteoric stride in the U.S. over the past two years. While 2017 saw only three fintech exits, reports from Forbes and TechCrunch estimate 40 accelerators valued at $100 million in equity funding for 2019, continuing growth trend in the fintech sector over the last year.
While big coastal cities currently dominate the fintech sector, both in size and revenue, Kansas City's community banks have claimed their own spots at the table, bringing partnerships and much-needed innovation to local businesses.
The community bank charge
Over the past year, two major trends have emerged in the arena of Kansas City fintech: Relationships between banks and fintech companies have accelerated, and it's primarily community banks leading the charge.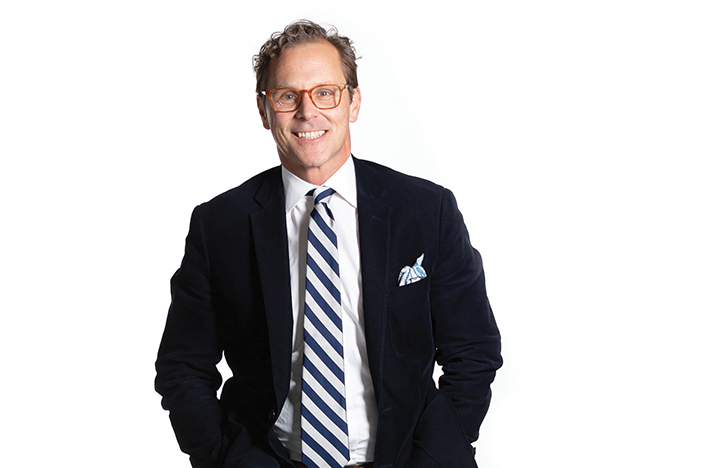 "Our partnerships here with fintech companies are part of that recognition that traditional banks can benefit from services, and that fintech companies really need the operational powers to deliver their services to customers," Lead Bank's CEO Josh Rowland said. In 2018, Rowland was named as one of the 10 Most Innovative CEOs in Banking.
The relationship between banks and fintech companies wasn't always so symbiotic, most banks will admit. There's been a long history of animosity between the two industries based on mutual distrust and competition.
But that's changing in Kansas City, and rapidly.
"In the last two years, fintechs have realized they need banks to scale up projects and launch products," said NBKC's CFO Eric Garretson. "And likewise, banks have realized this technology is here to stay and asked themselves, 'Is there a way to leverage through a partnership and benefit ourselves because of this relationship?'"
Although many of the largest financial services institutions in the U.S. have a presence in Kansas City, it's community banks like NBKC and Lead Bank that have stepped forward to establish relationships with fintech startups and products.
"Community banks have the best of both worlds because we can really build a sizable business but stay small and nimble, and move quickly enough to partner with a lot of these groups," said Zach Pettet, managing director of NBKC's Fountain City Fintech accelerator.
Rowland added that for many community banks, these working agreements with fintechs are value-based, as community banks go to bat for what they believe are in the best interests of their local clients.
"A lot of fintech innovation that's being led by mega corporations and huge banks, they're not approaching financial services from the standpoint of the responsibilities of community banks," Rowland said. "It's our responsibility to provide economic development in the communities in which we're situated.
"Our role is to put community banking and development at the heart of all our fintech work," he continued. "We approach our fintech partners with a perspective of: Is this fair service and ethical practice? Is this fitting for a community bank to do?"
Parker Graham, CEO of startup Destiny Wealth — a participant in the Fountain City Fintech accelerator — said he foresees that in the course of the next year or so, traditional banking services will continue partnering with fintech companies.
"I think we're starting to see a more symbiotic relationship there," Graham said. "I think, more and more, we'll see banks and fintech companies approach partnerships through a 'let's get better together' attitude to help clients and consumers."
'More than a cow town'
Fintech is still a relatively novel development in the world of financial services, which places NBKC and Lead Bank in the visionary but frustrating position of seeing Kansas City's potential as a fintech hub — and its shortcomings.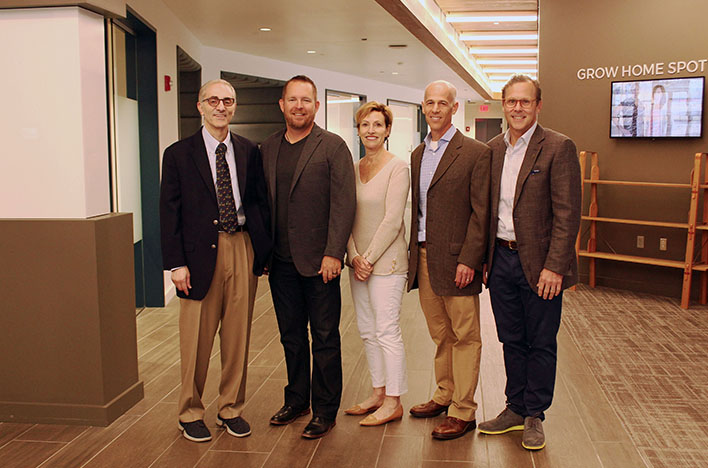 "We're still in the second inning of a nine-inning baseball game when it comes to fintech," Pettet said. "But I think large companies have started taking action to understand the market, and they're getting involved in the conversation."
Rowland also has observed the slow traction in Kansas City's fintech wave, despite last year's momentum.
"We have multiple globally powerful institutions and financial services here, which are the seedbed of financial services innovation," Rowland said. "We should be taking advantage of the local resources. We could be doing much more."
Although KC may be slow out of the gate when it comes to a cohesive fintech movement, NBKC and Lead Bank's accomplishments in the past two years have attracted attention from both coasts.
"We've gotten a lot of questions from people all over the country that didn't even think of Kansas City as a city four months ago," Pettet said. "It's changing our brand as a city nationally.
"We're starting to pick up some momentum as being more than a cow town."
Accelerating fintech: Fountain City Fintech
In 2018, NBKC hosted for the first time its accelerator Fountain City Fintech, which onboarded six entrepreneurs to grow their fintech startups over the course of 75 days. American Banker and Source Media recently recognized the program as one of the 50 best fintechs to work for in the U.S.
Most programs take anywhere from 12 to 36 months to implement within a company. NBKC's took three.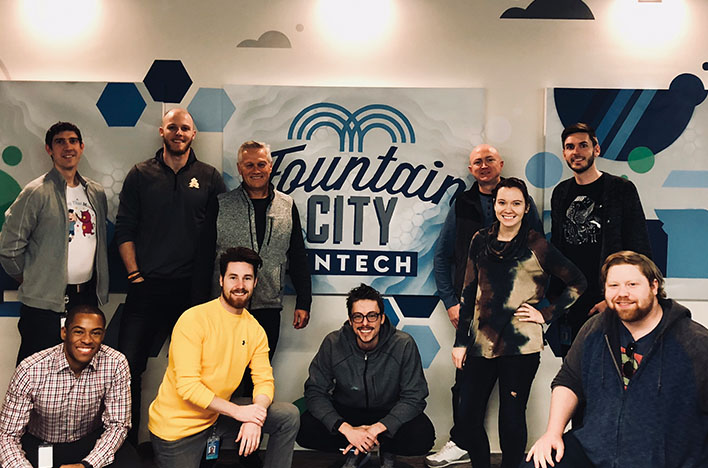 "It was a small miracle to some degree," Pettet admits. "Our timeline was pretty much unheard of."
Pettet and Program Manager Megan Darnell began work on the program in May, then selected its entrepreneurs from all over the country. According to both the program directors and participants, the hands-on, individual attention that Pettet and Darnell dedicated to each founder was crucial to the accelerator's success.
"We see our founders first as humans and then second as business owners, so the ability to relate personally to each and every one of them broke down barriers extremely quickly," Darnell said. "This led to a much more successful 75-day accelerator."
Pettet and Darnell launched a demo day in December to showcase the products and progress of its founders. Both enthusiastically insist that the program's breakneck pace and clean success wouldn't have been possible without NBKC's unique company culture.
"It wasn't going to be your cookie-cutter accelerator from the start because of who we were as a company, but we wanted to make sure we provided the most value to these founders at the exact stage they were in at the moment," Darnell said.
Successful starts: the fintech side
Three of Fountain City Fintech's founders spoke to Thinking Bigger about their experience with the accelerator, the big starts for their companies and Kansas City's next moves in fintech.
ONWARD FINANCIAL INC.
For Fountain City Fintech alumnus Ronnie Washington, it's been a year of wins.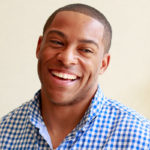 Headquartered in Washington's hometown of Washington, D.C., Onward Financial Inc. is a nonprofit employer-based savings and credit app that helps workers save directly from their paychecks into an emergency savings account, promotes financial literacy and offers capital access to clients in case of emergency.
"We want to provide a sustainable way to build up a financial cushion — that's essentially our mission," Washington said.
Shortly after Washington graduated from NBKC's accelerator in December, successes started rolling in for his startup, Onward. In early December, Washington received a $1 million grant (along with $40,000 in technical assistance) from the Rockefeller Foundation and the Chan Zuckerberg Initiative as part of the Communities Thrive Challenge.
In January, Onward won an exclusive spot in New York-based Financial Services Lab (FinLab), headed by JPMorgan Chase and the Center for Financial Services Innovation.
The program, which provides its members with $125,000 in capital plus partnership and mentorship opportunities, selected only five U.S. startups.
Washington said something special is happening with financial innovation in Kansas City.
"The number of community banks in the area lends itself to a lot of conversation about innovative ways of doing banking products, especially for vulnerable, marginalized or forgotten communities," Washington said.
"I'm from D.C. and I went to school in the Bay Area. That level of access, plus the community's willingness to open up a network to new startup founders, is really powerful and really hard to come by on either coast.
"Having been in Kansas City, I haven't found that culture anywhere else."
DESTINY WEALTH
A former Baltimore Ravens player and now financial adviser-turned-entrepreneur, CEO Parker Graham started his company Destiny Wealth to help clients strategically overcome their unpaid debts.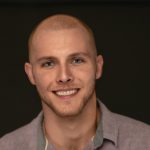 Graham was inspired to start the business after watching his mother, a nurse, struggle with mounting debts for several years of his childhood.
Destiny is a mobile debt-optimization app that helps users calculate, step by step, how much money they should spend on debt payoffs. Debt optimization takes money already being used to make payments and automatically reorganizes it to show users how to pay off debts as efficiently as possible.
While Destiny's model is user-friendly for any age, Graham particularly hopes to help millennials, of which a staggering 46 percent already experience credit card debt.
Already, Destiny is making massive strides, saving users on average $3,000 a year.
"(Destiny) allows us the ability to impact a whole lot of people in a short amount of time," Graham said. "We're already seeing the benefits and impact from that at a very quick pace."
Graham describes his 75-day tenure at the NBKC accelerator as "fantastic" and "a breath of fresh air," largely due to NBKC's character-focused company culture and the resources provided for entrepreneurs. The program was monumental to fast-tracking Destiny for success.
"If we hadn't had that program or the events it put on, we wouldn't be where we are today," Graham said.
Graham sees the destiny of Kansas City fintech as a bright one and said he thinks that the community's openness and hunger for new technology and businesses will be key to future innovations.
"You can win in finance and fintech here in KC, and we're just getting started," Graham said. "We're lucky to be at the ground level of what's happening here, and hopefully we can be one of the success stories. We hope we can provide people with a model that really changes the way they look at debt."
DIGS
Buying a home doesn't have to be difficult; just ask CEO Pat McLoughlin, who's expanding financial literacy on the very subject.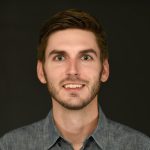 McLoughlin was inspired to start his mobile app Digs after buying a house at age 25 — and watching his friends of the same age fumble through the process.
Digs is an educational home savings app that helps new home-buyers save for a new house while learning about the buying process. Digs also contributes funds specific to home-buying for its users.
McLoughlin thinks the app will have a significant impact on millennial users, as many are entering the home-buying phase of life.
"Our app puts homebuyers on the journey of making safe financial decisions; it helps them put away money in a slow fashion," McLoughlin said. "And while they're saving, they're learning about things that will ultimately make them better buyers down the road."
"Digs can really improve financial literacy when it comes to the millennial generation and everything real estate-related."
For McLoughlin and his co-founder Chad Johnson, NBKC helped connect them with resources they were missing as a team focused in fields of real estate and technology. It allowed them one-on-one experience with an executive team and bankers that educated his business on the regulatory aspects of operating a fintech company.
McLoughlin credits Kansas City's openness toward startups as key for the accelerator's success. After struggling with an exclusive startup culture in Chicago, it was a relief to find a program like NBKC's.
"Both the city and NBKC were very receptive to listening to the struggles that a lot of fintech companies face getting into the industry, and its program is built around that: making it easier," McLoughlin said.
Moving forward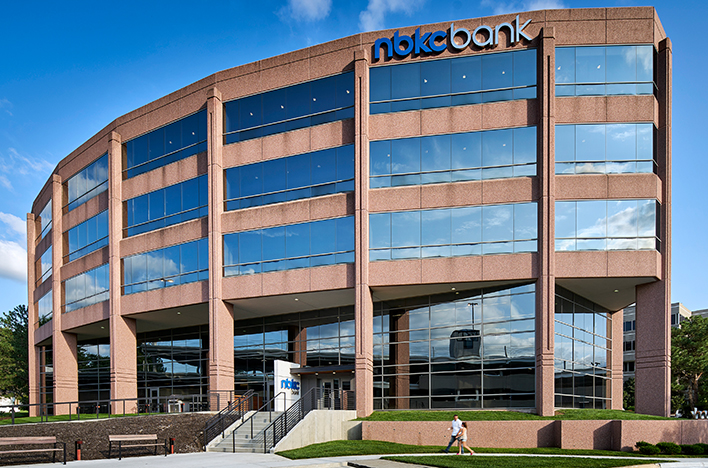 Going forward into the new year, both community banks have big plans on the fintech side: Rowland says Lead Bank is in the development process for at least three to five new fintech pair-ups, and the company plans to expand the services it offers through traditional banking products.
"We want to make sure that we continue to serve clients in a community bank-focused kind of way," Rowland said. "We have to keep innovating to make sure our community gets the services it needs."
NBKC also is looking to expand its partnerships, both in and outside of the accelerator.
Thanks to Fountain City Fintech's success in 2018, Pettet and Darnell are already making plans for 2019 — with the caveat of promoting more businesses based right here in KC.
"We love that we're able to bring outside companies and keep them here," Pettet said. "But imagine who we could be and how much we could grow as a city if we actually started these companies in our own backyard."