Last month's Super Bowl was once again a stunning visual masterpiece worthy of your biggest screen TV.
The high-definition close-ups. The incredible wide-angle action shots. The concert-level halftime show.
The NFL's leading-edge videography is a big part of the reason we keep coming back for more year after year.
While we're enjoying the Super Bowl and other football games throughout the season, we may not think too much about what's going on behind the scenes to deliver this content to our TVs and digital devices.
But the NFL is thinking a lot about it and making massive investments to ensure it can meet viewers' ever-increasing demand for high-quality video content, not just on game day, but every day.
Why? Video pays off big time in both ratings and revenues.
In September, the league opened its new West Coast headquarters near Los Angeles, complete with almost 75,000 sq. ft. to house NFL Media.
Sports Video Group called the facility "one of the most state-of-the-art IP-based, 4K- and HDR-capable production facilities anywhere on earth," and, according to the Los Angeles Times, the control room's 12-foot wall of HD screens "can simultaneously display 253 different video feeds, including shots from the 30 NFL stadiums."
In addition to NFL Media's new-and-improved production capabilities, each team in the league has its own media and camera departments, and we can't forget about the legendary NFL Films division, which is located on the other side of the country in Mount Laurel, New Jersey.
Together this enterprise is cranking out digital video products watched by hundreds of millions of users worldwide, including on NFL mobile apps installed on tens of millions of devices.
As the league does this, the bottom line is improved all the way down the line.
For example, Miami Dolphins CEO Tom Garfinkel reported a $4 million increase in season ticket sales resulting from social media leads, along with significant growth in digital and social-sponsor revenue, after the team began prioritizing video content.
"It's a consequence of an investment in building a creative … infrastructure. It's not as simple as just hiring a young social-media manager and posting more on Instagram," he said in Inc.
So let's see what lessons we can take from a best-in-class performer like the NFL when it comes to the video needs of local small businesses that may have nothing in common with a professional sports behemoth.
High-Quality Video Is Sticky
It's one thing to read a well-written recap of an exciting Chiefs win. It's another to see a one-minute video sizzle reel of the game's biggest tackle, touchdown pass, and turnover.
The video will have you texting your friends the link with a comment like, "Did you see this catch? Mahomes!!! Tyreek!!!"
By definition, you want your marketing and advertising to be memorable. And with the way our brains are wired in the visually dominated landscape of 2022, video can be an incredibly powerful way to get your marketing messages to stick in the minds of your customers and potential customers.
People expect video. People love video. People remember video.
High-Quality Video Crafts an Image
You watch a local Friday night newscast and see a few highlights of games played by area high school football teams. Then on Monday morning, you check an app on your phone for highlights from your favorite NFL team's game the day before.
It's the tale of two video experiences: amateur vs. professional.
The same holds true for business videos. With high-quality video, you are better positioned to create the impression you intend.
Your video may be funny or pull at heartstrings, promote a product or craft an image. Goals vary, and professional video allows you to deliver a wide range of messages to advance those goals — without undermining the effort with poor quality that distracts the viewer.
With well-done video, you can have an upstart law office of three project an image of a larger, more established firm. With well-done video, an obscure small business owner can emerge as a trusted subject-matter expert. With well-done video, a tired product that's been around for decades can be presented in a brand-new way to the next generation of potential buyers.
High-Quality Video Pays Dividends
For most small businesses looking to grow, it's no longer a question of "if" you're going to incorporate video into your sales, marketing, and employee training activities. It's just a question of "how."
With online video content now comprising a huge majority of all consumer internet traffic, there's no denying the sea change has occurred. The NFL was way ahead of the curve on this, perhaps due to the nature of its industry, but the league refuses to rest on past success.
Instead, it continually strives to embrace the new technologies and platforms customers are flocking to, and it works hard to provide the most compelling visual content to stay competitive there. The NFL understands that quality video is a big driver of its popularity, and what it spends on video comes back many times over in revenues.
Just because you don't have access to the studios of NFL Media doesn't mean you can't produce superb quality video that will pay dividends for your business, too. You can start by partnering with a local professional video production partner who has many of the same high-end tools used by the big dogs but on a scale appropriate for small business projects and budgets.
A local video partner that has the right equipment and software, and deep experience in the field, can expertly apply those tools and skills to help you achieve your company's revenue goals. Let them make you look good.
Here's the game plan: To score your company's next big win, don't be daunted by the NFL's video razzle-dazzle. Learn from it. Be inspired.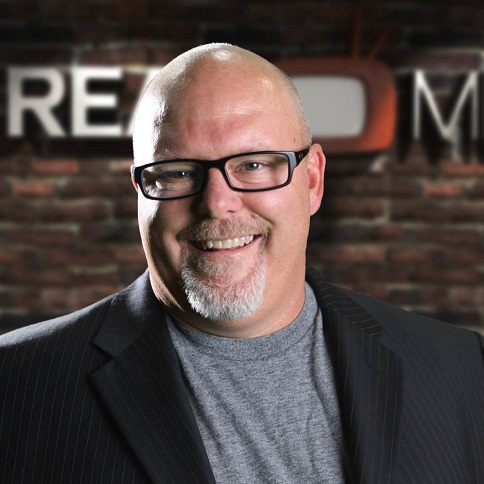 Brad Burrow is co-publisher of Thinking Bigger and founder of Real Media, a video, VFX and design firm in Overland Park, Kan.