How do good ideas become great businesses?
When you consider the odds against success, it's practically a miracle that anything gets invented.
Each year, more than 600,000 patent applications are submitted to the U.S. Patent and Trademark Office. Maybe half will be approved. A much smaller percentage become full-fledged, viable products—3 percent is one number thrown around on inventor blogs.
That's because creating a product comes with challenges that never pop up for entrepreneurs who are, say, starting a service business or opening a retail shop.
"I think a lot of us have that inventor in us," said Steve Pope, the CEO of local product development firm R2FACT (pronounced "artifact"). "It's whether you really go do something about it is the difference."
Not only do they have to come up with a verifiably unique idea, inventors must build polished prototypes, secure large amounts of capital and contract with manufacturers who might not be based in the same hemisphere as they are.
And that's assuming their idea isn't ahead of its time.
"It's always interesting when you have something that really is a major evolution in the marketplace," said Jim Baxendale of Whiteboard 2 Boardroom, which helps companies with the commercialization process.
"And of course, that's good and bad, because it may be so revolutionary that it might be too hard to get people to change."
The good news is that it is possible for small entrepreneurs with great ideas to make them a reality. In fact, studies have shown that, among high-patenting firms, smaller companies generate 16 times more patents per employee than larger ones do.
So, no, introducing a new innovation isn't easy, but with the help of experts, it's possible to navigate the path to a full-fledged product. Just ask Mike Foster, the creator of Lazser Down.
"Every time I've gone with somebody," he said, "they've pushed me through, beyond to the next point."
Develop the Idea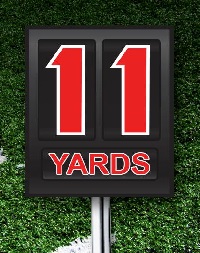 Every successful product starts as an idea. It might come in a flash, or it might gestate over years. In the case of Mike Foster, eight years.
That's how long he's been developing Lazser Down, a new way for chain crews to measure down and distance during football games. His invention uses lasers to calculate a ball's position on the field to the inch. The down and yardage are both displayed from the field on separate markers with a crisp, digital E Ink display. That information is also instantly beamed to the scoreboard.
It's a great idea, one that could potentially end up on a football field near you. The concept grew out of a frustration that Foster, a former coach with 30 years of experience, had in his old job.
Accurately measuring the distance to the next down is important because that, along with the down and the ball's position on the field, guides the kinds of plays a team should use.
Even a difference of a few inches can alter a team's strategy.
"Any (coaching) staff I was on, and I was on six or seven staffs, every Sunday morning, there would be arguments going on over that," Foster said. "I felt there had to be a better way."
When he and his wife moved back to Kansas City in 2007, after his last coaching job with the Arena Football League's Austin Wranglers, Foster found new inspiration to keep developing his idea.
He had started working for Jerry's Sport Shop. The store—which has since been sold and converted to Siege Sports—was owned by an old friend, Jim Egender.
Egender invented Dial-A-Down, the current standard for marking down and distance since the National Football League adopted it in the late 1980s. Soon everyone from the NCAA down to every junior-high team in America was using Egender's product.
Egender's entrepreneurial example encouraged Foster to keep working on what would become Lazser Down.
Foster didn't daydream; he did his homework. He spent three years gathering measurements, drawing sketches and researching his idea. What he learned encouraged him: The NFL doesn't want to do away with the chain crews. But it is open to technological upgrades like Lazser Down's.
"They want to keep the traditions," Foster said, "They think it's important to bring those chains out because it creates drama, and that's what they want. They don't want Star Wars."
Better still, Lazser Down should be faster than what's currently being used. That could give teams more time to consider their next play. And there's a potentially huge business benefit for the NFL and its partners.
"I've got a three hour and 10 minute window for a game," Foster said. "If this takes some of the delays out, what am I going to fill that with? Advertising."
Build the Prototype
While research is important, every product must eventually be designed, engineered and built as a prototype. And that's one of the toughest steps for many new inventors.
"They think they can do it all themselves, is probably the biggest challenge that I see," said Pope, whose firm has worked on several hundred products. "Or they're on such a limited budget that they think they have to be doing it all themselves."
About half of R2FACT's business comes from established companies, but the other 50 percent is made up of individuals like Mike Foster. These are men and women who have an idea, and maybe even a rough mock-up, but need assistance going beyond that.
Pope and his crew will research the idea, including whether it's technically feasible and whether someone else has already created it. God bless Google Images—in a few minutes of searching, Pope can usually tell if a potential client's idea is truly unique.
R2FACT will contract with its local shop network to build a finished prototype. The firm also can connect clients with manufacturing plants in the United States and overseas to manage production.
The Inventors Center of Kansas City is also a great free resource for new inventors because more experienced creators can answer their questions and help them connect with vital resources, Pope said.
Foster was able to get an early version of Lazser Down built thanks to a happy coincidence, when an old friend came into Jerry's Sport Shop to buy a tent.
Dan Ritter is a teacher at the Blue Valley Center for Advanced Professional Studies, a program that exposes high-school students to 21st Century, profession-based learning.
Blue Valley CAPS students often tackle real-world projects for local companies, including product development. All told, CAPS participants have filed about 15 provisional patents over the years, executive director Corey Mohn said.
Foster's son had worked for Ritter when Ritter coached football at Bishop Miege High School. That day at Jerry's, they started talking about CAPS and how its students sometimes help develop new products.
A lightbulb went on in Foster's head. Would CAPS be open to assisting a startup like his? Ritter said it was a possibility.
"He says, 'Well, write it up, get it to me in the next week,'" Foster recalled. "I said, 'I'll be back in 10 minutes.'"
Two days later, CAPS agreed to collaborate with Foster. The partnership would last more than two and a half years. (One student in particular, Davis Foderberg, was a huge help, Foster said.)
"Each semester, I worked with a new team, and after they had taken it as far as the could, we did early prototypes," he said. "I was able to submit my provisional patent."
Building the Business
It's not enough to build the product. Startup inventors also have to build a business around their innovation, even if their goal is to eventually license the product and patent or sell the company. They need to form business entities, protect their intellectual property and devise a basic strategy for bringing their device to market.
Luckily, Kansas City has free programs that can help inventors with that.
Foster got help from Jim Baxendale and Whiteboard 2 Boardroom. The program, based at the University of Missouri-Kansas City, helps with commercialization—especially when it comes to taking research from local universities and turning it into marketable products.
Baxendale sat down with Foster and talked him through the patent process.
Lazser Down also needed meat-and-potato fundamentals like a business plan and a go-to-market strategy. Baxendale and Jill Meyer, a business consultant with the UMKC Small Business and Technology Development Center, helped him with those.
Meyer placed Foster in a nine-week Kauffman FastTrac TechVenture program for technology startups. TechVenture taught Foster how to write a solid business plan and assemble an advisory board. (Foster's includes his old boss, Jim Egender, whose connections in the industry will be vital.)
Foster's tuition for the TechVenture class was paid by Digital Sandbox KC. Foster attended last year's Summer in the Sand, a series of educational workshops hosted by Digital Sandbox. That's how he learned about the SparkLabKC accelerator program for early-stage companies.
Raising Funds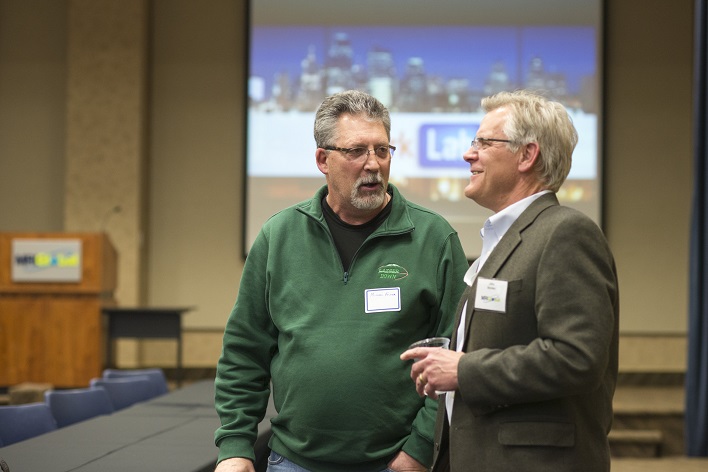 Taking an invention to the next level demands capital, usually beyond what an individual inventor can afford. That's why the ability to raise funds is so important.
Fortunately, Lazser Down was selected for this past spring's SparkLabKC class. In exchange for 6 percent equity, Foster received $18,500 in seed capital. The accelerator helped him find a series of industry-specific mentors. It showed him how to further refine his business model and deliver a pitch for Lazser Down.
This April, Foster stood on stage at the National World War I Museum and told a room full of potential investors about his brainchild.
"I'm a little bit different in that a lot of the things that went through SparkLabKC were apps," he said. "I had an actual end product."
Lazser Down received a warm welcome, with one big caveat.
"What everybody tells me," Foster said, "is they're really interested in it, but they want to see that final functioning prototype. They want to touch it, feel it, smell it."
R2FACT is working on Lazser Down's polished prototype, but Foster is in a Catch-22 situation: He needs funding to finish the device, but many investors won't support him until they see the end result.
"The most difficult part is getting that final prototype," Foster said.
Funding can be a significant challenge for many individual clients. It takes thousands of dollars to create a polished device, so R2FACT uses a stage-gate approach. Development is broken down into a series of steps and only proceeds past the next "checkpoint" if the idea still makes sense and the client has the financial wherewithal.
Foster has applied for a grant program that could make the difference. If he doesn't win, he'll start approaching investors about follow-on funding, using skills he picked up from SparkLabKC. He's too close not to keep going.
Eyes on the End Zone
Foster is clear about his dream for Lazser Down.
"I want to start it as my company, but my goal is within five to seven years to grow this thing and have somebody come in and buy it," he said.
While he's received a great deal of advice, Foster himself brings formidable assets to the table. He's found not one, but four personal contacts with the ability to catch the attention of the NFL. He knows a wide network of coaches and athletic directors who are willing to test Lazser Down—and maybe become his first customers.
"I have all of these contacts and things where I can make an easier go of it than someone on the outside," he said.
Even Foster's day job at FedEx Ground has taught him valuable lessons about shipping and logistics.
"I think he has learned a lot about  the challenges of being an entrepreneur," Baxendale said, "and he has always sought out and welcomed various forms of business assistance."
And don't discount his dedication. A lot of people come up with brilliant ideas, Pope said. "But the majority of them don't do anything about it."
Foster knew the process of creating Lazser Down would be a marathon, though he couldn't have guessed it would take eight years.
"I was really naïve when I started this thing," Foster said, "because I didn't know what was available in Kansas City as far as entrepreneurship. I didn't realize all of these programs existed.
"And so my advice would be to shortcut what I did. I shouldn't have spent three years by myself. Go and get advice from these people."
(photos courtesy of Mike Foster and SparkLabKC)