KC fitness company releases Personal Gym Pro and coaching app
OYO Fitness, the developer of personal fitness equipment intended for individuals to use at home, work or on the go, has released the OYO Personal Gym Pro and a coaching app.
Founded by Kansas Citian Paul Francis, OYO gyms use SpiraFlex technology, which he developed for a NASA Mission Critical program to combat the effects of zero gravity on muscle. Praised by astronauts who used the technology while on the International Space Station, Francis eventually licensed his invention. SpiraFlex also is licensed for use in Bowflex Revolution home gyms.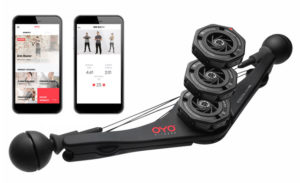 The OYO (On Your Own) Personal Gym Pro syncs with the OYO coaching app via Bluetooth, providing real-time tracking; the app also includes various fitness programs and coaching. OYO Personal Gym Pro is the only piece of resistance training equipment to be integrated with an application, according to Francis.
Nick Bolton, Overland Park personal trainer and OYO Fitness Director, has developed programs in strength, cardio, sculpting, yoga and Pilates for OYO Fitness products.
"The OYO Gym provides gym-quality resistance, in all planes of movement, without weight or momentum. From our library of over 200 exercises, I can build workouts for any program you can imagine," Bolton said.
Workouts include Arm Blaster, Butt Blaster and Can't Feel My Legs, among others.
Based in Kansas City, OYO worked with FS Studios out of San Francisco on the development of the iOS application. Francis oversaw the development and integration of the digital technology used for OYO Personal Gym Pro and its counterpart application.
"People say they want the benefits of exercise but don't have the time or place," Francis said. "OYO is pioneering the next revolution of fitness by delivering the benefits of fitness to people wherever they have time to fit fitness into their busy lifestyle."
The first 2,800 pre-orders of OYO Personal Gym Pro have shipped and are currently available for purchase on the brand's website.