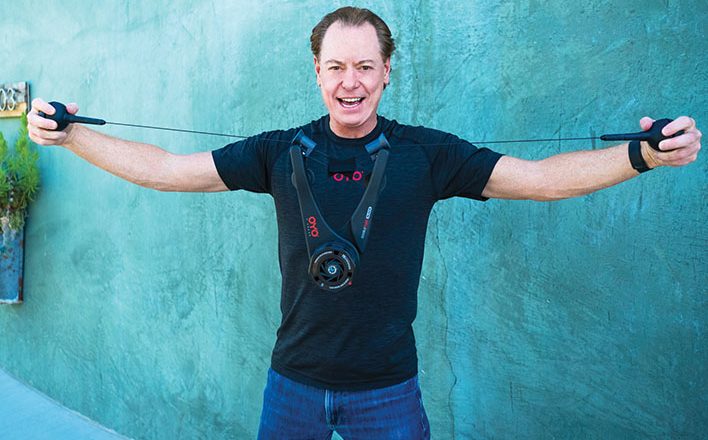 OYO Fitness: A Portable Gym That's Out of This World
Architect Paul Francis trained his keen mind in the 1990s on a problem that NASA astronauts faced while orbiting the Earth in the International Space Station: the need to exercise. Eventually, his breakthrough solution would not only help NASA but also lead to the launch of OYO Fitness.
SpiraFlex Technology
Astronauts need to exercise to counter the effects of weightlessness on muscles and bone. Using gym weights in space was pointless in a microgravity environment. In 2001, Francis came up with a SpiraFlex technology that used resistance instead of weight to exercise the body.
"In 2006, I licensed the technology to Nautilus," said Francis. "They used it to develop the Bowflex Revolution home gym."
Miniaturization and Commercialization
Francis earned sizable royalties as product sales reached $200 million. That capital enabled Francis to further develop SpiraFlex. He determined how to miniaturize the components into disks that provide 5, 10 and 15 pounds of resistance and develop a portable fitness unit.
The ability to miniaturize the components allowed Francis to launch OYO Fitness. The
company's first product, DoubleFlex Portable Gym, is a silver-colored portable bow-shaped unit that weighs less than two pounds.
Nick Bolton, OYO fitness director, introduced DoubleFlex on QVC in March 2016. OYO Fitness sells the product on its own website and through other online retailers. Francis expanded OYO's sales channel by joining with retailer Brookstone in January 2017 to sell DoubleFlex through its 175 stores and catalogs.
DoubleFlex Black, a follow-up product with increased resistance and range of motion, was launched via Kickstarter. More than 4,200 people supported the campaign in its first six weeks. It raised $659,175 and far surpassed the original $30,000 goal. According to Francis, it is the
second most successful fitness product in the history of the crowdfunding site. Units will ship in June 2017.
Francis said 4,200 people have pre-ordered DoubleFlex Black on Kickstarter. "My goal for OYO Fitness is to reach $100 million in sales in three years, Francis said."