Tips for now and the future
Economic downturns are an inevitable reality every business owner will face at some point in their lives. During challenging times, business owners have difficult decisions to make about the future of their business that affect them, their employees, vendors, clients, and communities. It is an enormous responsibility to bear, but you can take steps to prepare for these seasons of life.
Optimize your books
Never underestimate the power of good bookkeeping. By keeping your books in order, your CPA can help you plan and project for the future. This includes planning for temporary closures and fluctuating regulations. When your books are clean and up to date, your CPA can help you make better decisions using accurate data.
Realize your cash flow
Staying in the black does not necessarily mean your business is in good health. Companies quickly learn that money in the bank does not equate a strong financial situation. When your books are optimized, and your financial statements are updated, conduct a cash flow analysis to model various scenarios that could impact your business. Then, you can begin to make adjustments to income and expenses with a more informed mindset.
 Minimize your tax burden
Crisis or not, staying abreast of new and changing tax legislation is essential to minimizing your tax burden and uncovering tax savings opportunities. It is crucial to work with a CPA that understands your business and your industry to capture all available tax strategies. With a CPA's assistance, you can achieve deductions and credits you may not have realized were available and develop a plan to defer costs that are allowed depending on your business, industry, and location.
Maximize available programs
The pandemic has sparked a flurry of relief programs for businesses, including forgivable and favorable-interest loans and grants. These can be valuable resources for covering expenses and payroll for some business owners, but not every program is right for every business. Work with your CPA to understand these programs, their terms, and how they best fit into your business plan. With informed guidance, you can maximize these opportunities.
Rationalize your decision making
When markets are in flux, and your business is facing unprecedented challenges, the decisions you make now can significantly impact your future. Once you have optimized your books and projected your cash flow, it's time to consider other cost-savings opportunities.  Here are some steps you can take:
Review contracts with vendors for opportunities to renegotiate.
Assess your business's operations and processes for efficiency and adjust where needed.
Evaluate your level of personnel to ensure team members are in the right seats and reassign as necessary.
Your CPA could help you with each of these decisions, so you don't have to operate in a silo and can receive objective feedback. This can help you feel at peace with the difficult choices you will have to make.
Economic downturns can be stressful and, frankly, scary. However, if you have a strong financial foundation, the right processes in place in your business, and you have the right CPA advisor by your side, you can feel confident in the decisions you make now and in the future.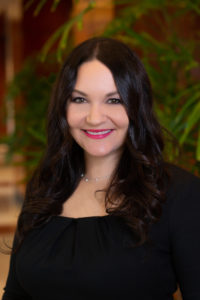 Amber Goering, CPA, CGMA, is an entrepreneurial CPA and small business champion with over 20 years in the profession. Her mission is to foster a firm culture where team members can thrive at work and at home while providing proactive attentiveness to clients. She is passionate about relationships and small business growth and development, offering proactive tax strategies, client accounting services, outsourced CFO services, and tailored advisory services to help entrepreneurs and established small business owners make informed decisions about their business's future.