Local nonprofit startup Determination Inc. has announced Kansas City's first entrepreneurship competition for formerly incarcerated citizens.
Determination Inc. started in 2018 with the goal of helping people with criminal records through entrepreneurship. Its newly announced event, Rise Up, Get Started, aims to provide resources for those individuals in the Kansas City community.
The Rise Up, Get Started Entrepreneurship Celebration will take place at 7 p.m. May 30 at Plexpod Westport Commons.
"We know that many formerly incarcerated people in our community have what it takes to succeed as an entrepreneur, but lack the formal knowledge, guidance and capital to get there," said Determination Inc. co-founder Johnny Waller Jr. "We built Rise Up, Get Started to help break down those barriers."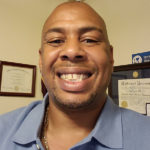 Determination Inc. also hosts a business support group called "Be the Boss" in Kansas City's urban core. Since its inception in early 2018, more than 60 formerly incarcerated people have attended the workshop. Many of these former students will participate in May's entrepreneurial competition.
Determination Inc. regularly hosts an entrepreneurship and leadership development workshop called Back to Business at the Jackson County Detention Center. In April, the nonprofit group also launched a second workshop at the Kansas City Reentry Center, a prison in KC's West Bottoms district.
These are environments that Waller knows firsthand.
"I spent three years in prison before I became an entrepreneur," he said. "When I decided to leave my criminal lifestyle in the past, I started and ran a janitorial company for seven years in KC."
Waller closed that company after the death of his oldest son and since then earned an associate degree from Johnson County Community College in business administration and a Bachelor of Science degree in business administration from Rockhurst University. He then graduated in December with a master's degree in management from Rockhurst.
"Entrepreneurship helped me turn my life around," Waller said. "We can teach others how to leave their criminal records in the past and use their skills and passions to start businesses that raise up the entire community."
Celebrating second chances
The Rise Up, Get Started event will feature a live musical performance by KC-based hip hop artist Kemet the Phantom, and words of wisdom from keynote speaker Marcus Bullock, a successful second-chance entrepreneur and the CEO of Flikshop. Bullock is also a TechStars alumnus from Washington, D.C.
Following his 2004 release from prison, Bullock launched a construction business that grew to 18 employees. His company Flikshop provides a free app that enables incarcerated people to receive personalized postcards from their families.
Bullock's TedX Talk "Prison to Entrepreneurship Pipeline" has inspired thousands to give and receive value from formerly incarcerated people who others may ignore.
"We hope all Kansas Citians will join us at the Rise Up, Get Started Entrepreneurship Celebration to congratulate our current Be the Boss students on their progress thus far," Waller said. "And to send a message to our brothers and sisters who are currently incarcerated: Kansas City is ready to welcome you home and is a great place to succeed as an entrepreneur."