Brandon O'Dell just wanted a little extra income. But Friend That Cooks has become something much more.
---
Many think of a personal chef as a luxury service—something only those living in mansions with live-in staff can afford.
Today, Friend That Cooks is a fast-growing business with 17 chefs serving customers in eight cities—soon to be 11. That success is part of the reason why O'Dell was among a premier group of entrepreneurs selected to participate in ScaleUP! Kansas City.
ENTREPRENEUR
Brandon O'Dell
COMPANY INFORMATION
Friend That Cooks
(913) 660-0790
A MOVABLE FEAST
Friend That Cooks started in Wichita before founder Brandon O'Dell moved to KC. The company has a presence now in 10 metros, with two more coming online soon.
ARE YOU READY TO SCALE UP?
ScaleUP! Kansas City—a free program for KC small businesses—is looking for companies that want to supercharge their growth. Learn more at www.scaleupkc.com.
But in 2007, Brandon O'Dell put a twist on the personal chef business when he founded Friend That Cooks for modern families. He's created a way for customers to essentially split the cost of a personal chef between 10 families but still have meals every day. The chef comes into the home, does all the work and leaves enough meals for a whole family to eat the entire week.
The program is offered by the University of Missouri-Kansas City Innovation Center and the U.S. Small Business Administration. It's open to entrepreneurs who have been in business at least two years, generate $150,000 to $500,000 in annual revenue and are in a market capable of supporting more than $1 million in sales.
The program comes at an ideal time for O'Dell because his business is growing at record speed.
"I think it's an awesome thing to be done for businesses my size," he said.
8 Cities and Counting
Friend That Cooks was meant to be a part-time side job for O'Dell. It would give him financial stability while he built his restaurant consulting business. O'Dell had worked in the food industry for a long time and was offering his expertise on cost control, branding and other financial strategies to restaurant owners.
But the consulting work was feast or famine, so O'Dell hastily created a website and spent $250 on vinyl yard signs for Friend That Cooks.
"I put them all over town," he said.
Two hours later, he landed his first customer.
"Next thing I knew, my schedule was full, and it was pretty obvious that Friend That Cooks was my full-time gig," he said.
O'Dell eventually got married and moved to Kansas City. A trusted employee—who is now a minority owner—took over the
Wichita operation, and O'Dell built the KC operations from the ground up.
"Breaking into a new market was hard," he admits.
But it taught him important lessons that have guided him as the business has expan- ded. Friend That Cooks has chefs in Kansas City, Chicago, St. Louis, Omaha, Des Moines, Milwaukee and Wichita. He's hiring in Denver and will add Minneapolis, St. Paul and Indianapolis by 2017.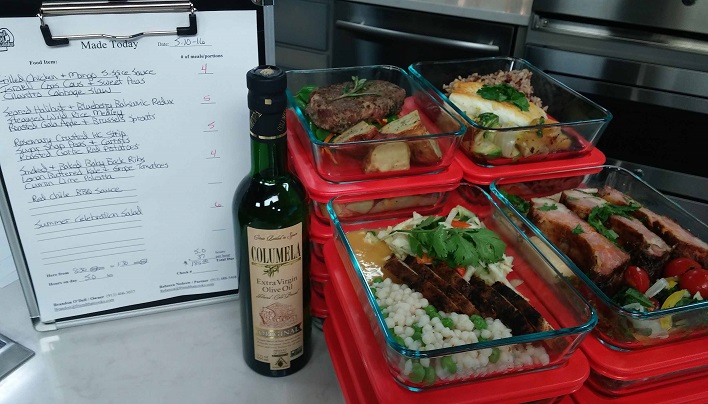 'We Sell a Service'
O'Dell recruits high-level cooks and, he said, pays them 50 percent more than what they would make at a restaurant.
"We sell a service. We sell the time of our chefs. So the most important thing that we do is to find and hire the right people," he said. "The supervision becomes easy."
One of the biggest obstacles O'Dell faces is convincing clients that hiring a personal chef isn't a luxury expense. His customers range from single individuals to busy, dual-income families with kids in activities. Many customers don't get home until 6 p.m. or after and can't fit in grocery shopping, prepping, cooking and cleaning up.
"By the time you're done, it's 9 or 10, and the night is gone," he said. "People just don't want to do that."
The business charges a flat hourly rate—$37 in Kansas City—and can usually finish the work for a family of four in four to five hours.
O'Dell said his team has perfected techniques to make the food far superior to the storefront meal-prep businesses and the meal-in-a-box services gaining popularity.
Jeremy Huffman and his wife tried a meal-in-a-box service before choosing a chef from Friend That Cooks. They have no intention of going back.
"What's really nice is collaborating with the chef on what we want to eat that week and what we're hungry for," he said.
The couple enjoys cooking, but long working hours left little time. Their chef prepares 20 premium meals with healthy ingredients, and they cook on the weekend for pleasure.
Another benefit, he said, is that they save money by not eating out after a late workday.
"It forces you not to eat out as much," he said.
'If It's Not Written Down …'
Friend That Cooks' service is gaining new customers all the time. It's another reason why ScaleUP! Kansas City will be a pivotal part of its growth.
O'Dell said the program is already starting to provide him with the essential tools and resources he needs to move to the next level. It has also pointed him to other entrepreneurs and mentors who can provide some essential guidance. That's important for someone like O'Dell, who didn't grow up here.
ScaleUP! has also reminded him to step back and plan ahead.
"If it's not written down, it's not really a plan," he said.
When O'Dell was a restaurant consultant, he would insist that customers complete a thorough business plan and let staff know how they were part of that success. Yet he's been so busy building his business that he put off doing some of that same comprehensive work.
"There's so much of it that I should have been doing—that I've done for other people," he said.