Scott DeNeve, founder of Platinum Realty, long ago decided to hitch his wagon to ideas that could increase his earning power.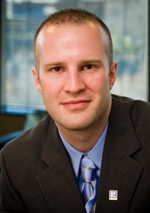 "It's never scared me to try new things," said DeNeve, 32, whose burgeoning residential real estate brokerage firm has four offices in the Kansas City area and this year opened an office in St. Louis.
Indeed, a forward-moving vehicle is a functional metaphor for DeNeve's business—it's grown nearly 200 percent in the last three years, with more than 650 real estate agents realizing $235 million in sales last year. And this year, the Inc. 5000 ranked Platinum Realty No. 10 among the top 100 companies in Kansas, and No. 52 among the top 100 real estate firms in the nation.
But it was an actual wagon with four wheels on the ground that DeNeve pulled as a child entrepreneur growing up in Overland Park.
"When I was 7 or 8, I used to get my wagon and put tomatoes in it from the garden I grew," DeNeve remembered. "And I'd pull it around by myself—not with my parents—and sell tomatoes out of brown bags."
Before that, as a kindergartener, he grew and sold pumpkins. And from ages 9 to 13, he operated a neighborhood lawn-mowing business with 16 clients.
"My parents never bought me anything, not because they wouldn't, but because I bought it myself," he said. "I had two go-carts. I had all the video game systems you could think of. I had the coolest bicycles. I just realized that if you wanted to work hard, and you could set the goals of what you wanted, you could achieve it."
'It's Not About Sitting in an Office'
DeNeve founded Platinum Realty in 2005, when he thought he could make more money by doing things differently than Reece & Nichols Realtors in Kansas City, where he'd worked as an agent for two years.
"I never was in the office, and I always was asked, 'Why aren't you in the office?'" DeNeve said. "As an agent, or anybody that's in sales, it's not about sitting in an office. It's about knocking on doors and making phone calls."
The real estate business DeNeve envisioned also would be about utilizing dawning technologies, including online forms, virtual signatures and face-to-face videoconferencing on laptop computers, and more recently smartphones, so that agents could stay engaged whenever and wherever they might be in the field.
Calling Platinum Realty a "pro-transaction business," DeNeve maintains that his agents are more motivated to sell because of a higher commission rate enabled by the company's tech-related cost efficiencies.
"I realized that I could become more successful based on the technology that I was able to offer as an agent, and I could also duplicate that for other agents," DeNeve said. "It allowed for more freedom for the agent, without such a restrictive, old-school mentality. It didn't have to be: 'Everybody come into the office and sit down in a cubicle and pick up these analog phones and sit by the watercooler and talk.' It was
different now."
Go East, Young Man
Platinum Realty was put to the test early last year when DeNeve expanded his company to St. Louis, a process he found to be a surprising challenge.
"Real estate in St. Louis is even more traditional, even more conservative than in Kansas City," he said. "I thought we'd go in there and just knock the doors down, and everybody would be like, 'Oh, yeah, we're used to this.' But we were a large broker from Kansas City coming into their turf, and that was an obstacle we came up against. We were viewed as an outsider.
"The truth is you kind of have to start over, because you're the new guy in. You can go into it with the new technology and the new things you've learned, but slow and steady wins the race. You can't just come in and put up huge billboards and pay for all this advertising,
because people still don't know who you are. And they're not comfortable with who you are."
To temper the perception of Platinum Realty as an interloper in St. Louis or any other future market, DeNeve has unified his brand by adopting a single toll-free phone number (without a telltale area code) and dropping the "KC" from his company's domain name.
Nearly a year in, it's going well in St. Louis, DeNeve said. "We've broken even, and we're starting to generate a profit. I consider that
a success."
Besides daring to be different, staying debt-free has been a key to Platinum Realty's achievements, including being the No. 2 real estate firm in the Kansas City area, behind only Reece & Nichols.
"Who would have thought that I would have worked for No. 1, just to start my own company and grow to be No. 2?" he said. "But since day one, I've paid as I went. I don't want to be servant to the lender—he who has the gold controls."