Leopold Gallery is celebrating its 30th anniversary in Kansas City. In addition to featuring local artists at his Brookside brick-and-mortar space, Leopold founder Paul Dorrell works with clients around the world as an art consultant to bring their spaces to life by identifying the right piece of art or the right artist to create custom art. He has designed large art projects in spaces such as Arrowhead Stadium, H&R Block's headquarters, the Charlestown Navy Yard in Boston, and the National D-Day Memorial in Virginia.
Q: Congratulations on 30 years in business! What inspired you to open a gallery in Kansas City all those years ago and how did you pick your original location in Hotel Savoy?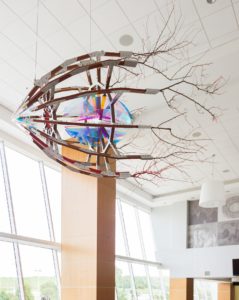 A: After spending several years as assistant director of Hill-Stead Museum in Connecticut, I moved home in 1986 to open my a gallery representing mostly Kansas and Missouri artists. The idea was to help artists in this region flourish on a national level, land them prestigious commissions for worthwhile fees, and reinvest in the community. Fortunately that has gone very well, and KC is now going through a renaissance thanks to the efforts of so many. I picked the Savoy for our first space because of its history and magfinicence, and it was the only joint I could afford at the time.
Q: How do you go about selecting the art you feature in your gallery and what is the average number of exhibits you host each year?
A: The art we feature is an ever-changing run of new works by artists we represent, replacing works that have sold, as well as showing work by our newest artists. We typically have four openings per year, but of course COVID changed that. Our next show will be on October 8. It'll be a good night.
Q: How do you scout for new local artists?
A: Honestly we don't have to much anymore, since we're regularly approached by artists from all over the country. But when we're seeking someone unusual whose work hums with visual power, then we check the regional art centers. Those are a great resource.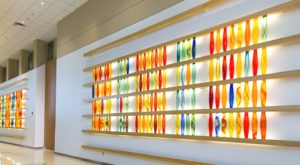 Q: Did the art consulting portion of your business emerge organically or was it part of your plan from the beginning?
A: I'd love to tell you it was part of the plan all along, but it wasn't. When we opened at the Savoy in 1991, we didn't have a client list, a following or a reputation, despite how talented our artists were, hence sales were rather slow. So it dawned on me that I could take my museum skills, parlay those into consulting for corporations, hospitals and private collectors, and have some fun with it. Fortunately that all worked out, and it became the most responsible side of our biz. We install works coast to coast and are still having fun with it, so I'm very fortunate.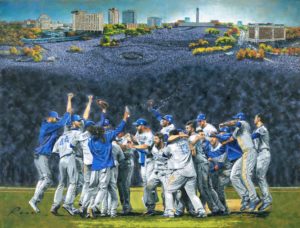 Q: How do you balance the businessman side of you with the artist side of you? 
A: That's easy; I'm not actually an artist. I'm more like a director in film: I understand great acting, great writing and great cinematography but can't do any of them. My talent is for bringing exceptional artists into different projects, or into the gallery, and helping them bring the best out of themselves. Since I understand art in almost all media, that comes naturally to me. Not all artists need the feedback or encouragement, but most do. Either way, I dig helping them achieve greatness.
Q: What are a few of your favorite galleries or museums outside of KC that we must go see when traveling?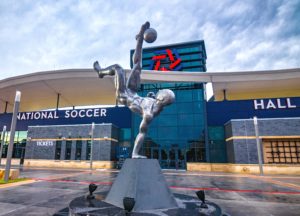 A: Oh, there are so many. The Guggenheim, the Met, Chicago Art Institute, Philly, Crystal Bridges, both Gettys, anything in San Francisco, the Gardner and MFA in Boston, and any gallery district that catches your attention. Also anything at the Nelson. We're so lucky to have it here. But always the name of the game is exploration. That challenges the mind, and that keeps us young.