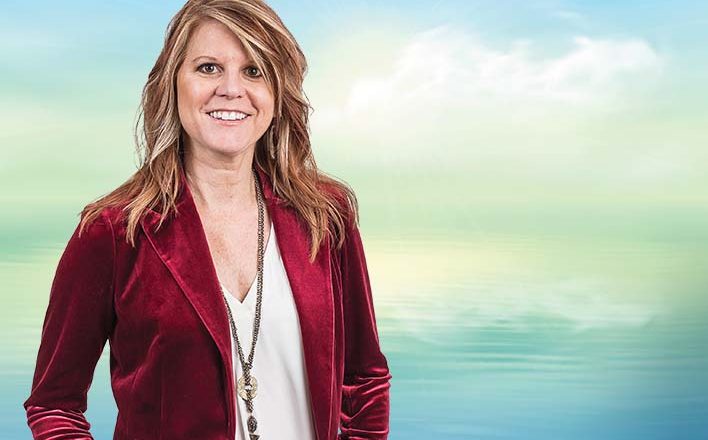 Renewing Her Dreams
Pediatric psychologist Michelle Macrorie spent years diagnosing children with autism, only to watch parents struggle with what steps to take next to prepare their child for kindergarten and beyond.
ENTREPRENEUR
Michelle Macrorie
COMPANY
Autism From The Start
Autism From The Start treats children 5 and younger with autism. Its team of autism therapists provide applied behavior analysis along with parent coaching and support for the entire family delivered within a comprehensive plan of care.
ARE YOU READY TO SCALE UP?
ScaleUP! Kansas City—a free program for KC small businesses—is looking for companies that want to supercharge their growth. Learn more at www.scaleupkc.com
By 2013, Macrorie decided she wouldn't sit on the sidelines and watch this play out any longer. She knew how to help improve children's lives. She launched Autism From The Start and began providing extensive therapy services in client's homes.
The need immediately outpaced her expectations, and by 2016, she opened a center near downtown Lenexa. After a slow start, the center is at capacity with 21 children registered for services and a healthy wait list. She employs 23 specialized staff members who play integral roles in improving the lives of children five and younger.
And yet Macrorie felt overwhelmed and struggled to get over the hump of her amazing success. She was still trimming the landscape, hanging shelves, hiring staff, and serving as the business manager and billing clerk. It wasn't a bad problem to have, but she quickly realized she needed help.
"We did have such great success and growth that I could no longer keep up," she said. "Everything seemed to bottleneck at me."
It's why she turned to ScaleUP! for advice.
ScaleUP! is a free program offered by the University of Missouri-Kansas City Innovation Center with support from the Ewing Marion Kauffman Foundation. The program includes classes, peer mentoring, professional guidance and more. It's open to small businesses like Autism From The Start that operate in a market capable of supporting more than $1 million in annual sales and that want to rapidly grow their business.
'IT RESET THE HOLD DREAMER IN ME'
The class was nothing short of life-changing for Macrorie. She jokes that she squeezed every ounce of juice she could out of the classes.
"I'm a super-fan of ScaleUP!," she says. "I'm not just a little fan."
By the second class, the ScaleUP! experts energized Macrorie and reminded her of a long-forgotten dream to scale her business in several cities and states. She wanted children in every city to have the same opportunities as those at her center.
"It reset my goals. It reset my vision. It reset the old dreamer in me that had gone away because I was in survival mode," she says.
FINE-TUNING SERVICES
Within weeks, the class experts gave her the confidence to make some pivotal changes. The ScaleUP! experts helped her define what her business should specialize in and what services it needed to stop in order to thrive.
Macrorie thought she was already specialized. She offered autism services to children. But she realized she was offering too many separate services—music therapy, physical therapy, speech therapy and occupational therapy—to be successful. It was undermining her core product: applied behavior analysis (ABA).
ABA therapy was the focal point of the center and represented about 80 percent of its work. It was what made her business stand out from competitors. The ABA work already integrated several tools, including speech and motor goals in the comprehensive approach that includes everything from learning to wash hands to expressive language, cognitive skills, fine motor development and more.
ScaleUP! experts gave her the confidence to discontinue the other therapies. Initially, it was hard for some parents to digest because it felt like they were losing something. But Macrorie used that disappointment as a means to better explain how ABA already integrates all of those skills throughout each day of intervention. She and her team got better at describing the process to parents, and they responded positively.
Until ScaleUP!, Macrorie was convinced that she couldn't disappoint parents. She was used to pleasing everyone at every turn.
But the ScaleUP! experts gave her confidence to create a plan that makes sense for her business.
KNOWING THE CUSTOMER
Another major change at her business came when ScaleUP! experts urged her to get to know her target market better.
Macrorie thought she already knew her customers. She spent hours talking one-on-one with families and their children. ScaleUP! experts pointed out those were her clients, not her customers.
"It took me to a much deeper understanding that it's not just the clients who are at my door," she says. "It's the pediatricians, and the hospitals and the schools. And it's other therapists. It's how all of these avenues funnel people to my business."
The class forced her to think about primary, secondary and tertiary customers. It shifted her thinking.
"I needed to think of them differently and to develop those value propositions that spoke to each but separate groups," she says. "And then also how to develop a sales funnel for each one."
She wasted no time making the changes while the class was in progress.
EMPOWERING THE TEAM
Macrorie made several other immediate changes at Autism From The Start thanks to ScaleUP!
She started a professional development tract for employees. Knowing that many employees go back to receive their master's degree, Macrorie offered them the ability to receive the necessary supervision hours required for the degree at her center.
The benefit was two-fold. It helps employees build skills and maintains a steady workforce for Macrorie.
ScaleUP! experts also pointed out that it will help as Macrorie scales her business. Perhaps those same employees will take a leadership role at her next center.
Ultimately, Macrorie has renewed her dream to open more centers for children with autism. ScaleUP! experts helped her to plan her long-term strategy.
In 2019, the center will move to a larger facility. By 2021, Macrorie hopes to open a second facility and replicate her success. Once that process is on track, she expects to open three more centers within three years. She'll look at other cities and work to scale the processes she has created.
The ScaleUP! class provided the bedrock for these changes. It taught her to think like a CEO. She started writing down every process that happens at her business and charting her financials to align with her long-term goals. All of this is mandatory for someone who wants to scale up without overspending.
Macrorie doesn't trim the landscape anymore. She created an organizational chart to delegate the work.
"If I don't behave like a CEO, not only will my company not scale, but I will never truly empower my team," she says. "I thought I was
burdening my team by asking them to do things."
Her staff sees this change and how it impacts children.
"ScaleUP! has really helped Michelle become laser-focused on how we can best meet the needs of children who are currently accessing or will access our services in the future," says Amy Sanner, a behavior analyst at Autism From the Start. "She's engaged in standardizing processes on the administrative end to ensure a smooth transition for families into therapy, during therapy and transitioning out of therapy when appropriate."
It all comes back to ScaleUP!, Macrorie says. The experts gave her confidence to make changes and not look back.
"They have literally set me up in a position where I don't think I can fail if I just listen
to them."