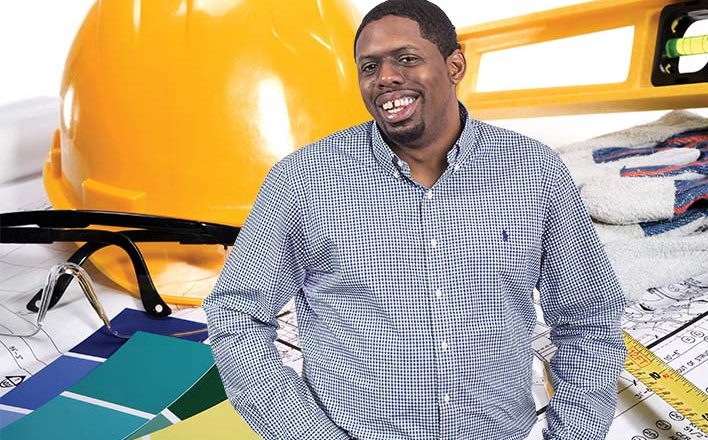 ScaleUp! Bradford Interior Group — Diving into the Details
When Bradford Interior Group landed a lucrative construction project last year, it was a dream come true.
ENTREPRENEURS
Rondale Bradford and Larry Carr
COMPANY
Bradford Interior Group
www.BradfordInteriorGroup.net
Bradford Interior Group is a full-service restoration and remodel company that specializes in insurance work on residential and commercial properties.
ARE YOU READY TO SCALE UP?

ScaleUP! Kansas City—a free program for KC small businesses—is looking for companies that want to supercharge their growth. Applications for the program's eighth cohort are due July 8. Learn more at www.scaleupkc.com
It was exactly the type of momentum and traction that the Raytown full-service restoration and remodeling business needed. But the dream quickly shifted when delays and hiccups caused payment delays that lingered for more than five months.
"It almost took us under," says co-owner Larry Carr. "But we lived. We lived, we learned, we moved on."
But it was hardly business as usual for Carr and co-owner Rondale Bradford. The two knew the company's trade skills were sound, but they could use some help with business administration and overall management. They didn't let their egos get in the way of growing their business.
"When you don't know something, you seek out your resources and find out the information," Carr says.
It led him to ScaleUP! Kansas City.
ScaleUp! is a free program offered by the University of Missouri-Kansas City Innovation Center with support from the Ewing Marion Kauffman Foundation. The program includes classes, peer mentoring, professional guidance and more. It's open to small businesses like Bradford Interior Group who operate in a market capable of supporting more than $1 million in annual sales and who want to rapidly grow their business.
'All the wrong numbers'
ScaleUP! quickly prompted the owners to make some hard choices about the scope of their business.
For starters, ScaleUP! advisers asked them to review the cost versus the gain of every single job.
"The first thing that we quickly identified was that we were paying attention to all the wrong numbers. We really didn't do a deep dive into what was profitable. We didn't have any idea which jobs were making us money and which ones were losing money," Carr says.
Carr quickly learned that mold remediation—something that seemed highly profitable on paper' was costing the small business more money than it was making. Mold work added a hefty cost to their insurance premium. It was eye-opening to Carr and Bradford. They didn't waste time cutting mold remediation from their business offerings.
The same exercise caused them to rethink their strategy on mudding and drywall work. The work had been their bread and butter for years, but it was a time drain on their highly-skilled employees who could be completing more profitable work. The company still takes on small mudding and drywall projects. Other times, it has found subcontracting the work to be more efficient for the bottom line.
Some of those changes might seem simple, but it was hardly easy, Carr says. He knew several families' livelihoods, including his own, were riding on the decision.
"There are some scary moments when you're wondering if you made the right decision," Carr says.
Yet having the guidance from ScaleUP! advisers and hearing experiences of fellow entrepreneurs in the same ScaleUP! class gave Carr and Bradford the confidence to make the changes necessary.
Curating connections
The expert advice provided by ScaleUP! is reason alone to take the class, Carr says. The program brought experts from several fields to share their expertise, but it also offered roundtable discussions with classmates—fellow entrepreneurs who could share common experiences and trouble-shoot with Carr.
"That has been invaluable," Carr says, pointing out that it was a safe place for small business owners to open up about challenges and not worry about competitors stealing ideas.
ScaleUP! experts even provided a sounding board when Carr expressed interest in purchasing a building. They connected him with a previous ScaleUP! class member who had gone through a similar process and had several tips to share.
"We were completely ignorant to the process," Carr says. "We didn't know how much money we needed down."
One of the most surprising classes for Carr came when ScaleUP! brought in banks and financial institutions for a "speed-dating style" question-and-answer session. Carr later connected with one of the commercial bankers, who ultimately changed the way that Bradford Interior Group ran its finances.
"We learned so much more about just what goes into the qualifications and approval," he says. "We thought it was all about your credit score. We learned there was so much more that goes into it."
The banker shared a formula that takes cash- debt ratio, cash flow and more into account.
For years, the construction company operated without a bank loan and relied on personal credit cards, paid off monthly, to make purchases.
"That was one of those things where it's another learning process. In our infinite wisdom, we thought it was always best for us to not have any kind of debt," Carr says. "In the end, we actually ended up hurting ourselves."
The banker offered other valuable day-to-day advice too, Bradford says, including how to operate leaner.
"We learned," Carr says. "We're in the process of obtaining a business line of credit, as well as we opened some business credit cards to boost our business profile."
'We're more prepared'
Another key aspect they learned from ScaleUP! was to start working on the long-term business strategy now rather than scrambling later. That meant identifying milestones and key indicators, and planning for how to handle those challenges and when to hire more employees.
For now, Carr and Bradford have learned that it's OK to hand off some responsibility to employees while they look at the big picture. They don't have to answer every phone call and email. It also meant writing down all of their processes and procedures so new employees can be easily trained and onboarded quickly.
Several other details stood out about ScaleUP! for Carr and Bradford, especially as it relates to construction accounting, which must take into account that invoices aren't immediately paid and can get hung up when projects hit roadblocks.
The owners expect their relationship with ScaleUP! advisers to continue for years. It's another perk of the class that they don't intend to overlook. ScaleUP!, they agree, has been incredibly valuable to Bradford Interior Group.
"I think we're more prepared to deal with a large-scale body of work," Bradford says.
The ScaleUP! advisers have seen it all, he says, and they know how to help you avoid headaches.
"They kind of see into your future," Bradford says, urging other entrepreneurs to apply to the course.