As he runs his own furniture repair service, 17-year-old Ben Belanger redefines "the high school hustle."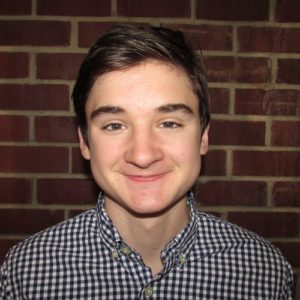 Meet Ben Belanger, a junior at Shawnee Mission South.
He's interested in business and engineering, and like many other teenagers, he enjoys sports (like tennis) as well as hanging out with friends and family outside of school.
Oh, and he runs his own foam cushion replacement business.
Belanger first got the idea for KC Cushions thanks to a battered family couch. The couch was "in good shape" other than the foam, but when he looked into options for replacing the cushion, he found very few local vendors that could help.
"I thought of this as a chance to start this business and fill a need that many other people were facing," he said.
Belanger explained that in many cases the furniture itself is intact, but the foam has broken down, which makes the cushions shapeless and uncomfortable. In starting KC Cushions in June 2019, he wanted to provide others with the simple service that he provided his family.
The central focus of the business, he said, is to provide "affordability and convenience" for the customer.
"Our service is much more cost-effective than furniture replacement, and it allows you to keep the same aesthetic to your room," Belanger said.
"We focus on making the process as easy for the customer as possible by coming right to their home and giving them a quote, then re-stuffing their cushions and delivering them."
There are many facets of running a business that Belanger has needed to consider, one of which is marketing and promotion. Some of this effort has involved a feet-on-the-ground approach: handing out flyers, working specific areas, and relying on word-of-mouth.
But the bigger piece of marketing has involved an intensive digital perspective. Belanger first built a website, and then transferred his focus to learning the ins and outs of SEO (Search Engine Optimization) so he could show up for terms like "foam cushion replacement" in Kansas City.
"Being able to rank highly on Google was important to me and, in my opinion, that's led to much of my success," Belanger said, adding that he also set up a Google My Business account so that satisfied customers could leave positive reviews.
Going forward, Belanger plans to study engineering in college, and he also intends to expand KC Cushions into the commercial market.
"Not only will this allow us to have many new clients and a more consistent revenue stream, but it will also allow us to expand knowledge of our service," he said.
"Many think that they need to replace their whole couch, when really, we offer a much cheaper and easier option."
To learn more about KC Cushions and Ben's foam cushion replacement services, visit www.kccushions.com.
About the Author
Claire Martin is a marketing specialist, reporter, and freelance writer and editor. She received her master's degree in English and her bachelor's degrees in English and journalism from Creighton University (2016, 2018). She was formerly the staff reporter for Thinking Bigger and has written for other publications such as Omaha Magazine. // clairekmartin7@gmail.com