The accounts receivable (AR) department in any business can mean the difference between financial life and death.
It may not seem that serious on the outset, but highly optimized AR departments can help any business improve their financial situation and make financial decisions with greater confidence; or, in contrast, an unsuccessful AR department can put you at risk of running in the red.
The struggle with AR often lies in the relationships built with clients and the payment policies and methods you've established for your business. Here are a few key tips to help you optimize your AR for greater success this year.
#1 Digitize your AR
First and foremost, in 2020, your AR should be digital. If you're still using only carbon copy paper receipts and filing systems, you're creating more work for yourself and greater chances for errors, missed invoices and payments.
Digitizing your AR provides you with a more accurate picture of your business's finances and allows you to make timely decisions based on the information available. Additionally, you can reduce your paper usage and possibly eliminate a filing cabinet or two.
Digitizing your AR can be done in multiple ways, but one of the simplest is using the QuickBooks® platform. If you're unsure which bookkeeping platform is right for you, consult a certified public accountant (CPA) advisor. They can help you understand your needs and the platforms that fulfill them as well as help you get set up correctly from the start.
#2 Get to know your clients' payment methods
While you likely have a sound understanding of your clients' needs in terms of the services you can provide, you may be missing a key point in getting to know them – how they pay.
For those in the medical field, this often goes beyond cash or credit. You're dealing with several possible payment options including out of pocket, insurance and Medicare/Medicaid. This changes the game for your AR because while you need funds for your business to run, you're often at the mercy of third-party payers.
In getting to know your clients, it's important to understand how they will pay:
Out of pocket by cash or credit
Through insurance with or without a copay
Through Medicare/Medicaid
For other industries, this may mean cash, credit or another form of contract payment depending on the nature of the industry. Gathering this data will be essential to optimizing your AR.
Once you have a firm grasp on your client base's primary payment methods, you can build a plan around how to optimize your AR so you receive payments timely and in full.
#3 Establish a payment plan policy
If you do not have an established payment plan policy that is clearly stated in writing and visible to your clients, you must take care of that first before moving forward.
Using the knowledge you have of your clients, you can set up payment options that work for them and for you. Whether you decide to offer monthly installments, pay-in-full discounts, or some kind of hybrid will depend on your business and what you know you can enforce.
A variety of options for out-of-pocket payments may improve your ability to collect as well. If you are only offering cash or check at this point, you are potentially severely limiting your opportunities for collection. Credit card payments are expected nearly everywhere, and if you're not offering this option, you may be missing out on a key optimization opportunity.
No matter the industry or method, effectively communicating your policy with your clients up front can help avoid surprises and emotional reactions.
#4 Train your employees
Next, you'll need to work with your front office staff — as well as those working with clients — to establish a set of procedures for communicating your policies and enforcing them.
For the medical field, training your staff to be knowledgeable of different insurance payers and your patients will help them to better communicate with both parties. With a deeper knowledge of third-party payers and the procedures you provide in your office, your staff can convey more accurate estimates to your clients up front and help them to establish a payment method that makes sense before any procedure takes place.
In other industries, investing in your front office and AR staff's education about your company and industry will help take their skills to the next level and establish them as advocates for your business.
If your front office understands the "why" and the "how" of your business' services and payment policy, you gain a strong ally up front so you don't have to clean up messes with clients later.
#5 Get an objective perspective
More complicated situations with your AR may require an objective perspective from a professional such as a CPA who can help identify breakdowns in your processes and provide clarity.
These situations may include line of credit issues, cash flow timing concerns or plans to sell your practice. CPA advisors can help you optimize the value of your practice now so that you are better prepared for things like economic downturns, changes in the marketplace or an eventual sale of your practice.
Cash flow in any business is important, and a healthy AR is a key component in any financial decision for your business. Understanding your clients, establishing policies, digitizing processes, training your staff and consulting your CPA advisor can all improve your AR.
About the Author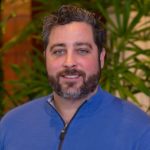 Frank is a Certified Public Accountant working across the board with a variety of industries and business sizes. He enjoys helping businesses get their jump start and partnering with them as they grow. Frank has a passion for getting to know others which assists in building lasting relationships.
Contact Frank at:
Phone: 913.396.6225
https://www.ggkccpa.com