Looking for the next big idea has helped video production company VISION5 succeed.
---
When Elaine Hamilton-Bruner opened VISION5 in 2001, she envisioned using her TV background to edit videos and make a nice living as a freelancer.
Ready to ScaleUP?
ScaleUP! Kansas City is a free program that helps small businesses increase their revenues to $1 million or more per year. Learn more atwww.scaleupkc.com.
But she was a bit ahead of the curve for the Midwest market. She ultimately had to start a business doing video production jobs from start to finish. The company began writing scripts, directing film crews, post-producing a TV show and creating videos for companies.
By 2008, just as VISION5 was showing signs of success, the economy tanked.
"Being in an art-based industry in an economic downturn is very challenging," she said.
But Hamilton-Bruner survived it with a solid foundation for the future.
Yet she will be the first to agree that she could use a hand to build consistent cash flow and grow VISION5. It's why she turned to ScaleUP! Kansas City for help.
The free program, which is hosted by the University of Missouri-Kansas City Innovation Center and the U.S. Small Business Administration, offers classes, peer mentoring, professional guidance and more. It is designed for growth businesses like VISION5.
Hamilton-Bruner has an extensive resume to back up her work. Her company worked on "Missouri Outdoors," a show that aired on PBS until 2007. It produced an animated video on currency for The Money Museum at the Federal Reserve Bank of Kansas City. VISION5 also has created multiple videos for the Army Corps of Engineers' Kansas City District.
DIVERSIFY AND THRIVE
Surviving the Great Recession—which forced Hamilton-Bruner to lay off her three full-time employees—taught her the importance of diversifying her services. Instead of taking on a lot of short-term projects, she decided to focus on long-term contacts.
"We're very particular about what we go after," Hamilton-Bruner said. "We don't work for everybody."
She also looks for large and small businesses to partner with when submitting bids. Elaine realized it made no sense for her to compete with multimillion-dollar companies when they could team up instead.
Her business partnered with others to win the maintenance contract on the Air Force video health system, which allows doctors to see patients at bases across the globe. Partnering is one way of reaching new customers while using Hamilton-Bruner's extensive video background and business partners.
"I couldn't stay being a solely art-based business," she said. "I couldn't stay in one area and really survive."
The diversification has been a key for growth. The business brought in about $350,000 last year and is on pace to hit near that mark again
this year. It's up dramatically since 2013, when revenue came in around $150,000.
WHAT'S NEXT FOR VISION5?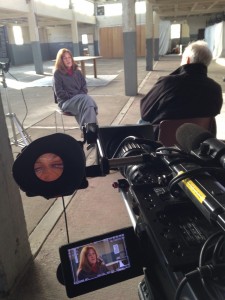 ScaleUP! Kansas City, Hamilton- Bruner said, has been an essential tool in forcing her to think beyond dreams and start planning for immediate growth.
"It really pushes you to do that work and to apply the (growth) tactics," she said.
Thanks in part to ScaleUP! Kansas City, Elaine is already focused on her next venture. She believes creating video content especially for online shows should be her next step. She's watched companies like Tasty succeed by creating short, eye-catching videos for social media. Other businesses are producing innovative shows ranging from a few minutes to a half-hour to win viewers on YouTube
and elsewhere.
"The problem is that nobody is paying us to do it. We have to put the time and energy into it," she said. "I have to be responsible for building the audience viewing, and I have to put that investment into whatever we produce. I can't just put it out there and say, 'Hey, I wonder if anybody is going to view it?'"
ScaleUP! gave her several tools to consider before taking the leap. All her decisions moving forward will be data-driven and well-researched. She won't give up her existing customers either.
There were several moments during the ScaleUP! training when Hamilton-Bruner realized small changes could make profound differences. One speaker, for example, suggested small bookkeeping changes that allow her to more easily project future cash flow.
It was also refreshing to discuss challenges with other small business owners and know the information would be kept confidential. Very few businesses are similar to VISION5, she said, but others confront similar obstacles. She kept an ear to the ground as they discussed solutions.
"We all walk out with this feeling that we're here to help one another," she said. "So it really builds a really good trust factor."
As she moves forward, Hamilton-Bruner also knows that if she hits a sticking point, there are advisers waiting to help.
"If I can't figure it out, at least there are relationships through ScaleUP! that could help me figure it out."