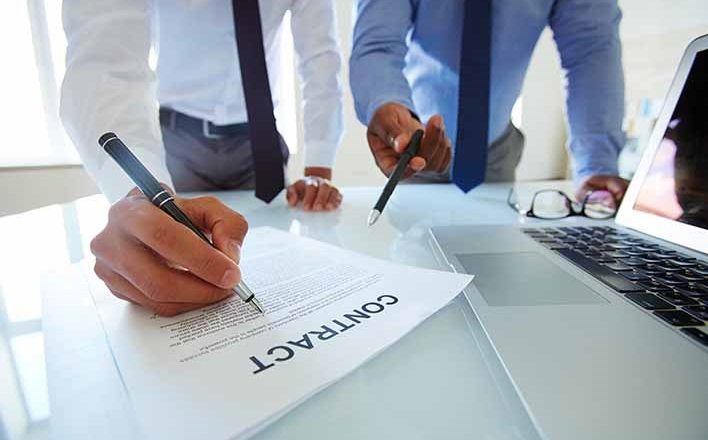 How Do I Win My First Federal Contract?
Here are some tactics to get you started.
---
If you're pursuing the federal government as a client for the first time, you're going to need a battle plan. That's because the government operates much differently from the private sector. Although the feds' "rules of engagement" are clearly defined, they can also be as clear as mud.
If that sounds like a contradiction, you are starting to appreciate what it's like to enter the world of federal procurement and contracts.
But with hard work and careful planning, your small business can win the campaign for a government contract. Here are some tactical maneuvers to get you started.
Start With Self-Assessment
Before you invest time and money into the pursuit of a government contract, you should make sure your business affairs are in order.
» Is your business financially healthy, and do your financials show positive cash flow?
» Does your company or any of its principals owe back taxes?
» Is your company of good character and in good standing with the government and the private sector? Are there any debarments or suspension issues on the part of your business or its principals?
» Is public information about your business—such as name, address, filings and website—consistent?
The federal government will want to see that you're financially sustainable and reliable. Address these areas before presenting your business to procurement officials.
Know What You Are Getting Into
It is critical to understand that government procurement officials are stewards of taxpayer money. Their job is to obtain the best product or service for the best price, and they're guided by a complete set of official guidelines.
Smaller procurement contracts are not necessarily simpler than larger ones. There are rules and laws associated with every procurement. The Federal Acquisition Regulation (FAR) is the government's 2,000-plus page "rulebook," and your business needs to comply with these regulations in order to be in the game. You can find a copy of the FAR online at www.acquisition.gov/?q=browsefar.
If the fine print feels intimidating, take advantage of the services of an adviser, such as your local Procurement Technical Assistance Center (PTAC). You can find the nearest one by visiting www.aptac-us.org.
PTACs are an invaluable resource and ally in understanding the government marketplace, whether you're competing at the federal, state or local level. The best part: Their services are provided at little to no cost and are confidential. The advisers there can help you navigate the many nuances of the government sector.
Research the Who, What, When and Where
Pursuing federal contracts can be a major commitment. According to a 2010 American Express OPEN study, successful small business contractors devote roughly $86,000 per year, in time and money, to going after government work. On average, they submit seven bids annually—and win about three.
To improve your odds, you should do your research so you can discover your best opportunities for success.
» Does the government buy what your business sells? If so, then which agencies or bases are your target market?
» When do those clients typically make a purchase? In what quantities?
» Where can your business be most competitive, both in terms of geography and service area?
Register Your Business
Once you have completed some research, then start the process of officially registering your company with the government. Taking these foundational steps signals your readiness to engage the federal government. Good news: These registrations are free.
» Obtain a Tax Identification Number (TIN) or an Employer Identification Number (EIN) through the Internal Revenue Service: www.irs.gov/Businesses/Small-Businesses-&-Self-Employed/Apply-for-an-Employer-Identification-Number-(EIN)-Online.
» Obtain a Data Universal Numbering System (DUNS) registration with Dun & Bradstreet: fedgov.dnb.com/webform.
» Identify your company's North American Industry Classification Systems (NAICS) codes: www.census.gov/eos/www/naics/.
» Identify your Federal Supply Code (FSC) or Product Service Code (PSC) codes: www.acquisition.gov/?q=PSC_Manual. These are optional, but are very helpful.
» Register your business at the System for Award Management (SAM): www.SAM.gov. It is also recommended that you complete the optional SBA Profile as part of your SAM registration. Your local PTAC can assist with SAM registration for little to no charge.
Be Ready to Market Yourself
What projects has your business completed in the past, either in the private sector or with the government? Design your marketing material to showcase your successful services or products. Is your marketing collateral professional and easy to understand? If asked, is your business prepared to share marketing brochures, resumes, project profiles and references?
This is information the government decision-makers may want to see. Past performance is of particular importance
to procurement officials because it is a strong predictor of potential for success on similar procurements.
Seek Socioeconomic Certifications
WOSB, EDWOSB, SDVOSB, VOSB, MBE, WBE, DBE, 8(a), HUBZone—there are a multitude of socioeconomic designations that a business can obtain if it meets the required qualifications. These certifications can help your company access several procurement opportunities and programs.
Some designations are unique only to federal contracting while other designations apply only at the state and local levels. Very few serve both federal and nonfederal markets. Know which ones are advantageous to your business. If subcontracting to prime contractors, then ask them which designations they desire.
Stay Committed
Being successful in the world of government contracts doesn't happen overnight. Be content with small procurements while working your way toward larger contracts.
Just stick to your battle plan, and appoint someone from your business to be the "government expert." This person will ensure that you are keeping up with new regulation, new programs and new opportunities.
With consistent effort, knowledge of the rules and continuous education, you can achieve success in winning your first government contract—and many more!