More than 250 of the world's biggest brands—names you most definitely will recognize—rely on a Kansas City company for a critical part of their marketing.
Aflac, Lowe's, Unilever, Mercedes-Benz, Pfizer, DuPont and many others all use DivvyHQ. It's a cloud-based tool for planning, organizing and producing content marketing.
To promote their products and services, DivvyHQ's clients publish a staggering number of blog posts, videos, white papers, infographics and social media posts every single day.
Hundreds of people may be involved. Not all of them are in the same city or even on the same continent.
"Divvy serves as a hub to help manage that entire content ecosystem, all the resources, all the projects," said Brock Stechman, who co-founded DivvyHQ with Brody Dorland in 2011.
Since then, Dorland and Stechman have earned notice from major industry analysts such as Gartner and Forrester. They're also finalists for the 2017 EY Entrepreneur Of The Year for the Central Midwest region.
And they've raised $3.1 million in investment. Among other things, the money has helped fund a series of new features and upgrades—Divvy 3.0—that will debut this summer.
Their competitors include heavyweights like Oracle, but their team is relatively modest in size—just 16.
The crazy thing? When they started, DivvyHQ's founders weren't trying to win over the world's best-known brands. They really just needed a software solution that would help them run their own small marketing agencies.
When Stechman and Dorland couldn't find the right tool, they decided that, well, they'd build it themselves.
How DivvyHQ Was Born
Before we go any further, there's an important question we should answer: Just what is content marketing?
It's a strategy where businesses produce valuable, relevant content to attract and engage customers.
So, a real estate agent who blogs about house-hunting tips? That's content marketing. Or let's say a tool company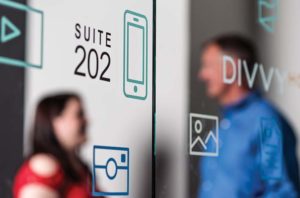 publishes YouTube videos that show you how to use its product for DIY home repairs. That's content marketing, too.
Ideally, customers who are interested in a company's area of expertise will discover its blog or YouTube channel, then consume the content they find there. The customers get free, useful information. They also learn to trust the company. So when they're ready to buy, that company is the first place they go.
It takes a lot of effort and coordination to succeed in content marketing. Before they founded DivvyHQ, Brody and Brock built successful small businesses to help clients do just that.
Brody was the owner of Something Creative Inc., which developed strategies for companies' content marketing efforts. He regularly teamed up with Brock and his agency, Brockton Creative Group, to build websites, apps, marketing campaigns and other deliverables.
Business boomed, but there was a problem.
For most clients, Brody and Brock would set up a starter "editorial calendar." It showed them all the blogs, social media and other content they'd need to create over the next three months.
Constructing one calendar could be a challenge because of all the moving parts and partners involved.
"Multiply that scenario by, say, 20 clients," Brody said. "And we've got spreadsheets going back and forth, all kinds of collaboration happening every day. Man, that was painful."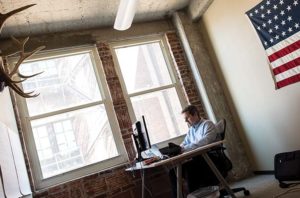 They looked for software that would help them manage the workflow. They found nothing.
Sure, there were project management tools like Basecamp. But most of those were designed to handle short-lived campaigns with defined start and end dates.
Content marketing isn't like that. Once you start a blog, you always have a blog, and it always needs to be fed.
Brock and Brody realized they had pretty much everything they needed to build a planning tool like the one they envisioned, so they did.
Two months and a little angel capital later, DivvyHQ was born.
From Zero to Fortune 100
"We've always said that the most valuable asset anybody could have, especially an entrepreneur, is their network," Brock said.
The power of professional networks certainly made a difference in DivvyHQ's infancy.
Back when Brody and Brock were getting ready to launch DivvyHQ, they scored an opportunity to present their company at the first-ever Content Marketing World, thanks to their connections to the organizers. (The event has since become one of the biggest and best known for content marketers.)
"And the cool thing was, in the audience at that time were some of the biggest brand marketers in the world, from Fortune 500, Fortune 100 companies," Brody said.
The pitch was a hit, and the DivvyHQ team walked away from Content Marketing World with two notable wins.
One, they acquired a team of beta-testers from several major companies. Those testers were happy to put DivvyHQ to work under real-world conditions.
"Those months were just nuts because we were trying to get as much feedback as we could get and make tweaks as fast as we could," Brody said.
And two, the co-founders saw the market was keenly interested in their idea.
"We realized that we absolutely have a fit here," Brody said. "We're getting amazing traction from all these big brands around the country and around the globe. So let's go and get a serious round of funding."
They soon connected with Dundee Venture Capital of Omaha, which supplied $600,000. That money would pay for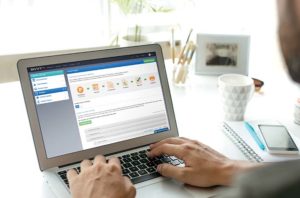 the next big upgrade of the platform, Divvy 2.0, and help them build a sales team.
Meanwhile, each founder exited his old agency business so he could focus on scaling up the new company.
DivvyHQ's platform has the potential to achieve massive growth. But its founders have been careful to focus on more than just product and marketing. They've devoted time to lining out the bookkeeping, insurance, hiring—all the nuts-and-bolts that aren't necessarily fun, but are essential to building a strong, sustainable and healthy company.
"You can't just focus on a couple areas of your company and expect to be successful," Brock said. "You have to build a sound, well-rounded business."
'Guys, Divvy Is Broken'
Nobody enjoys getting bad news from clients. But sometimes, it can clue you into issues you need to address in your business.
For DivvyHQ, an early wakeup call came courtesy of Nokia. "Their head of content in the U.K. called up one day: 'Guys, Divvy is broken,'" Brody recalled.
And sure enough, it was. Brock and Brody logged into Nokia's account, and it looked like a jumble—partly because the company had more than 250 users on its account. And they were juggling about, oh, 50 to 100 pieces of content per day.
"We didn't build it for that size company, for that scale, for that scope," Brody said.
They had designed DivvyHQ to solve a problem they were having. They assumed most of their customers would be small to midsize agencies like theirs.
"We ended up not getting a lot of small agencies to sign up," Brock said. "We started getting these huge brands with huge global teams producing tons and tons of content on a daily basis across all different types of outlets."
DivvyHQ adapted, of course, and has continued adapting. They've had to—it's a fact of life when you're a technology company. The tech world moves a lot faster than other types of businesses, certainly faster than life in the agency world was for the company's founders.
While DivvyHQ was the first of its kind, several competitors have popped up, many of them very well-funded. "It's amazing what software companies can do in a year—in a few months—if they're well-funded," Brock said.
'Coming at It From a Different Place'
But DivvyHQ possesses strengths that are hard to beat. Its platform is still the most intuitive and the easiest to use—an important selling point for its customers.
Another asset for DivvyHQ? Earlier this year, one of the founding fathers of content marketing, Robert Rose, agreed to join the company's board of directors. Rose had been a longtime supporter and advisory board member, but now he'll play a part in shaping business strategy, too. (A healthy professional network pays off again!)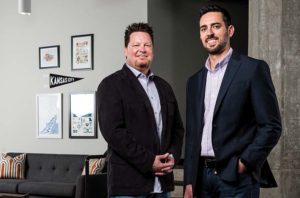 And finally, unlike their competitors—who are mostly tech companies that decided to build a tool for marketers—Brody and Brock are marketers who experienced their clients' pain firsthand and already possess a deep well of industry knowledge.
They actually understand how content marketing works.
The other guys? "They're just a tech company that saw, 'Hey, this content marketing thing is hot, let's build a tool and see what happens,'" Brody said. "We're coming at it from a very different place, from a place of passion, a place that we know and love."
ENTREPRENEURS
Brody Dorland, Brock Stechman
COMPANY INFORMATION// DivvyHQ |117 W. 20th St., Ste. 202 KCMO | (877) 573-4889 | www.divvyhq.com
TYPE OF BUSINESS // Content planning and workflow platform for marketers
YEAR FOUNDED // 2011
EMPLOYEES // 16
KEYS TO SUCCESS // "We believe in fine-tuning everything."—Brock Stechman, co-founder