The founder of Unruh Furniture talks about his company's new HQ—and the three reasons why his team's work beats the competition.
---
Customers love the handcrafted hardwood desks, tables and beds that Unruh Furniture makes. In a few months, the company will have a building that's as distinctive as its products.
Owner Sam Unruh has purchased a former church at 36th and Walnut in midtown Kansas City, Mo. It's undergoing a massive renovation right now. Once that's complete, the company will leave its current home near downtown Grandview, probably in late spring or early summer, Unruh said.
The church is bigger—about 34,000 square feet vs. 15,000 in Grandview. It's also a shorter drive for many customers.
"The biggest benefit for me personally, the reason I bought it, is just the aesthetic of the church," Unruh said. "It's a really beautiful old stone building. It was built in 1904. It's 20-inch-thick stone walls all the way around. And it looks like a castle."
'There's a Lot of Steps in the Process'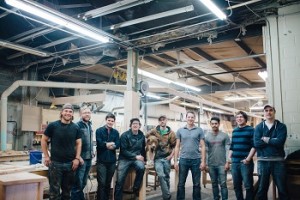 The renovated church will be quite a leap from where Unruh Furniture started back in 2010.
"I was making furniture in my garage for friends and family and for my wife, just as a hobby," he said. At the time, he had a day job he didn't really like, so "my wife encouraged me to go out and do furniture for a living."
At first, he produced two or three pieces per week, then sold them on Craigslist. It was enough to cover the mortgage and other essentials. Just as important, he loved the work.
As Unruh's furniture started attracting a fan base, he hired other craftsmen. Today, Unruh employs a team of 15. (Fifteen and a half if you count the dog.) Sam himself devotes most of his time to business development while his team constructs each sideboard, nightstand and bookcase.
"There's a lot of steps in the process," Unruh said. "We'll sell the furniture up here. We'll make the plans for it. And that'll go over to the guys."
A three-man "parts" team will make individual legs, slabs and other pieces, which then are handed to a builder. He's responsible for assembly. Turns out, putting everything together consumes as much time as creating the individual parts.
"The builder is the more skilled guy," Unruh said. "He's the guy that can problem-solve the difficult things, make the drawers, make the doors."
The assembled piece heads to a sanding team that smooths away any roughness without diminishing the wood's character. A finish is applied. Then the piece is ready to be trucked to the customer's home.
The entire process, from order to delivery, takes anywhere from eight to 10 weeks.
"Everybody that works here will in some way, shape or form touch the piece of furniture before it goes out," Unruh said.
Furniture With a Story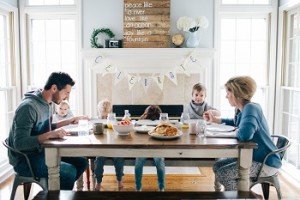 Ask Sam Unruh why his team's furniture is better than what you can get from competitors, and he'll tick off three reasons.
»  First, the quality of the wood. If you do business at the big stores, there's a good chance that "oak" dresser you bought is mostly plywood hiding behind a veneer.
"Our stuff is 100 percent solid hardwood," Unruh said.
»   All of Unruh's output is made-to-order. "We don't have any inventory of anything," Unruh said. "So everything is made to order. Once our customer puts in an order, we start making it."
And that means clients get a bigger say in how the finished product looks. A Pottery Barn table might come in three sizes, with a choice of two different finishes. For a similar piece, Unruh offers a selection of 60 different sizes, a dozen finishes and seven wood species.
"You just have way more flexibility in terms of getting exactly what you want," Unruh said.
»  And finally, there's the story. "I bought this at Nebraska Furniture Mart" doesn't have the same zing as "My dinner table was created by a team of local craftsmen, and I visited their workshop and picked out every last detail."
At Unruh's office in Grandview, there's a window overlooking the production floor. Visitors to the showroom can watch as workers plane the boards. It gives customers a closer connection to the finished product.
Unruh's new building will have lots of windows just like that, he said. He wants the renovated church to become a destination for customers—or even people who are just curious about the process.
"Our whole business model has kind of revolved around giving the customers a neat experience," Unruh said. "They're buying furniture that has a bit of a story to it."