Fred L. Merrill Jr. and Merrill Companies are building one of KC's most ambitious developments.
---
Blueprints and colorful poster-size images of buildings cover the walls of a conference room in Merrill Companies' offices. The pictures form a patchwork quilt of the commercial real estate firm's projects, past and present. It has successfully managed developments in Dallas, Washington D.C., Phoenix and Scottsdale and, closer to home, in Mission, Leawood and Overland Park.
One of its biggest is Prairiefire. It's been a decade since the mixed-use development won approval from city leaders. The project, which opened in 2014, has brought a lively mix of shops, restaurants, apartments and offices to Overland Park's 135th Street corridor. Prairiefire's final phase of construction is scheduled to be completed by the summer of 2018.
"We have been working on Prairiefire for 10 years," said Fred L. Merrill Jr., the firm's president. "It is an accumulation of ideas from projects in the Dallas, Phoenix, and Washington, D.C., markets."
Merrill envisioned Prairiefire as a project tailored to Johnson County, one that could contribute to reshaping Kansas City's identity as flyover country and become a regional draw. After devising a half-dozen prototypes, Merrill Companies arrived at a bold idea: The development would include the Museum at Prairiefire as the nation's first location for hosting traveling exhibitions of New York's American Museum of Natural History.
"I wanted a civic component," Merrill said. "By bringing in the museum, we created a regional attraction that was also community-based."
Prairiefire also meets a growing demand for denser developments that allow people to live, work and play in the same area. It's the same approach that visionary developer J.C. Nichols used to guide the creation of the Country Club Plaza.
"Now, people want more efficient living," said Merrill. "By working with city planners, we could bring those uses back together."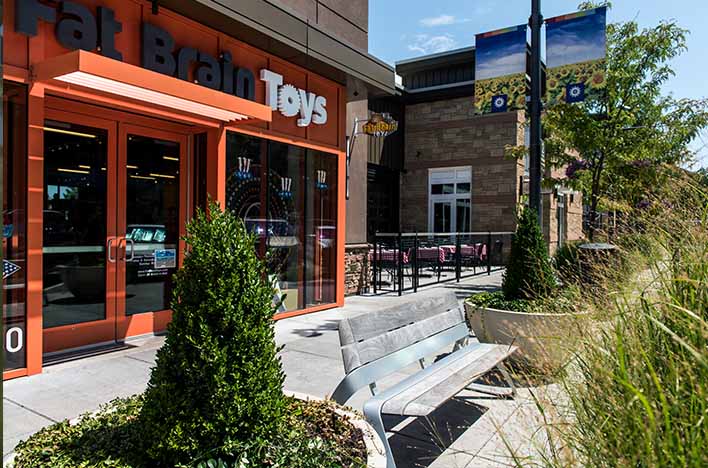 The Most Adaptive Endure
If there's one thing Merrill has learned over the course of his career in commercial real estate, it's this: Not everything always goes exactly to plan. Successful entrepreneurs learn to adapt.
Over the past two years, consumer buying patterns have changed. So this summer, Merrill Companies announced a revision to its development plan for Phase Two of Prairiefire. About 130,000 square feet of office, retail and apartment space was trimmed from the project.
But this wasn't the first time that Merrill Companies has updated the Prairiefire plan to respond to market conditions.
"This is the fifth revision since we started the project 10 years ago," said Merrill. "We want to finish the project so the original concept can be completed as closely as possible."
To predict future demand, Merrill and his team have to analyze how fast tenants are signing leases for upcoming openings. "In addition to our pre-leasing, we must attempt to forecast what economic conditions will be in approximately two years when the project is complete," he said.
Forecasting is one of the most vexing aspects of commercial real estate. Past performance doesn't necessarily reflect what will happen next.
"The cyclical nature of real estate is what I like least in this business," said Merrill. "My dad was in flour milling, an inelastic business. Real estate can be good when demand and market conditions are there."
Like anything, the more experience you acquire, the better you perform.
"It took me going through a couple of recessions to understand and to think years ahead," said Merrill. "As you get older, you learn better ways, but the economy is always changing."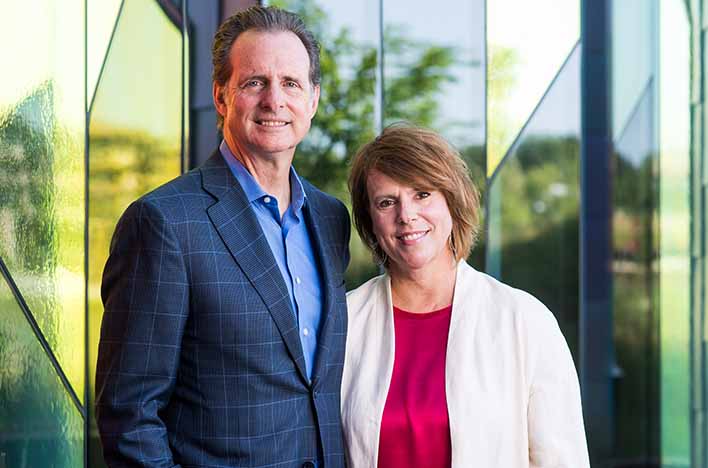 Team Merrill
Merrill is originally from Wichita. He graduated from Kansas State University and earned an MBA at Southern Methodist University in Dallas. Young and full of energy, he launched a commercial real estate career in that bustling Texas city.
Kansas City wasn't as attractive back in the '70s and '80s—the city was a less dynamic real estate market—and Merrill remained in Dallas for 12 years. He moved to Kansas City in 1998 to help with his father's business and established Merrill Companies here two years later.
"Kansas City has changed dramatically," said Merrill. "Now the next wave is led by tech companies like Cerner and Fishtech Labs. Downtown growth has spread. It's a progressive time in Kansas City."
Merrill Companies has endured for 16 years in part because it offers a wide range of services. Those other lines of business have steadied the company during down economic cycles. Beyond development, the company has expertise in property and asset management, as well as investment and sales.
The other key to the company's long-term success? Great personnel.
Merrill's wife, Candy C. Merrill, is an essential partner who leads real estate marketing plans, event planning, corporate identity program development and special attractions at Prairiefire.
"She and I discuss plans 24/7. She's driven like me," Fred Merrill Jr. "Our relationship is synergistic."
Prior to starting a design firm, Candy Merrill pursued a career in competitive synchronized swimming. She won a gold medal in the 1984 Los Angeles Olympics.
Since 2007, executive vice president Chris McIntyre has been the head of property management. "He's the best property management executive in the Kansas City area," Fred Merrill Jr. said.
McIntyre gained much of his 35 years of experience working with Cohen-Esrey before Merrill recruited him. Now McIntyre manages the company's own properties as well as those belonging to third parties.
With more than two decades of experience, senior vice president Kim Cronan joined the company in 2007 as a senior property manager. Previously, Cronan managed 600,000 square feet of office and retail properties in south Johnson County for clients such as RED Development, the Peterson Companies and others.
CFO Diane Bolzan, who splits time between offices in Phoenix and Kansas City, "brings tremendous experience in the real estate accounting field."
Long-term relationships are a common thread between Merrill and his team. Merrill's son, Fred C. Merrill, is also involved in the business, handling leasing and restaurant operations.
"We're a close-knit group with an office staff that is incredibly dedicated and capable," the elder Merrill said. "Because real estate is cyclical, it's better to have a small group and hire outside services" rather than hire and fire a larger workforce.
Better Than 50 Percent
Reflecting on Prairiefire and the commercial real estate market at large, Merrill stated, "It's been the most challenging time for retail in my 35-year career. The economy has been in a slow-growth period. Traditional retail models are changing quickly."
The shifting retail environment has affected sales at high-end luxury stores over the past five years. "It's ushering in a new era of value-oriented retail purchases via the Internet and brick-and-mortar stores," Merrill said.
In response, developers have to be sensitive to the rapidly changing needs of retailers as they redesign for the future.
For mixed-used projects like Prairiefire, it's key to involve investors, lenders, developers and city officials.
"Real estate is an elastic business," said Merrill. "You have to think ahead to stand out."
Because of the unpredictable nature of real estate, he advised that a developer must "be better than 50 percent right" in order to survive. Minimizing losses from external factors is important.
"You can be on time, on budget and financed properly," Merrill said. When recession asserts itself, "sometimes you can't do anything in those markets but go into survival mode. You try to protect investors and lenders, and wait and see. The market won't go down forever."
Merrill counts himself fortunate when faced with past downturns. "I try to structure deals to mitigate the downside and protect us at the same time," he said. "When it happens, it happens market-wide. Having visionary, quality investment partners is key."
'You Have to Have the Courage to Start'
As a mixed-use development, Prairiefire relied on a public-private partnership that involved the city of Overland Park. The city approved $13 million in bonds to support the project, which Prairiefire is paying back with a special 1 percent tax. The Museum at Prairiefire also qualified for nearly $80 million in Kansas STAR Bonds.
"In today's retail and financial environment, if you want to do something special, then you have to do these partnerships," said Merrill. "Building costs have risen. If a project doesn't have a special attraction (such as the Museum at Prairiefire), then the economics of the project can't support them."
Other projects, such as the Power & Light District in downtown Kansas City and the Kansas Speedway in Wyandotte County, "transformed those areas," said Merrill. And that's what is going to happen with Prairiefire, too.
"They bring new businesses and taxes to downtown and the suburbs," Merrill said. "You have to have the courage to start them. A commitment is needed by government and developers for a true partnership to make these projects successful."
(photography by Dan Videtich)