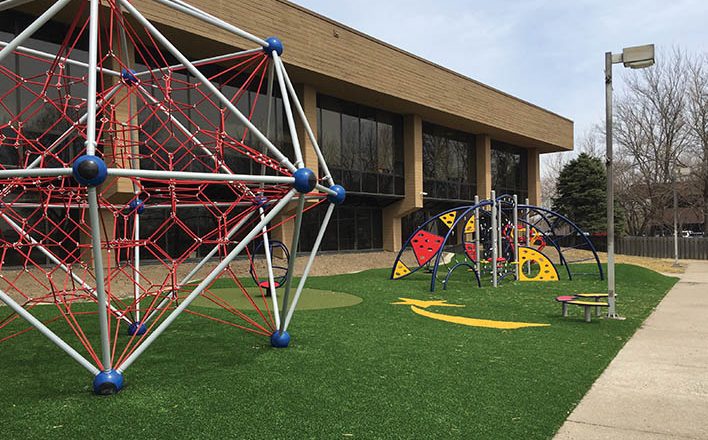 ABCreative: Combining play with learning
Designing the perfect playground for its customers is based on one very important element for ABCreative — listening to its customers and meeting their needs.
"A lot of companies focus just on selling equipment as cheap as they can get it," said ABCreative President Karen Herren. "We always consult our customer and look at what they want. We look at what they have and don't have and design from there. We create enjoyable community spaces."
'Underserved' market
Based in De Soto, Kan., ABCreative has been designing outdoor play spaces for 25 years. Herren started in the industry working part-time for another company.
"From there I got the idea of what was possible and what I could do with it," Herren said. She started out on her own because "I thought the market was underserved."
Herren worked with various vendors to obtain the equipment and brought on some staff to help. By her own admission, Herren said she struggled a bit to run things. Nine years ago, Herren's husband, Tim McNamara, joined the company.
"I needed help," she said. "I had tried to expand, but my hires didn't work out. At that point he had his own small business and was able to sell it and join me. Right after that we started growing."
With its mantra of consult, create and construct, today ABCreative has a team of seven with consultants working in Kansas City, St. Louis and De Moines. In the last five years, Herren said ABCreative has doubled in sales and continues to win awards as a top seller for its various vendors.
Elements of play
Whether designing an elementary school playground or a municipal play space, ABCreative looks to produce a unique design for its clients' projects to meet their needs.
"We start with a foundation of the seven elements of play and create from there," Herren said. Those elements are swinging, climbing, brachiating (alternating rhythmic arms movements when using things like monkey bars), balancing, sliding, sensory and spinning.
"This helps the kids develop appropriately," she said. "If kids aren't active, they can't learn."
In designing the play area, ABCreative also considers the age groups that will use the equipment, fitness levels and a sense of adventure and challenge that can be incorporated.
"What we are able to create depends on the design, budget and what needs we need to meet," she said.
Once the design is in place, ABCreative works with its vendors to purchase the necessary equipment and play elements, and puts it all together. A few years ago, the couple bought another company, Foreverlawn KC, that creates artificial turf. Today, it is one of ABCreative's vendors.
While scope varies, the average project takes about six months from start to finish.
Among ABCreative's local projects are elements of the Leawoof Dog Park, Karnes Playground in Roanoke Park, Olathe's Frisco Lake playground, nine elementary school playgrounds for the Kansas City Kansas School District and six playgrounds for the Fort Osage School District.
Engaging all ages
Through the years, Herren has seen elements change from the asphalt and monkey bars that were her childhood playground experience. For a while, Herren said playground equipment went through a modular phase "to the point that it became boring."
"Finally, in the last five years, there is starting to be a shift to making equipment that is more of a challenge, and kids learn with it," she said.
Rope play has become popular — "it really engages the children," Herren said.
Playgrounds also are incorporating the surrounding terrain by adding berms, tunnels and more. Fitness-oriented equipment is another popular option.
"More people are requesting things for teens and adults to do," Herren said. "Communities are looking for all ages to come together. … It is a type of entertainment in an active way. They want to engage everybody."
Transition ahead
While marking its 25th anniversary, ABCreative is embarking on some change. Herren and McNamara are looking to move into another location within De Soto.
In addition, Herren has a plan in place to ultimately hand the company over to the couple's son, Tanner McNamara, when he leaves the U.S. Marine Corps.
"He will be joining us late in the fall, and it will help us start our exit strategy," she said.
Herren plans to step away in a year while her husband will continue to work with their son for a while.