Phillip Zaroor wasn't a truck driver, fleet manager or inventor. But he was an entrepreneur, and when a truck driver showed him an idea—sketched on a napkin—for a tire-pressure monitoring system, Zaroor was convinced it was a good one.
Zaroor also marketed things like golf clubs and fishing poles in his unique career, but this concept was different.
"It was something that fulfilled his vision of not just creating a product but an entire market," said Jason Zaroor, Phillip's son and CEO of Advantage PressurePro LLC, based in Harrisonville, Mo.
The elder Zaroor had already tried some more traditional career paths before he became a pioneer in the tire-monitoring business. He owned a clothing store and a deli before going to work as a national headhunter for an executive search company. That job led to a role with a client: tool manufacturer RB Industries Inc. in Harrisonville.
Zaroor also tried early retirement, but that trucker's sketch brought him back to work.
"Nobody was surprised when retirement didn't last," Jason Zaroor said of his father, who died in 2016. "It wasn't long before he drove Mom crazy at home."
Phillip Zaroor bought the trucker's idea, patented it and founded Advantage Enterprises in 1992. By the end of the year, TireMate was on the market.
'The beginning of something great'
Jason Zaroor said that first product was "basic, and a bit cumbersome," but it also "was the beginning of something great. It opened a lot of people's eyes."
Vanessa Zaroor Hargrave, Phillip's daughter and PressurePro's chief operating officer and chief marketing officer, said earlier tire systems didn't read tire pressure but attempted to predict low tires based on other traits, such as tire circumference. TireMate was different in that it actually read and recorded pressure and sent alerts to drivers.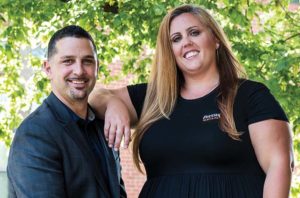 TireMate was such a new concept that the company had to educate potential customers and convince them that they needed the innovation.
"There was a huge need," Jason Zaroor said. "Dad was convinced that if we built it, people would want it."
Mailings and tradeshows helped, but developing a reputation was critical, too. The company developed an after-market display for recreational vehicles, and that market became an early target.
"That's a tight-knit community," Zaroor said of RV owners, "and it caught on by word of mouth."
Advantage updated and improved its products throughout the 1990s before incorporating Advantage PressurePro LLC in 2003. A year later, the PressurePro-branded line of tire-pressure monitoring systems (TPMS) was introduced. The company's earlier products had location-specific limitations, but its new TPMS products had universal sensors that made them easier to use.
PressurePro had found a niche with RVs, but who else could benefit from the technology? Tire monitoring has been a standard feature on cars made in the United States for more than a decade, but that's not the case for commercial trucks and heavy-duty construction vehicles.
Zaroor said that for commercial trucks, PressurePro works with technology partners to piggyback on systems that already track metrics like driver hours and vehicle health.
"We can add our product to a screen they're already using," he said. "You get a picture of how the truck and the driver are performing with real-time data."
That data, Hargrave said, can allow a manager to monitor an entire fleet remotely and pinpoint any weaknesses or problems.
Hargrave said return on investment varies based on several factors, including what a truck is hauling and how heavy the load. Regardless, she said PressurePro improves fuel efficiency, increases tire life and improves safety.
Penetrating new markets
Although PressurePro is an after-market product for commercial trucks, the company is partnering with manufacturers in other industries to make TPMS a factory option.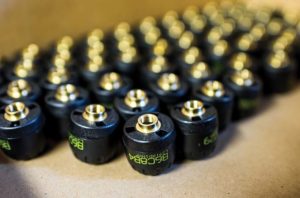 Such partnerships include recreational vehicle makers Winnebago and Newell Coach; Wenco mining solutions; and Caterpillar heavy-duty equipment, she said.
Hargrave said manufacturers are eager to partner with PressurePro rather than developing their own technology.
"They don't want to reinvent the wheel," she said. "They want to bring in someone with expertise and experience."
Hargrave said manufacturers of other products that the family had not originally targeted—such monorails and irrigation units—also have inquired about TPMS.
"It's amazing to see the people who come to us and say, 'We want to use your system,'" she said.
"Anything with pneumatic tires is a possible market," Zaroor added.
The company's latest product, Pulse FX, is targeting a new segment—towing. The product, which launched in June, allows users to monitor their tires via an app on their smartphones.
"You could use this to monitor anything you tow, like a camper, horse trailer or boat," Zaroor said. "These are high-dollar assets, and people want to protect them. Tires are a big risk, and this is something easy to add on."
Towing, Hargrave said, is just the start.
"We already have people saying, 'We're going to try it with this instead,'" she said.
"People get creative," Zaroor said.
'Think globally and act locally'
PressurePro, which is sold through a network of dealers on five continents, is now producing its sixth generation of products. TireMate was manufactured in Taiwan, but after a few years, the company shifted production to Michigan.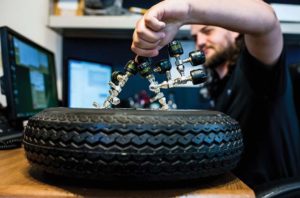 "We're proud of that," Zaroor said. "It's not the cheapest way to do things, but it improved communications and product quality."
One of the many lessons Phillip Zaroor taught his children was to "think globally and act locally," Hargrave said.
"Dad coached Little League and Pop Warner football for years," she said. "He was involved with local festivals and the rotary club, so we grew up with that. When we started working with him, he really encouraged us to get involved with the community."
Hargrave has been co-chair of Harrisonville's Just4Me program for eight years. The initiative provides three monthly food deliveries to children in need during the summer when school-based assistance programs are unavailable. The co-chairs raise funds, purchase food and manage volunteers to pack and deliver it.
"We raise $12,000 to $15,000 each year, which isn't easy in a community of 10,000 people," she said.
Keeping it in the family
Although Phillip Zaroor is gone, Pressure Pro remains a family business. Five of the 11 employees are relatives. Six of the 11 are 30 or younger.
"We don't have the typical problems a lot of business might have, like people not showing up," Zaroor said. "That's the best part. We all get along."
Zaroor took over the roles of CEO and president after his dad, at age 67, died on Father's Day two years ago, succumbing to an 18-month battle with cancer.
"It took a while to heal," he said, "but now I think we're stronger than ever."
---
ENTREPRENEURS
Jason Zaroor, Vanessa Zaroor Hargrave and Rhita Zaroor
COMPANY INFORMATION
Advantage Pressure Pro LLC
205 W. Wall St.
Harrisonville, MO 64701
(816) 887-3505
TYPE OF BUSINESS
Manufacturer of tire-pressure monitoring systems
YEAR FOUNDED
2003
EMPLOYEES
11
KEYS TO SUCCESS
Developing a reputation as the best product in a niche market has helped the company expand from RVs to commercial trucks to "anything with pneumatic tires."