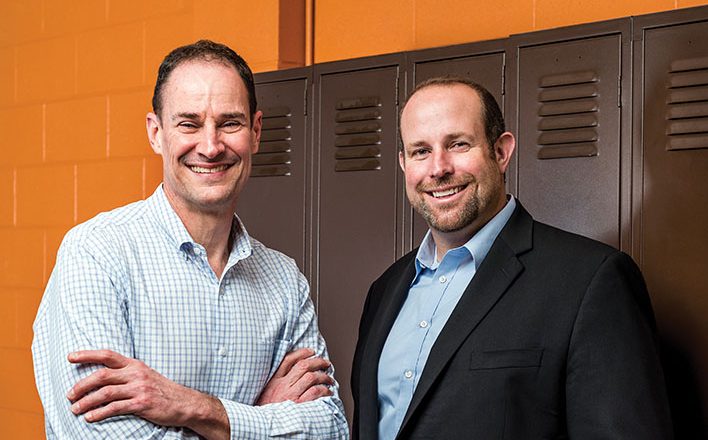 Athlete Network: From the playing field to the corner suite
Just think of everything that goes into the making of a successful athlete.
Years or sometimes decades of hard, grinding work. A ferociously competitive spirit. The ability to gracefully accept coaching, even when it's delivered bluntly, while working alongside teammates from completely different backgrounds.
Sounds like somebody who would be a pretty good employee, right? Unfortunately, too many athletes struggle to transition into the working world after their playing days are over.
Chris Smith founded Athlete Network to help former athletes take the next steps in their careers — and life. The Lenexa company builds online platforms where competitors from pretty much any sport can connect with job opportunities, mentoring and other resources.
The U.S. Olympic Committee and Kansas State, Arkansas State and Lindenwood universities all use branded versions of Athlete Network's platform to support their players and alumni once their sports careers are done.
"If you reach the collegiate, Olympic, professional level, you've committed a good part of your life to athletics," said Smith, who played football at the University of Hawaii. "And that's really all you know about yourself."
That's why so many former players wrestle with depression, joblessness, substance abuse and other problems. They don't realize their old athletic program provides services that could help, even though they're not actively competing anymore. Athlete Network provides a single, easy-to-use interface for accessing those resources.
'This is a worthy cause'
About 30 percent of Athlete Network's users are in college. But most are former athletes who've moved on to new pursuits — including notable users such as Warren Moon and Shaquille O'Neal.
Schools love the platform because it helps them stay connected to alumni who might become future donors or mentors.
Corporations use Athlete Network, too. They pay to have branded pages on the platform and to share job openings across the nation with a targeted, highly desirable demographic.
Take a school like K-State, for example, that draws players from Texas and California who might want to find jobs back home after they graduate.
"It's almost impossible for (athletic department) staff to build relationships with employers in California and Texas, right?" Smith said. "So what we do is build national relationships and plug it into all of our networks, and all their athletes get access to them."
And for the former competitors, Athlete Network shows them how much they still have to contribute beyond the court, field or track.
"We change people's lives," Smith said. "I've had guys that were first-round draft picks, played 15 years in the NFL, when we meet with them, talk to them, break down crying. This is a worthy cause."
Not just another social network
Smith has set an enormous goal for his company. He wants Athlete Network to help 5 million people take the next step in their career. It's not unreasonable — about 300,000 people use the platform.
Many of them are on the original version of Athlete Network, a "LinkedIn for athletes" that's open to any former athlete.
Over the last 12 to 18 months, though, Smith and his team have begun to get even more focused. They've been putting more energy into "branded networks." These are smaller, self-contained platforms that clients like universities and the U.S. Olympic Committee own. These portals carry clients' branding and feature their dedicated resources for athletes.
Those resources are more focused, more relevant and thus more valuable for users.
LinkedIn is a great resource, Smith said, and he recommends all his users keep a profile on that platform, too. But the connections there aren't as deep as what they'll find on Athlete Network.
"The world doesn't need another social network," Smith said.
Recruiting advantage
While some former athletes struggle, others soar. According to a 2016 study from Gallup, former college athletes were more likely to thrive in four key areas — purpose, social, community and physical well-being — than nonathletes. (When it came to financial well-being, both groups had comparable levels of success.)
Last year, Forbes noted that 65 percent of the honorees on its 2017 Most Powerful Women List were former athletes.
Smith himself is a good example of someone who found a way to thrive after football. After college, he joined Eli Lilly & Co. as a sales associate, where his bosses quickly noticed the good work he was doing.
"They just said, 'Hey, what are you doing? Why are you successful?'" Smith recalled. "And they didn't like my answer. I said, 'I just work hard, I'm coachable, and I want to win at what I do.'"
He suggested they focus their hiring efforts on student-athletes. Eventually, Smith took his own advice: He started a recruiting business that helped employers hire college athletes.
"We were traveling all over the country, meeting with graduating seniors, team captains," he said. "You find that volleyball player with a 3.5 GPA. She's got unbelievable grades, unbelievable leadership skills. Corporate America is drooling to get to her. So we would connect them."
His work as a recruiter gave Smith the vast professional network he needed to launch Athlete Network, as well as a deep understanding of the needs of athletic programs, especially when it came to alumni relations.
"What happened over time is the universities started to say to us, 'Do you know where she went to work?'" Smith said. "We were starting to get data on where their athletes were going that they didn't have access to."
In addition to the data they offer to clients, Athlete Network's branded portals can also be a powerful tool when coaches are recruiting players and selling their program to prospects' parents.
"They can show (parents), 'Here are their mentors,'" Smith said. "'Here are hundreds of employers waiting to hire them the minute they graduate. When they graduate, here are all the continuing services we offer them.' It's a huge recruiting advantage."
In a lot of cases, athletic departments used to keep that information in an Excel spreadsheet that, more often than not, would get lost when the head coach changed jobs.
With Athlete Network, schools can also see who's using their services and can show users the resources and programs most relevant to them.
"The technology knows I'm a football player, so I only see those services," Smith said. "When the volleyball player logs in, they only see those services."
Going global
Athlete Network has been dedicating more resources to making its platform as scalable as possible, a push led by the company's CTO, Brian Corn.
Corn, who was previously a vice president at Intouch Solutions, was a crucial hire. So was Brett Fuller, Athlete Network's vice president of partnerships, who joined the team earlier this year. Fuller, who used to work on sports-related projects at Sprint, has a huge network of high-profile sports industry professionals.
The team at Athlete Network truly understands the athlete's mindset because each employee is an athlete, too. Some played college football, while others compete in CrossFit, marathons or other activities.
All told, 22 people work for Athlete Network, which is headquartered in Plexpod's coworking space in Lenexa.
The headcount hasn't changed much in recent years even as the company's workload has grown — credit big investments in technology resources and scalability, Smith said.
Eventually, he wants to take Athlete Network global. His team has already talked to potential clients in other countries, and roughly 10 percent of his current user base is international.
"The cricket clubs in India have the same problem," he said. "The rugby clubs in Australia and New Zealand have the same problem. The International Olympic Committee, all their associations — it's such a unique identity to be an athlete at that level, and you put so much into it, you don't want to struggle when you stop playing."
Before Athlete Network expands beyond the United States, though, Smith wants to make sure his platform and its support services are ready. Canada, for example, looks like an easy market to enter, but the country has a significant French-speaking population. He doesn't want there to be any language barriers.
"If we can execute efficiently and iterate the technology the right way," Smith said, "we have a true chance to provide a global platform."
'This is bigger than just us'
Ultimately, Athlete Network will be measured by the impact it has on its individual users.
Smith remembers the story of the former college player who had been recruited to Michigan State.
When he was being pursued by coaches there, they drove him past a really nice neighborhood and told him that if worked hard, he could go pro and eventually buy a house there.
But the young man — the first in his family to graduate college — never made it to the NFL.
Fortunately, Athlete Network was able to help him through his transition and connected him with career resources.
"He called me and let me know he just put a down payment on a house in that neighborhood," Smith said.
It's cases like that, Smith said, that inspire him and his team to keep working hard — because they know that Athlete Network is making a difference. "This is bigger than just us."
---
ENTREPRENEURS
Chris Smith
COMPANY INFORMATION
Athlete Network
10000 Marshall Drive
Lenexa, KS 66215
(913) 667-0975
TYPE OF BUSINESS
Engagement platform that helps athletes take the next step in their careers.
YEAR FOUNDED
2015
EMPLOYEES
22
KEYS TO SUCCESS
"We give you access to the resources you need, the people you need, the content you need."
— Chris Smith, founder and CEO