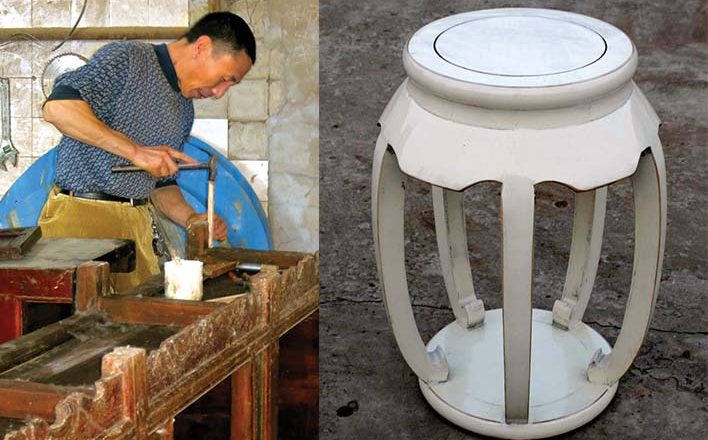 Charitable Business Built From Experience Abroad
When Carrie Paschke and her family moved to Beijing in 2011, they saw life a little differently than they had before.
"This was our first experience with life in another country—not visiting but living amongst people whose daily needs were far greater than our own," Paschke says. "We never knew what it was like to not have hot water, or heat and A/C, or where our next meal was coming from—but some of our friends there did. It challenged us and it changed us, and when we returned to the U.S., we knew we wanted to live our lives differently as a result."
Now living in the Kansas City area, Paschke runs a business called Furnish Out. Her business model is unique: She travels to China twice a year to purchase—"for a fair price," she says—unique furniture and home accessories that are handmade or restored by local artisans. Then, twice a year, she holds a weekend pop-up sale. The sale proceeds go to a charity called China Hope Foundation, which cares for orphaned children.
"When the sale is over, I keep enough of the money to cover my costs of returning to China for the next round of goods so the business is sustainable, but I do not pay myself anything," Paschke says. "My friends who run China Hope also do not take any administrative fees for their work, so 100 percent of our donations go directly to the children who need them the most."
Furnish Out put on its first KC-area sale in March, and the next one likely will be in September, Paschke says. Previously, she held four sales in Iowa, netting $51,000 for China Hope, which she says funded necessary surgeries for children who would otherwise go without.
Paschke admits that while she can't erase poverty, Furnish Out is what she can do to make a difference.
"We are blessed and feel this is one small way we can give back," she says. "We can give back to the artisans who I became friends with while I lived there by paying them a fair price for their work. And we can give back to the orphaned children by hopefully increasing their quality of life and their chances of finding a forever family."
For more information on the business and its featured artisans, visit FurnishOut.com.