The KC company's elegant products have won friends in high places.
---
Creative Candles' products are made right here in Kansas City, but they've turned up in some very impressive places: the White House, the Waldorf Astoria, Martha Stewart's magazine and even Oprah Winfrey's 50th birthday celebration.
Ralph Lauren is a fan. So is Eddie Ross, a top editor at Better Homes & Gardens. Name a leading Kansas City designer or florist—folks like Dan Meiners, Chadwick Brooks or Michael Nolte—and you'll find they're probably a Creative Candles customer.
These clients all turned to the company because it simply produces a higher quality of candle.
Creative Candles makes votives, pillars and other types of candles, but it has won the most acclaim for its long, thin tapers.
Tapers are created by repeatedly hand- dipping a wick into Creative Candles' proprietary blend of waxes and other ingredients over the course of six to eight hours. (The exact mix is a secret—it's a little like the candle equivalent of the Colonel's 11 herbs and spices.)
Instead of being formed into a single piece by a mold, the tapers consist of a series of paper-thin layers. The result is one remarkably stable candle. Creative Candles has sold a taper with a 7/8-inch diameter and standing 1 meter tall—about 39 inches high.
Compared to the competition, the company's candles offer a slower, more even burn with fewer drips and less smoke.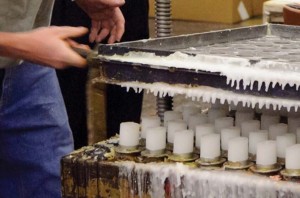 Another thing that sets Creative Candles apart? A broad palette of vibrant colors that are consistent every time. A burgundy candle made today is going to be the same shade of burgundy as one produced last month.
"This is an art and a science, as temperature and humidity play an integral role in the hand-dipping process," said co-owner Keith Espelien. "Our team in the workshop is very good at color matching and color management. Our customers mention this consistently as something that is very much recognized and appreciated."
UNDER NEW OWNERSHIP
Creative Candles, which was founded in 1961, has been under new ownership since June 1. Keith and Shelley Espelien, who had always worked in the corporate world, were looking for a company they could buy and run together. In a way, they're upholding a Creative Candles tradition: The business was formed by a couple, Duane and Nancy Benton.
Like anyone would, the Espeliens did their due diligence before buying the business. That research included asking customers what they thought of Creative Candles.
"The response was pretty special," Keith said. "There was 100 percent favorable response. This was the best candle they'd ever had."
The Espeliens' confidence grew even more when they first toured Creative Candles' workshop and met the artisans who make the candles.
The company employs eight people, not counting Shelley and Keith. The employees view their candle making as a matter of craftsmanship. Half the staff has been with the company 10 years or more.
"They are experts in their field," Shelley said. "Now they are helping us learn what they know."
WHAT'S NEXT FOR CREATIVE CANDLES?
Creative Candles' previous ownership had already put solid systems in place, giving the Espeliens the freedom to focus on growing sales. They're contracting with sales reps to expand their geographic reach, though don't think they're ignoring Kansas City: Creative Candles was recently featured in the floral department at the remodeled Hen House at 119th and Roe in Leawood.
"One of the areas that has been intriguing to me is the business that we do with 'home curators,'" Keith said. "We just shipped 220 candles for a home in Barbados! We have shipments each week that go different places around the world: Australia, Brazil, all over Europe, etc., in addition to our friends closer to home in Canada and Mexico and across the United States."