Heartland Seating sells bleachers, theater chairs and other spectator seating across the Midwest. Meet the people who help make Friday night lights, Little League games and band concerts possible.
---
If you visit Heartland Seating's offices in downtown Shawnee, you'll find a corner lined with filing cabinets. Each drawer is packed with folders listing town after town where the company has sold aluminum bleachers for the local baseball field or cushioned seats for the community theater.
Heartland's sales territory stretches across Kansas and Missouri to southern Illinois, plus all of Nebraska and Oklahoma. There are very few counties in any of those states where Heartland Seating hasn't made a sale.
"Nobody does what we do," said Brad Peterson, who co-owns Heartland Seating with Kathy, his wife.
Since the Petersons took ownership of the company, Heartland Seating's sales volume has swelled, growing from $3 million to $15 million annually. They specialize in what they call spectator seating: gym bleachers, stadium seats, grandstands—anywhere people sit down together. They've also developed a strong business in maintaining, repairing and renovating seating.
The Petersons do a lot of work in the larger cities like Kansas City, Wichita and Omaha. But as someone who grew up in a little town, the smaller communities hold a special place in Kathy's heart.
"That's what those small towns do," she said. "They meet there. You go to the high school auditorium, and you've got grandparents watching grandkids at a band concert or the high school musical or whatever it is, and then the high school gym is the same way.
"Those are all the places we are, and that, to me, is cool. That's a community. That's my favorite part about it."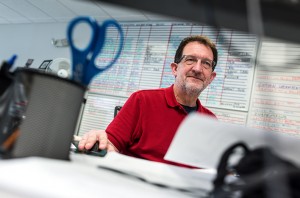 A New Vision for the Family Business
Brad Peterson had always wanted to own his own business. He just never thought it would be the one that his parents started.
His folks, Mike and Arliss, got involved in spectator seating back in the early 1980s, when they moved to Kansas City and started selling bleachers on behalf of a manufacturer. For years, the Petersons operated as a thriving home-based business. They didn't incorporate as Heartland Seating until 1991.
Brad, meanwhile, pursued a successful career in sales and marketing, first at Procter & Gamble and later for a local office products company.
For the better part of 10 years, he had treated the office products company like it was his own. The owner, who was getting older, even made overtures about a possible sale. But it didn't come together.
Brad recalled: "About that time, Dad said, 'I'm getting ready to sell this. Would you be interested?' Up until then, I had no interest because it was never something that was any more than what they did, which was working out of their home."
Brad, who was in his late 30s at the time, started to see the potential for expanding Heartland Seating.
"I had a vision that I could make it more than a mom-and-pop business," he said.
In short order, Heartland Seating moved out of Mike and Arliss's basement and into its own space. They added sales staff. Sales blossomed.
The Petersons formally started the buyout process in 2007. That's when Kathy officially joined the company. Over the years, she had occasionally helped her in-laws with their paperwork, but now she was needed to help with the transition.
"I was only supposed to be here two years," she said. "'09 has come and gone, but I'm still here."
She oversees the day-to-day operation of Heartland Seating's office. Brad is responsible for sales and sales management. He also keeps a high-level overview of the company's financials, goals and general health.
Kathy and Brad have been married for 22 years this month. They have three kids: 21-year-old Matthew, 20-year-old Jane and Kyle, 18.
The couple met through work. Their old bosses, who knew each other, thought Brad and Kathy would be a good match. So Brad's boss sent him on a fake sales call to the home health agency where Kathy worked.
She bluntly told him that he didn't have an appointment and shooed him away.
"I was mean," Kathy said, laughing. "Neither of us knew they were trying to put us together."
Kathy eventually came to work for Brad's company, which didn't thrill him. But she earned his respect when the two of them went on a sales call and she lugged her half of a 200-pound printer up a prospect's stairs.
"And I thought, 'She's not as dainty as she looks,'" he said.
'Few People Do What We Do'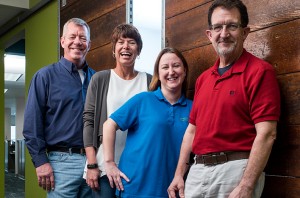 Heartland Seating sells to big institutions like the University of Nebraska and Kansas State University. But K-12 school districts make up 80 percent of Heartland Seating's client base, Brad said.
Working with a taxpayer-funded institution comes with some wrinkles. School projects tend to have longer lead times. Then there's the paperwork—it's not uncommon to handle 2- to 3-inch-thick contracts for a basic project.
It used to be, whenever a community built a new school, a general contractor would be hired. That single entity would farm out the work to dozens of subcontractors, but it would be responsible for insurance and bonding.
About 10 years ago, many schools shifted to a construction manager model for new buildings. The construction manager essentially acts as a representative for the client. The work is still divided among several companies like Heartland Seating, but they're all technically "prime contractors," which means they carry a heavier insurance burden.
The great thing about school districts? Unlike private-sector clients, defaults are never a serious worry. "If you contract for something, you're going to get paid," Brad said.
One of the biggest challenges facing the Petersons is that, after a wave of new construction in the 1990s and 2000s, school systems are reining in spending.
Even in a tighter market, there is still an ongoing need for Heartland Seating's products.
"So few people do what we do that we can stop in any school district," Brad said. "And you can just stop in that school district and say I want to talk to somebody about bleachers."
There are a few other competitors who will sell not just spectator seating, but every kind of school-related product imaginable.
"A lot of people that sell to the education market sell the gamut," Kathy said. "They sell scoreboards and wrestling pads and basketball goals as well as library furniture, chemistry furniture."
But what makes bleachers different is that practically all of them need to be custom-built in order to fit the gyms where they'll be installed. Even outdoor seating requires some level of customization because of terrain.
Nobody has more experience than Heartland at anticipating those kinds of needs.
Early on, the Petersons experimented with ancillary products like flooring, but they realized they needed to play to their strengths.
"Knowing building codes and knowing ADA changes and OSHA regulations and LEED certification, all those kinds of things—that's our edge," Kathy said. "Because we can consult with the architects. We can consult with the school district."
3 Keys for Success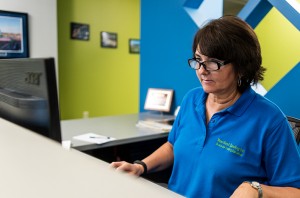 There are a few other things that have helped the Petersons succeed in small business.
They set boundaries between their business and their family // When Brad and Kathy took over Heartland Seating, they wanted to make sure it didn't completely consume their lives. So they make a conscious effort to not talk shop at home.
"When you're in the same business," Brad said, "it's easy to take it home and start talking about whatever because it's what on your mind. And we have to fight that temptation."
That caution extends to their children.
"We even told our kids that this was not a Peterson and Sons or Daughter business," Kathy said. "If they wanted to work for Heartland Seating, they had to earn it."
Not that they would never work with their kids. When the time is right, there might be opportunities for them in the business. But Brad and Kathy encouraged them to strike out on their own first.
They hire right // Because the Petersons operate in such a specific niche, there's not a giant pool of spectator-seating professionals they can tap into. So they look for other qualities: the ability to learn new skills and get along with the rest of their team.
"I need you to be able to come in here and fit into a well-oiled machine and not have it screw up," Kathy said. "So it is far more important that you are able to integrate and be part of the team.
They remember to be brave  // "You were bold enough to think this could work," Kathy said. "Don't start second-guessing yourself now that you're in the midst of it. Because sometimes you get into it, and it definitely becomes apparent how much you don't know.
"But you need to continue to hold on to that 20 seconds of bravery to do whatever … Be brave enough to hang on."