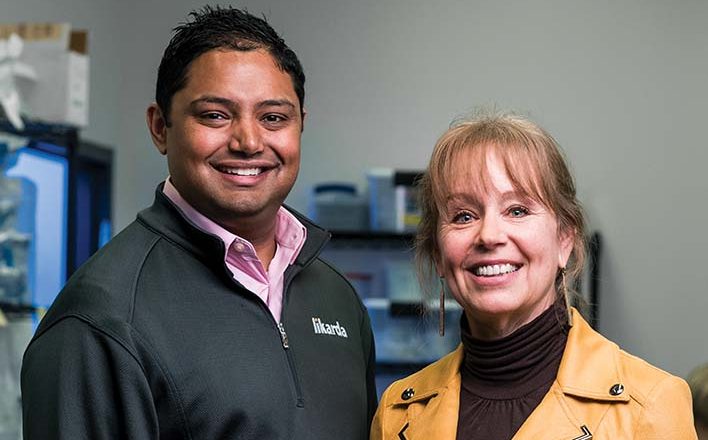 Doing Their Research
Lisa Stehno-Bittel apparently has a pretty good poker face.
During the first year of running Likarda, the biotech startup she co-founded, a new employee eyed the company's president and offered a blunt assessment of the academic turned entrepreneur.
ENTREPRENEURS
Lisa Stehno-Bittel,
Karthik Ramachandran
COMPANY INFORMATION
Likarda LLC
Hickman Mills Drive
Kansas City, Mo.
(816) 605-6440
Likarda.com
TYPE OF BUSINESS
Biotech research laboratory
YEAR FOUNDED
2012
EMPLOYEES
7
KEYS TO SUCCESS
"Support networks exist.
You don't necessarily need to
have it all in-house, but you
need to be willing to take advice."
"I know what's different about you," the employee told her. "You're fearless."
Stehno-Bittel was amused.
"I was full of fear," she said. "I wasn't sleeping. I was asking myself, 'What am I doing? I have no business background.'"
Roughly six years later, Likarda is lucrative, growing and bringing innovative new products to market. It is set to begin clinical trials that could drastically change the way diabetes is treated in dogs and is flush with cash from a seven-figure investment.
Yet the fears still linger.
"I am fearful, constantly worrying about what might trip us up," Stehno-Bittel said. "But I'm not risk-averse. It's exhilarating and mortifying at the same time."
Fear of failure
Stehno-Bittel was full-time faculty at the University of Kansas Medical Center for 20 years, but when the opportunity presented itself to move to the business world in 2012, her biggest concern wasn't about her own career. She was more worried about her protégé.
Karthik Ramachandran, Likarda's vice president and co-founder, had come to Stehno-Bittel as a doctoral student five years earlier. Stehno-Bittel had never had an engineer work in her lab, but Ramachandran said that in his search for a mentor, he liked Stehno-Bittel and her lab, and he was intrigued by her research because of his own family history of diabetes.
"He has a PhD in bioengineering, which is a very marketable talent and skill," Stehno-Bittel said. "I wasn't looking to build a career, but his was just taking off. If we failed, what would that do to him? I had to convince myself it wouldn't negatively impact his career."
In the process of doing their due diligence, the partners realized that failing in a startup is different than failing in many other professional pursuits.
"It's badge of honor for some people," Stehno-Bittel said. "The perception is, 'At least you tried. You can learn and succeed next time.'"
But Stehno-Bittel and Ramachandran might not need a second chance. Ramachandran, like his partner, had no business experience, but he had
no qualms about going into business with Stehno-Bittel, who had served as chair of KU's Department of Physical Therapy and Rehabilitation Science for two decades.
"Leading people is a lot of what goes into a business," he said. "She had experience leading people and built a successful program—one of the top 10 programs in the country."
Ramachandran said the researchers understood their blind spots and hired legal and financial firms to help. They also had help building a business plan from the Bioscience & Technology Business Center at KU Med after an administrator surmised that the work Stehno-Bittel and Ramachandran were doing "looked more like a business than academic research."
"Where we needed consultants, we brought them on board," Ramachandran said. "Support networks exist. You don't necessarily need to have it all in-house, but you need to be willing to take advice."
Game-changing innovation
It was Ramachandran's graduate research that led him and Stehno-Bittel into business in the first place.
Cell cultures typically are grown in a single layer in a plastic petri dish. The problem, Stehno-Bittel said, is that cells developed in this fashion attach themselves to the plastic. This can change the proteins cells produce and affect their size, shape and other attributes.
In short, such cells don't necessarily behave like normal cells. Thus, cells that look promising in a lab don't always react the same way inside the body.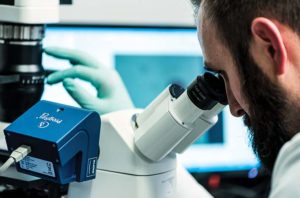 Ramachandran designed and created a different kind of device—one that develops 3-D cell clusters—that could be a game-changer for researchers.
"Our cells don't attach to the bottom of the dish," Stehno-Bittel said. "They attach to each other, which is how cells behave in the body."
At one time, Likarda was relying on "homemade" versions of
Ramachandran's plates produced at KU Med. Now, a multinational manufacturer is producing plates not only for Likarda's in-house research but also for Likarda to sell to customers.
"To see it go from concept and initial design to fully manufactured product with a label is really exciting," Ramachandran said.
The market for the product could be "very large," Stehno-Bittel added.
Hope for diabetic dogs
The new product means a new revenue stream for a company that became profitable in its second year by offering contract research services to others. That service helped fund Stehno-Bittel's own research, which is focused on treating diabetes in dogs. Likarda still offers contract research but will be less reliant on it after receiving $4 million in funding from Werth Family Investment Associates in August.
Stehno-Bittel said the investment will help scale and accelerate research. That could be good news for pet owners. Diabetes affects 1 in 100 dogs, and the standard treatment is twice-daily insulin injections.
"We already know families using insulin spend quite a lot of money," Stehno-Bittel said. "Even if they do everything right, their pets often don't thrive. It's not a good long-term solution."
Stehno-Bittel said half of pet owners chose euthanasia soon after diagnosis. Of those that try insulin treatment, half choose euthanasia within a year because they see their pets struggle with kidney failure, blindness and other problems.
Stehno-Bittel said Likarda's solution will be more expensive than insulin treatment initially, but eventually it will be less costly in addition to being more effective. The process involves transplanting microencapsulated islets (insulin-producing cells), which ends the need for insulin injections.
Ramachandran said clinical trials could begin by the second quarter. The initial phase of the trials will involve transplanting tissue from donor animals. A second phase will utilize stem cells rather than donor tissue. Veterinarians at nearly a dozen universities are expected to participate.
Transplanted cells must be protected from a dog's own immune system. Likarda holds a patent related to that process, and the initial phase will help answer critical questions related to dosing and duration, Stehno-Bittel said.
New lab
Likarda doubled its space in August when it moved from the Bioscience & Technology Business Center to a space near the former Marion Labs campus in south Kansas City, Mo. The new
facility has a separate manufacturing space with proper air handling capability and infrastructure needed for cell therapy manufacturing. The expansion also will allow the company, which
has seven employees, room to grow.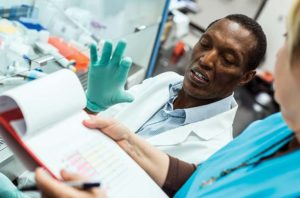 Despite the expanded space, Stehno-Bittel and Ramachandran chose to share an office, just as they had for the past six years.
When Likarda started in 2012, they had two desks in the corner of a 700-square-foot lab. Stehno-Bittel was only there part time when she wasn't teaching. When she started devoting more time to the company, they continued to share space.
"We have to talk to each other and bounce ideas off each other," said Ramachandran, who still considers his partner a mentor. "It makes it easy to look over and say, 'Hey, Lisa, I have a question.'"
'I was perfectly happy'
Ramachandran isn't the only one who looks to Stehno-Bittel for advice. During its first year, Likarda was named as one of the world's 50 most promising startups during Global Entrepreneurship Week. Several other awards have followed for the founders. Stehno-Bittel said women frequently seek her out for mentoring.
What advice does she offer?
"If you are enthusiastic, passionate and talented, your life will be a stream of opportunities," she said, "and you have to pick which ones and when."
The timing of her own business venture was critical. Stehno-Bittel is married with two kids, but she said both kids are "launched," and her husband, Kansas City University of Medicine and Biosciences faculty Doug Bittel, has a good job that could support them if Likarda struggled.
"I don't make as much money as I did when I was working full time at the university, and I may never catch up," she said. "I was perfectly happy in my career. I never dreamed I'd own a business, but opportunities occurred."
It's also important, she said, to know when to say no.
"I saw many female physicians burn out at KU Med because they couldn't say no," she said. "Not every committee assignment is an honor. Some are a time sink."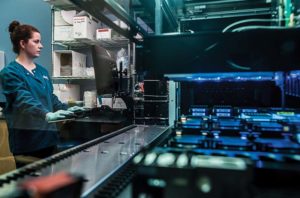 Ramachandran has few regrets.
If he hadn't gone into business with Stehno-Bittel, he said he likely would be working for a pharmaceutical company or a medical device company and "probably getting more sleep."
"I've got a great business partner in Lisa," he said. "Now someone is investing and putting their faith in me. I feel responsible. This is an appropriate fit for me and aligns with what I had in mind going into grad school. The fun aspects outweigh any risks."