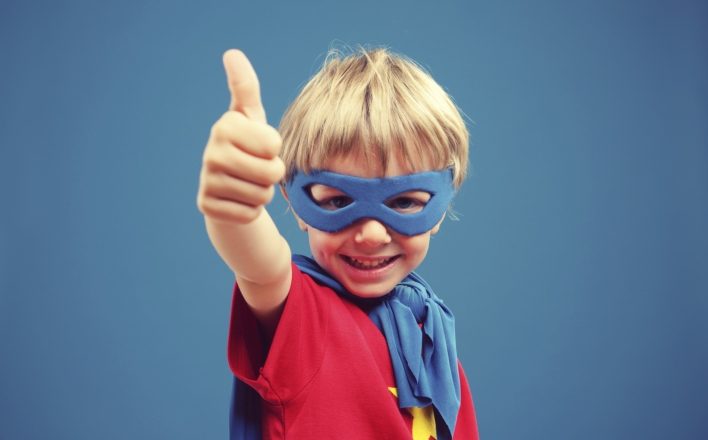 Fantastic Growth
Chris Jackson was a fantasy-loving kid in the mid-1960s when he started collecting Spider-Man comic books. Today, the 57-year-old entrepreneur is the fantasy-loving owner of Planet Comicon, Kansas City's largest annual pop culture and comic book convention, which is poised to draw 30,000 fans to Bartle Hall on March 14-16.
"I'm excited," Jackson said of the upcoming convention, which he anticipates will be his biggest ever. "I feel like I've really built something. I took a smaller show and turned it into something that could really grow."
Mainstream audiences can't get enough of fantasy, science fiction and superheroes right now, and Jackson has continually expanded his show to meet the increased interest.
The 2014 edition of Planet Comicon will grow from two to three days and feature the largest slate of celebrities in the show's 15-year history. Heading the guest list is veteran screen actor William Shatner—Capt. Kirk of original "Star Trek" fame—who will emcee a "TREKtacular" discussion panel consisting of most of the stars from the 1980s and '90s TV series, "Star Trek: The Next Generation."
Other fantasy-friendly personalities at Planet Comicon 2014 will include Lee Majors ("The Six Million Dollar Man"), Margot Kidder (Lois Lane in the first "Superman" movie franchise) and Chad Coleman of the hit zombie-apocalypse TV series, "The Walking Dead."
Besides arranging for more than 20 celebrity appearances at this year's Planet Comicon, Jackson is also lining up an array of top comic book creators and placing retailers in the massive dealer room brimming with comics, toys, posters, T-shirts, jewelry and other collectibles. It's a lot to deal with as a promoter, Jackson said.
"There's more involved in putting on a larger show," he said. "There are just more pieces to put in place."
Luring the Hulk to Kansas City
The process was once simpler for Jackson, a comic book dealer since 1987, who teamed with a local comic shop owner in 1999 to launch the first Planet Comicon at the Overland Park International Trade Center. Attendance was 1,500 over the initial two-day event, and the only celebrity guest was Kenny Baker, best known for playing diminutive robot sidekick R2-D2 in the "Star Wars" movies.
After two years, Jackson became the sole owner of Planet Comicon. Although the convention wasn't a big moneymaker, the experience was rewarding.
"I enjoyed the interaction with the comic creators and the celebrities, and providing a venue for the fans to come meet everyone," he said. "I wondered whether it could grow. That was a time when conventions were pretty popular, but not like today."
Then came a slew of high-profile blockbusters like "Spider-Man", "Iron Man," "The Dark Knight" and others that were based on comic books. Suddenly, society was fascinated with superheroes.
Every year, Jackson has increased the number of celebrity guests at Planet Comicon, along with the number of fans who've come to buy  autographs from such pop-culture icons as Adam West, star of the 1960s "Batman" TV series; David Prowse, the man behind the mask of Darth Vader in the original "Star Wars" trilogy; and Lou Ferrigno, who played the well-muscled title character in the 1970s and '80s "Incredible Hulk" TV series.
"I had this perception that there might be a limit to attendance," Jackson said. "We thought, 'Oh, there are maybe 3,000 or 4,000 hard-core comic book collectors within the radius we're drawing from.' So first getting the attendance past 4,000 was going to be a challenge. Then getting the attendance past 6,000 was going to be a challenge, and then getting past 7,000. So I kept wondering, 'What was the limit?'"
Double the Fun—and the Attendees
The limit for the Overland Park International Trade Center was reached in 2012, when a capacity weekend crowd of 10,000 to 12,000 filled the venue's 50,000 square feet. To allow Planet Comicon to grow, Jackson relocated the show to 100,000 square feet of space in Bartle Hall, where attendance in 2013 exploded to 23,000 to 25,000.
"We doubled it by going downtown," Jackson said. "It exceeded expectations. I had been concerned whether the fan base that was used to the convenience of the suburbs would be willing to go downtown. I was very gratified by the response."
At this year's Planet Comicon, Jackson plans to use 200,000 of Bartle Hall's available 400,000 square feet, so the show should have room to grow for years to come.
"It's not just Planet Comicon that's growing," Jackson said. "All established comic book shows, and even some newer ones, are seeing a surge in interest around the country. Who knows for how long? Is this a wave we're riding?"
Whatever the reason, Jackson believes that shows like Planet Comicon provide an important experience for fans.
"People want to look forward to something," he said. "They want to get out and escape from their everyday life. That's what entertainment is. And you can go to a comic book convention for a relatively modest amount of money. You can see all these people who create the comic books. You can shop with all these dealers with interesting merchandise. You can meet these celebrities who you've seen on television, whether it be 30 years ago or five years ago.
"It's nostalgia for a lot of people. Who knew?"