At my company, we are experts in helping organizations simplify their IT and communications experience and enabling people to work remotely. Yet we dealt with all of the same pressures and issues you have faced over the last year. And for many of us, the change is going to last beyond the lockdowns.
How do we continue to collaborate and operate efficiently to serve our clients? How to ensure our team members are collaborating and supporting each other with the same spirit that was much easier to accomplish with face-to-face comradery? How do we adjust and excel in this new state of business?
The collaboration problem is both personal and operational. It is imperative we understand the difficulties remote working places on our teams as human beings. It is equally important to have the right technology in place to ensure collaboration is easy and fosters greater productivity.
A recent study1 looking at the impact of remote work since the start of the COVID-19 pandemic found that roughly 54% of respondents said their primary challenge in working from home was feeling disconnected or alone. As business leaders we must recognize that reality and have a plan to address these needs for our people.
Here are some of the best tips we have gleaned from our expert partners and incorporated within our organization to help address the issue:
Get dressed for work and keep your work area clean. It prepares you for the mindset to see your coworkers and be seen (see #2). It also helps separate the groundhog day of the work/home fog.
Use video meetings and TURN ON your cameras. It is important to see each other's faces as you work throughout the day. Being able to smile and communicate with one another greatly increases the connectedness and collaborative spirit we all need.
Set up a cadence of video meetings for your teams and organization. We all get tired of too many meetings, but the natural interaction we grew accustomed to has been removed. We need to foster personal and visual connection with each other.
Schedule online fun. Make sure you have fun too. Encourage the use of your technology to schedule online happy hours, trivia hour, or other visual activities that allow your teams to connect on a personal level.
To do this, you need tools and IT support that allow you and your team members to interact simply and easily. It's easy to look to technology as a panacea for productivity woes, but the rapid uptake of fragmented communications tools in recent months hasn't led to sustainable improvement. There's a reason many of us continue to feel like we're working on remote islands, despite access to several communications apps across our devices.
The problem is not that those communications tools don't work, it's that they don't work together. When faced with an overflowing home screen of apps, your team members are bound to get overwhelmed, becoming more frustrated and disconnected. The truth is businesses can't just add more disjointed communications and collaboration tools and expect collaboration and productivity to increase.
So why do so many organizations find it difficult to support collaboration? For IT leaders, success depends on connecting technologies and business-critical applications across the organization in a unified, seamless, and secure way.
That's what we do: We simplify your IT and communications experience by learning about your unique strategies, business applications, and how you work. We then help you eliminate applications, connect your critical apps, and simplify your workflow.
For example, if you are already using Office 365, we are helping clients leverage Microsoft Teams softphone, video, and chat using their existing phone system, CRM, and business numbers.  If you live on your mobile phone, we have mobile-centric solutions that give you the consumer experience you want with the business features you need. We can help you easily switch between your business and personal number on your device or bot-enabled multi-media contact centers that allow for automated customer service while you are out in the field.
And our job doesn't stop with helping you select the right technology. We are committed to providing our clients with the expert managed services and support they need to keep it all running smoothly. We don't just provide collaboration tools — we build collaborative relationships that are meant to last.
If you are feeling disconnected and overwhelmed, you're not alone. We're here to make your business life easier and more connected.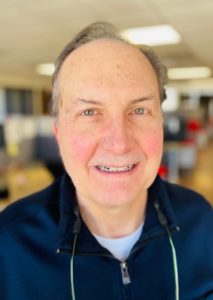 Bryan Dancer is the president of Allegiant Technology, an integrated IT, communications, cloud, and cabling company. Bryan and his team of support staff help business owners simplify, plan and operate technology in integrated and economical fashion, tailored to their unique requirements.
1 ServiceNow's "Work from Home Productivity Study" June 2020