It's June, and while we're still living in a sort of suspended reality, there is light at the end of the proverbial tunnel.
Companies are announcing their return-to-office dates, with many coming back late summer or early fall or planning to start fresh in 2022. By far, the most popular work model discussed is the hybrid option.
If you've been off the grid and don't know what I'm talking about, a hybrid work model is the best of both worlds. Employees can split their time between working from home or another remote location (beach anyone?) and the office. I believe this will prove to be a perfect balance of productivity and collaboration!
While I'm excited to see so many organizations embracing this method, it's important to note that the old-style workplace will not sufficiently support our new way of working. 
Why is that?
Studies specific to 2020 and 2021 have found that employees' productivity has soared during our global remote work experiment. On the flip side, collaboration and creativity have declined. 
It makes sense since, for the most part, people have experienced fewer distractions and more individual focus time working from home, therefore boosting productivity. The downside is that significantly less time is spent on direct interaction with colleagues, lowering those collaboration numbers.
With that information in mind, it's essential to look at the new model workspace as a tool for inspiring camaraderie. You'll want your office to be a place where employees want to interact with each other and feed their creativity and innovation.
Below are five ways you can reinvent your existing workspace to rock a hybrid environment.
Technology
The right technology is critical for both maintaining remote productivity and supporting in-person team collaboration. It's 2021. Unless your organization has security requirements that prohibit it, every employee must have video capability. 
It's virtually impossible to have a productive Zoom meeting with attendees working off computers that don't have cameras. Not to mention it's just plain awkward talking to a black screen. 
A camera upgrade doesn't need to break the bank either. You can find decent webcams for under $20 at multiple online retailers. 
You'll also want to invest in technology to enhance collaboration that incorporates both remote and in-person attendees. Video conference equipment comes in a wide range of options at various price points. At a minimum, you'll need a computer or laptop with a microphone and speaker, TV monitor and webcam. If you can splurge a little, upgrade your microphone and speaker from the built-ins.
Huddle Rooms
Huddle rooms aren't a new concept, but they will play a starring role in the hybrid workplace. 
Think of these as your new conference room.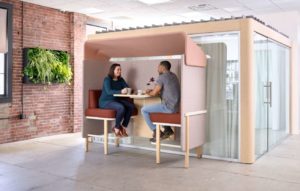 Instead of having one big boardroom or several meeting rooms that can accommodate eight to 10 people, you're better off having lots of smaller huddle room
s where one to four employees can collaborate both in-person and remote. These huddle rooms are where all that new video conferencing equipment will live.
Don't be afraid to mix up the feel of each room either. One room can host flexible furniture such as a height-adjustable table and adjustable stools, while another can incorporate plush lounge furniture with laptop tables or tablet arms. The key is flexibility!
Pro Tip: Incorporate writable surfaces or glass boards for maximum brainstorming and creativity. 
Unassigned Workspace
With employees only spending two or three days of their workweek in the office, it might not make sense to allocate specific private offices or workstations to each person. 
Instead, convert some of those offices into huddle rooms and invite your team to utilize any available open office if they need to have privacy or solo focus time while in the office.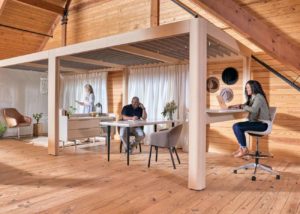 Repurpose extra workstations into casual collaborative or coffeehouse-style workspace.
By utilizing this Free Address method, you're optimizing space flexibility while at the same time allowing your employees their choice of environment to best serve their purpose while at the office.
Scheduling Tool
The one thing that will make or break your new hybrid workspace is whether it's a hassle for employees to utilize all your excellent features.
You do not want a traffic jam clogging up your huddle rooms, frustration brewing when someone wants an office and none is available, or technology that is on the fritz and your employee decides to turn around and go back home.
Friction is an enemy of productivity, and you want to avoid it at all costs. Remember, the goal of the hybrid office is to provide the optimum environment for your team both remotely and within your office space. 
At the very least you'll want to get your huddle rooms into some scheduling process. To take it further and be on your way to seamless integration, I recommend using a scheduler for all unassigned workspaces, in addition to all huddle and meeting rooms.
There are many scheduling options available, but one I'm a big fan of is Skedda. It's super easy to set up, simple to navigate and has a robust free-subscription option. 
If you opt for a premium version, you can customize it to fit your specific needs and even upload an interactive floor plan. 
Other products available are Robin and YARooms. Try a few out and see what option works best for your organization!
Community Areas
Last but certainly not least are community areas. These areas are going to be the place where the real magic happens. Some of the most outstanding innovation has occurred in the least expected places. 
Southwest Airlines was born on a napkin in a bar in San Antonio. Uber was born street-side on a snowy Paris night, and everyone's favorite Shark Week was the product of a bar-side brainstorming session of Discovery Channel executives. 
Create community areas where your team can chill out with co-workers. Think of these spaces as the new "water cooler" area. You never know where the most casual of conversations can lead. 
By providing a comfortable space where people can grab lunch together or catch up over coffee, you're planting seeds of creativity. 
Imagine your favorite coffee shop. There is always a variety of places to sit. The best space will use a mix of options such as different table sizes, with some providing space for one to four people and others that are community style and can host groups of eight to 10. Incorporate comfortable seating such as club and hammock chairs or sofas. 
If you have an outdoor patio, this is an excellent place for community collaboration. Who doesn't need some extra vitamin D? Soak up that sunshine people!
There you have it. Integrate these ideas into your return-to-work plan, and you'll be ready to hit the ground running.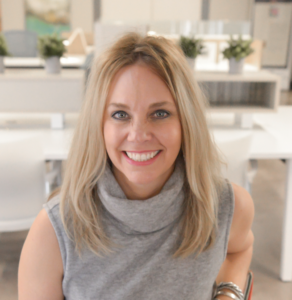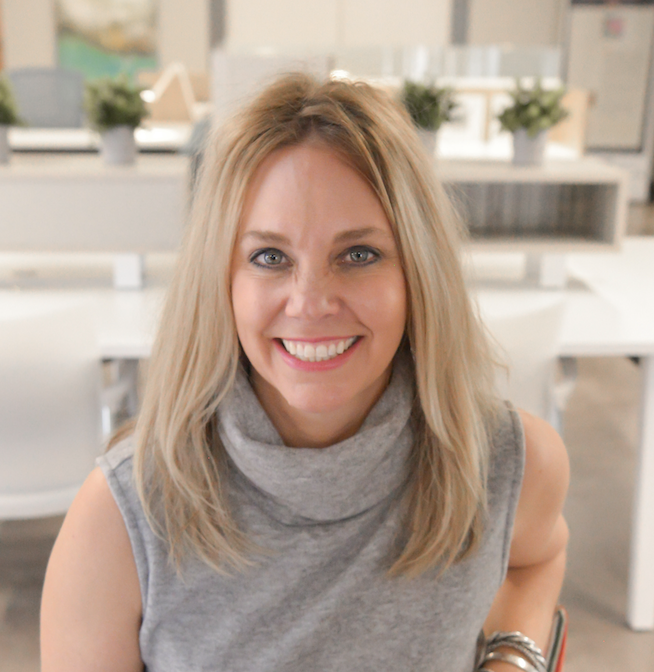 Courtnay Bradley, WELL AP, is founder and chief purpose officer at Trilogie and host of The Up/Down Podcast and Trilogie's Table Talk live stream series. Her passion for people fuels her obsession with helping companies design and furnish work environments that truly inspire and engage employees. In 2009 she started Trilogie with the sole purpose of creating kick-ass workspaces that help organizations thrive.