For more than two decades, industrial design firm Infusion Design has grown accustomed to working on some of the largest projects out there, custom outfitting things like "super yachts" and 777 wide-body jets.
Now Infusion is expanding into the opposite end of the spectrum with its latest offering, a compact sport trailer designed for off-roading adventure.
Sean Elsner, owner and president of the Bonner Springs, Kan., company, said Infusion's trailer can be used for anything from traditional camping and fishing trips to more off-the-grid destinations in the mountains, deserts, or prairies.
"This is made to perform wherever people want to go," Elsner said. "It is self-sustaining."
The new product is part of what Elsner calls the off-road sport trailer category, an emerging sector of the recreational vehicle market.
Infusion's trailer, dubbed the Campinawe, measures in around 7 feet tall and wide and nearly 15 feet long. And while relatively light and compact, the trailer includes a queen-size bed, which Elsner calls unusual for even larger campers.
Coming Up with the Concept
One of the tenets of Infusion's business model is challenging traditional design boundaries.
It is that way of thinking that led Elsner to come up with the idea for his compact sport trailer last year.
He said in the RV market, so much of the energy in recent years has been around "onward and upward, bigger and bigger."
He saw this as an opening for a new niche for compact campers packed with functionality but requiring little maintenance.
Infusion's original customer profile for the Campinawe included avid outdoor sportsmen, along with 25- to 39-year-olds who enjoy frequent camping and hiking, sometimes in less traveled, more rugged destinations.
However, with ongoing social distancing requirements and health concerns, there has been a dramatic increase in people seeking outdoor recreation options, which Forbes referred to as "The Camping Boom of 2020." Elsner sees this broadening the range of potential customers.
Bringing the Concept to Life
When Elsner brought the Campinawe concept to the office, he and colleague Tim Baine, who he's worked with on projects for more than 18 years, started with a couple of quick layouts. This quickly moved into detailing each panel of the trailer.
The process was centered around how customers will use every inch of the trailer for eating, sleeping, and recreation.
"We did it by truly thinking through everything from touching the dirt to the full customer experience using it," he said.
Drawing on his background in the aviation industry in the early years of his career, Elsner set out to allocate space in the Campinawe like it is done in airplanes, with maximum functionality — and in the most compact format possible.
This allowed for practical elements such as compartmentalized storage, a closet, and a storage cabinet for gear. Features such as a Yeti cooler, Kovea butane stove, and an exterior flip-up canopy also are incorporated into the design. Military-grade batteries power the lights and USB access ports.
For the trailer frame, Elsner collaborated with local companies such as Croft Trailer Supply to build in toughness and durability, including a custom steel chassis with all-terrain tires that allow more than 18" of clearance for off-road performance.
The trailer size is intended to fit in standard home garages for customer convenience.
"Every piece is integral, like a puzzle," Elsner said. "The design is key. The thinking goes there."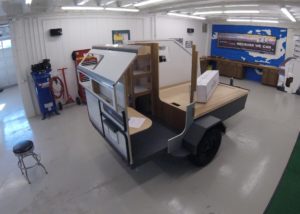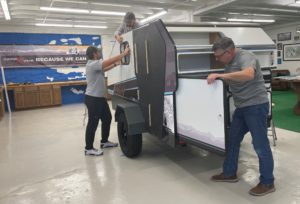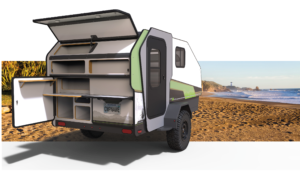 Preparing for Product Launch
The compact sport trailer is not Infusion's first foray into end-product manufacturing at the company's facility, which was formerly a local Ford dealership.
But it will mark just the second time Infusion has entered the retail market after 20 years of primarily providing design services to high-net-worth individuals, small businesses, and Fortune 500 companies.
While Elsner said B2B sales of the Campinawe are a possibility in the future, Infusion is starting by taking the product directly to market and expects word of mouth to play a major role as it has in the company's other service and product offerings.
He described Infusion's customers as "discerning," which he said does not necessarily mean wealthy. They care about quality and attention to detail, leading to design elements such as the three windows strategically placed in the sleeping area of the Campinawe so campers can enjoy the sky and stars at night.
In Infusion's experience, when they get the details right, customers notice and spread the news organically.
"Sometimes people say we're crazy, but that's ok," he said. "We just want everything to be the best."
The Campinawe is making its public debut this month at an outdoor sports expo. The list price will range from the high $20Ks to the low $30Ks.