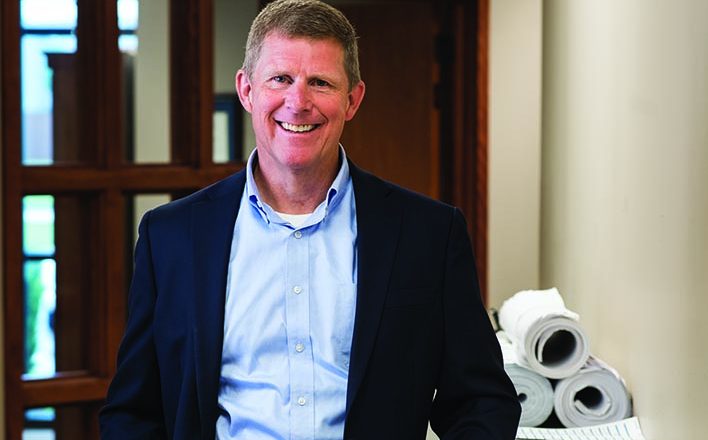 KC Entrepreneur: How Tim Harmon Built Harmon Construction
Tim Harmon leads a competitive construction firm founded on strong relationships, lifelong learning and commitment to community.
If you had to sum up Tim Harmon's essential nature in just three words, it all comes down to this: He's a builder.
And not just of buildings, though Harmon Construction Inc. is known across the region for its work on assisted-living facilities, medical offices, houses of worship and a wide range of commercial structures— including several QuikTrip and Walgreens stores.
With each new market segment it has tackled, the Olathe-based firm's revenue has steadily ramped upward, growing from $13.4 million in 2013 to $23 million last year.
"Our strategic plan is to grow revenue to $50 million in the next five years," Harmon said.
A big goal like that is possible because Harmon regularly devotes time to building his business.
He and his senior staff hunker down annually for a five-hour strategic planning meeting supplemented by quarterly planning sessions. Together, they examine current projects, future growth opportunities and how the company can best serve clients.
More recently, Harmon has been preparing for the succession of leaders on his staff. It's been nearly 30 years since he founded Harmon Construction Inc. He's building a team that will help the company prosper and endure into the future.
Harmon picks up a book—"Next Generation Leader: 5 Essentials for Those Who Will Shape the Future" by Andy Stanley—and turns to one of the many passages he's marked for future reference. "In leadership," he quotes, "success is succession."
A lifelong learner, Harmon and his staff regularly study business books together to glean ideas and best practices.
Turns out, Tim Harmon likes to build up people, too.
"It's part of the culture here," he said. "We train, coach, develop and train again."
Following The Blueprint
When he was in high school, Harmon had to write an essay as part of his application for a Rotary International scholarship. In that paper, he outlined his goals over the next five years: He would work for a large company, get experience and then start his own business.
He didn't get the scholarship. But he ended up following that plan almost exactly.
After he graduated from Washington State University's School of Design and Construction, Harmon went to work for a construction firm specializing in building and restoring automotive plants. The job brought Tim and his wife, Janet, to Kansas City, where Tim was tasked with building General Motors' Fairfax facility.
The Harmons found a church to attend, started a family and never left the Kansas City area. Three decades later, the couple has raised five children who were all born at Shawnee Mission Medical Center.
Harmon launched his own construction company in 1987 soon after settling into his new home.
"There's no better place for starting a family and business than in Kansas City," Harmon said. "It's a great place to build relationships. The world is coming to Kansas City."
Of course, he was an entrepreneur long before he ever came to Kansas City.
"I've been an entrepreneur my whole life," Harmon said. "I delivered papers. I started a ski equipment business where I bought gear from the West Cascade Mountains and sold it in the East Cascades. I like building and creating. I can't imagine my plans turning out better."
Relationships and Experience
Since its founding, Harmon Construction has completed construction of more than 200 regional worship facilities such as Blue Valley Baptist Church and Evangel Temple. These faith-based projects stemmed from Harmon's key belief: Building Relationships Before Buildings.
"My faith in Christ had led to a natural extension," Harmon said of his company's work in the worship facilities segment. "By 2005, I started to think that this area will run out of gas. We need to diversify."
Active involvement in church carried over to networking and pivotal opportunities elsewhere. Harmon's company completed a small project for Shawnee Mission Health about 10 years ago. Impressed, the client has continued its business relationship with Harmon over the past decade.
"Now we're on their select bid list," Harmon said. "Our work with Shawnee Mission introduced us to work on Olathe Medical Center, St. Joseph, St. Luke and Providence medical centers. We had the people that knew how to do the job."
Harmon Construction also entered the senior living facility market. This year, the company has completed an estimated $18 million total renovation of three health care facilities: the 147-bed Carondelet Manor Senior Assisted Living Facility, the 138-bed Villa St. Joseph Senior Assisted Living Facility and the 142-bed St. Mary's Manor Senior Assisted Living Facility. All three projects were developed by Alexian Brothers Health System, part of St. Louis-based Ascension Health Inc.
"We won bids on these projects against the biggest contractors in town," Harmon said. "We went into the bidding process with no preconceived notions. The client project team was from out of town. When that's the case, it's a more level playing field. We've had great success working with out-of-town clients."
Depth of experience was an important advantage. One front-line Harmon supervisor has accumulated 26 years of construction industry experience while several others each offer more than 15 years of on-the-job expertise.
"We understand what we're trying to accomplish," Harmon said. "With Ascension, the team running the projects saw value in working with our experienced team. They didn't want a large or small firm. They wanted a midsize company. They liked our people, experience and systems. We know how to attack and solve problems."
Share the Rewards
Harmon believes that professionals' education shouldn't end when they graduate from college. And he's tried his best to apply that to his own life.
He was one of the earliest participants in the Helzberg Entrepreneurial Mentoring Program, a nonprofit that trains local business owners to be better executives.
"I was in the first or second class," Harmon said. "I stayed in the program for five or six years."
Harmon learned two key lessons from HEMP.
One, he established an advisory board for Harmon Construction. Today, that board includes Kirk J. Porteous, managing partner for Drive Technology Management; Ken Heinz, co-founder and CEO of Lodging One Hospitality; and Jeff Andersen, president and CEO of Mid-America Service Solutions, among its members.
And two, Harmon learned about the importance of a company's culture.
The culture at Harmon Construction revolves around mutual respect. Harmon said, "We work hard Monday through Friday. We have weekends off. It's important for employees to have work-life balance."
Accomplishment matters, too. Harmon paraphrased business leader Ewing Kauffman, "Those who produce should share in
the rewards."
To that end, Harmon associates have received an average of 30 percent of the gross profits between 2012 and 2014. "We share rewards based on accomplishment, not activity," Harmon said.
Financial gain isn't the only carrot available as an incentive. Todd Ramsey, vice president of operations, is in line as a partner-to-be. Harmon has identified two other key project managers who will make partner.
These steps are not only helpful for retention of achievers, but also for succession that strengthens Harmon Construction and its partners. Tim Harmon doesn't need to lose sleep over the possibility of his core team members being poached.
"Post-recession, there's more competition for talent," Harmon said. "We can offer ownership as a midsize company to key people."
Communicate and Celebrate
Over Harmon Construction's nearly 30-year span of operations, Harmon and his team have learned a few important lessons.
For instance, when obstacles arise on a project, the issue often stems from a communication problem. Typically, it's a case of "This is what I said. What did you hear?" Discussion leads to understanding and resolution.
"It's not if there's a problem but when there's a problem," Harmon said. "Which team will act best and as quickly as possible in the owner's interest? We get all parties involved, including the project manager. We mobilize quickly and jointly to solve the problem on a timely basis."
Harmon advises other business owners to get all the facts, stay calm, engage all stakeholders and solve the problem together. "Calmer heads will prevail," he said.
Harmon also advocated celebrating victories, no matter how large or small. He pointed to a bell down the hall from his office.
"We ring the bell when we win a contract. During the early '90s, the bell hadn't rung for a long time," Harmon recalled with a smile.
Then one day, the bell clanged, and everyone came into the hallway. "An accounts manager came back from the dentist and had no cavities."
'More Than Bricks and Mortar'
When asked about the project that inspired the most pride, Harmon cited the Hospice House at Olathe Medical Center campus as having "great community impact."
"It turned out well," Harmon said. "It's a free-standing, Craftsman-style building with wood beams, stone and natural materials."
The inpatient hospice facility provides comfortable, much-needed accommodations for families and patients facing end-of-life situations.
"We built it through winter 2013, when up to 4 feet of snow fell before we completed roofing," Harmon said. "Through a team effort of staff and leadership, we completed the project close to on time. It was a privilege to build and significant to the mission of the hospital, Olathe and south Johnson County. It was fulfilling to do it."
Like any business, Harmon Construction wants to succeed financially—and it's well on its way toward reaching its five-year, $50 million-per-year goal—but not at any expense. The company also wants to produce great work and leave a positive impact on the community.
Tim Harmon's signature saying once again comes to mind: Building Relationships Before Buildings.
"We're more than bricks and mortar. We're more than about making money," he said. "Profits are about making as much money as fast as you can. That's the same goal of bank robbers."