Maker Village KC is the brainchild of local makers Nick Ward-Bopp and Sam Green, who launched the community workshop in 2014 after rehabilitating their building at 31st and Cherry in Kansas City, Mo.
"We saw a need from our neighbors in midtown and beyond that really don't have access to equipment like this on an as-needed basis," Ward-Bopp said.
"At the time, there were several other boarded-up buildings at the intersection being worked on by the folks at 816 Bike Collective and Oddities Prints, after a long day it was great to share food and plan the next big project whether it was repairing a roof, tuckpointing brick or some other challenge endeavor."
Now Maker Village KC provides equipment and space for woodworking, metalworking, laser-cutting, welding and sewing, among other production practices. It also offers work benches for local makers to rent out, public use of the shop on Saturdays and, as of January, memberships for community makers to use the space.
Maker Village's open-door policy allows makers a space to do commercial work for small-batch productions and enables them to "pretty much operate their business" out of the workshop space.
The shop also offers woodworking and metalworking classes ranging from introductory to advanced skill levels, usually taught by other makers and experts, and collaborative classes with local nonprofits.
Forging a community
Although neither had prior training in fabrication, Ward-Bopp and Green were inspired to start the community workshop after completing the Jarboe Initiative, a project which rehabs buildings in exchange for rent equity. During that project and subsequent research, the two learned that Kansas City already had a vibrant maker community.
"Kansas City happens to be the headquarters of a high concentration of design, architecture and engineering firms," Ward-Bopp said. "Compared to peer cities, we have a much higher density of those design-type jobs."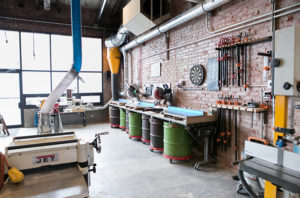 Maker Village shares its building with the Cherry Pit Collective, a diverse group of female artists, entrepreneurs and makers.
Ward-Bopp explained that the early-1900s building was originally purposed to convert electricity for the city streetcar, which would make the entire intersection rotate "like a big turntable." Traces of the building history can be spotted in the cast concrete ceiling and the metal I-beams, which were once trolley tracks.
The building's imbricated history of old and new reflects Maker Village's production practices, too.
"The projects we see are a good mix of old-world techniques—like shaping a piece of wood with a hand plane or spoke shave—and newer stuff, like laser cutters and helical head jointers," Ward-Bopp said.
Going forward, Ward-Bopp emphasized Maker Village's new membership program and said the workshop hopes to rent out more of its studio space to members.
But like any true maker, Ward-Bopp is focused on quality, not quantity.
"We're not going for a high quantity," he said. "We want to focus on including a good mix of makers who are diverse in background, demographics and disciplines."