Brian Unruh, CEO of NBKC Bank, has a different leadership style than some other business owners, and he is perfectly OK with that.
What sets his style apart? In a word: communication.
Unruh communicates with everyone in the bank and his orbits. It starts with his leadership team and extends to employees and customers.
His strategy is that transparency, telling the truth and letting everyone in on the information—good or bad—leads to more productivity, a more fun workplace and, in the end, a better financial picture for everyone involved with NBKC.
'Employees know that we are authentic'
Unruh and his founding partners started NBKC 20 years ago. The bank has always had a focus on home loans, working with small businesses and consumers, and making small business loans.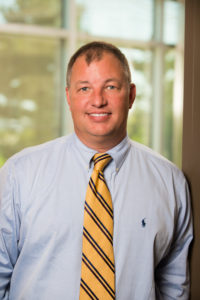 It's also been about creating a place that's different in the banking world.
NBKC is heavily reviewed online, and Unruh not only reads every review but tries to respond to them. All of them. The company also receives high marks from employees on Glassdoor.
"Our employees know that we are authentic," he said. "Our culture has a way of self-policing to weed out big egos."
Unruh and the leadership team host meetings monthly with groups of employees. You are invited to the meeting in the month of your work anniversary. If you were hired in January 15 years ago, you are a part of the January meeting, just like someone hired this year.
"It's their meeting," Unruh said. "They can ask questions about anything and get an answer."
That kind of candor with employees is easy when things are going well, but Unruh and his leadership team do it all the time—including through the really tough times of the last decade.
"We talk about the hard stuff," he said. "We try to be the same people in every setting, day in and day out. It's sometimes tough, but it's worth it in the end."
Building up KC
Today, Unruh is spending more time in a mentor role, working with young startup founders.
"They want to do things the right way," he said. "It's rewarding to be considered a mentor."
With that goal in mind, NBKC has partnered with LaunchKC and others to create Fountain City Fintech. The accelerator is open to financial technology startups worldwide; five will be chosen for the cohort starting in October.
Each of the selected companies will receive an investment in exchange for equity. The bank will provide them office space at its South Kansas City headquarters in addition to mentorship and strategic introductions.
Nontraditional approach
Unruh is proud of what is being built at NBKC for employees and customers. He loves that employees still show off the company's relatively newly remodeled headquarters to friends and family.
Company expectations are high, and people are expected to work hard, he said. But that pride in their workplace comes through in their work product.
"Our leadership team is a bunch of good thinkers about how the business world operates outside of banking. We don't look at the traditional approach of banking. We have ventured so far away from that because we have to in order to sustain—it's either disrupt or be disrupted," Unruh said.
"We talk a lot about clear vision and authenticity. We let our work stand on its own."