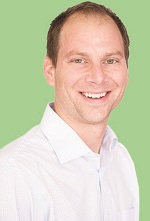 The Next Great Remote Control Is a Phone
Jason Carman wanted to have more control over his video and audio electronics setup at home. So he developed a system that lets smartphones and other Bluetooth-enabled mobile devices act as universal remotes.
"I'm an engineer by trade," Carman said. "I just thought, 'Why can't I use my phone to control this?' You can control your home thermostat with mobile devices. Why not your sound and video setup?"
The result is Blumoo, the first consumer product offered by Carman's tech startup, Flyover Innovations.
"Blumoo is kind of a Swiss army knife for all of your media and equipment controls," Carman said. "It's both a hardware device and a mobile application. It allows you to control all of your equipment, access your personal media and find available television shows all through a single user interface."
With Blumoo, you can say goodbye to separate remote controls for your TV, sound system, gaming system, Blu-Ray player and other home entertainment components.
Users plug in Blumoo's home base unit anywhere in the room where their TV and audio equipment is, "and when you launch our free mobile application, we'll automatically scan, detect and connect that home base," Carman said.
Blumoo costs $99 and is currently rolling out retail distribution in the United States. It's available at Amazon.com, Walmart.com, Staples.com and several other e-commerce sites.
"We launched solely on Amazon, because we wanted to see actual customer reviews," Carman said. "We wanted to make sure that we were good with the product and make whatever minor modifications were required before we rolled out distribution on a larger level.
"Today we are in 16 different Amazon distribution centers. That means we are getting good traction all over the U.S."
Flyover Innovations is Carman's first startup. The South Dakota native moved to Kansas City in 2003 to work for Garmin, where he did hardware design and project engineering. He later worked for Grundfos, a Danish pump-driver systems manufacturer, and was tasked with starting the company's electronics division for North America.
That experience laid the foundation for Carman to make the leap from employee to entrepreneur."It's always been in my DNA to start my own thing," he said. "It was just picking the right time to do it. And, especially in my industry, it's after you've built your networking relationships and are able to actually produce products."