Community center Nile Valley Aquaponics is bringing a splash of green to the Kansas City metro's urban landscape.
Created in 2015 by Dre Taylor, Nile Valley Aquaponics is a community greenhouse that provides free, year-round access to local, organic food and health education.
"Our goals are to provide fresh, local food, to reduce our carbon footprint and to build a community," Taylor said.
Nile Valley also offers a free community garden where customers "can pick whatever they want, whenever they want."
What's aquaponics?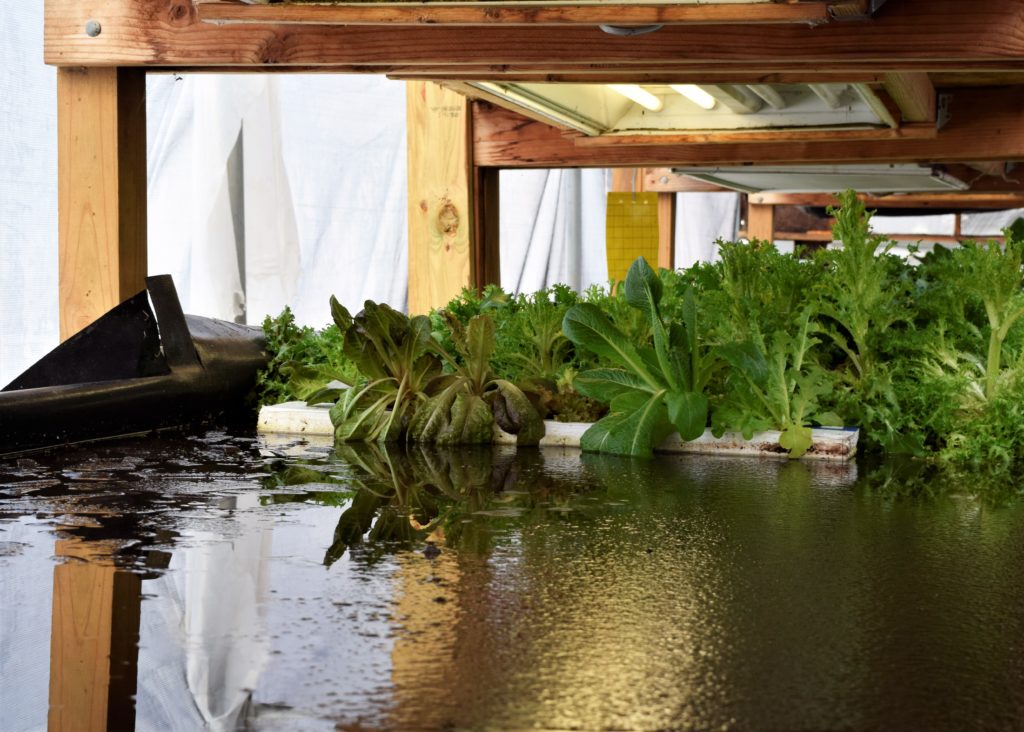 Aquaponics is the eco-friendly farming process of raising plants and fish together to model the natural ecosystem. The waste from the fish provides the food and nutrients for Nile Valley's plants and vegetables, while nutrients from the plants filter into the water and return to the fish tank. The symbiotic practice uses 90 percent less water than traditional soil-growth methods, making it sustainable, healthy and chemical-free.
Taylor was inspired to start the business after visiting Milwaukee-based nonprofit Growing Power Inc. in 2011. Taylor met with the organization's leader Will Allen, an urban farmer who, at the time, produced 1 million pounds of food on 100 acres of land per year. Allen received a MacArthur Genius Grant for his work in urban farming and sustainable food production and was named one of TIME's 100 most influential people in 2010.
By the time Taylor returned home, the seed had been planted: He was going to root urban farming in the heart of Kansas City.
Planting new roots
Nile Valley Aquaponics' location at 2900 Wabash Ave. sits on less than an acre, but its expansion is nigh: In 2017, the business partnered with architecture and engineering firm HOK to plan a new urban farming and sustainable living facility in East Kansas City.
The joint project won an Unbuilt Architecture Honor Award in the AIA Central States' Excellence in Design competition in 2017.
Amenities of the expanded space will include three greenhouses, an indoor and outdoor event space, beehives, rainwater collection cisterns, a wind turbine, raised garden beds and a marketplace. Nile Valley's annual harvest is estimated to double to a projected 50,000 pounds of fish and 70,000 pounds of vegetables. Taylor hopes to see the facility implemented later this year.
"We hope to keep expanding this year," Taylor said. "We started building in 2015, but this is our first full year in operation. We've seen anywhere from 1,500 to 2,000 people a year from all over the world. Visitors from 35 to 40 countries have been here so far."
Mentorship and employment
In addition to promoting practices of sustainability and environmental awareness, Taylor contributes to the community through his mentorship of Kansas City's youth.
By providing hands-on work opportunities, Nile Valley Aquaponics teaches low-income youth how to grow and harvest food and provides employment opportunities for young men.
Taylor also launched the mentorship program Males to Men in 2013, which aims to raise strong, conscious and productive young men into responsible leaders in the community. The program currently includes more than 30 mentees, ages seven to 17.
Adding to his environmental initiatives, Taylor plans to plant 200 fruit trees in Swope Park through his foundation, KC Urban Farm Coop.
"My main mission is to provide economic opportunity, healthy food and health education, and to build the community up," he said.
Kansas City fresh
Nile Valley's approach is progressive not just for its community-based focus and its environmentally friendly practices, but also for the uniqueness of the practice itself. Aquaponics may be highly beneficial in several ways, but it's still a niche technique of farming and growing food, putting Kansas City on the map for sustainable food production.
"There aren't too many other cities doing this," Taylor said. "Because I'm from Kansas City, I wanted to implement it here."
With its local success and influence, Taylor hopes to grow Nile Valley and aquaponics practices outside of the KC area and to branch out to other cities.