After a 275-mile journey that took 120 years, we're about to see Bison in Kansas City.
Bison State Bank owner Ryan Wiebe said his bank has begun a soft opening of its first local branch, located at 9201 Ward Parkway, and expects it to be open for business to the public by December.
It will mark a big step for the bank founded in 1901 in western Kansas and that, just a few years ago, was Kansas' smallest bank. (The original bank ledgers can still be found in the vault there.)
When Wiebe and his ownership group purchased it in 2018, Bison's assets were at $6.9 million. Since then, that portfolio has more than tripled. And, while still small relative to competitors in the metro, Bison feels its momentum is in the right direction.
"It's our goal to grow this bank. It's to give back to the community. It's the true underdog story, quite frankly," he said. "You know, we're one of the very, very smallest banks to ever go from, whether it's Kansas or Missouri, into the Kansas City market."
Wiebe said small businesses will be the bank's niche here, with an emphasis on those that need commercial lending levels that often aren't on bigger banks' radar. 
His philosophy in serving that market is to offer a mix of old-school and new-school banking that is both personalized and convenient.
To help people grow their businesses, he said, the bank's team starts by listening and learning to what each customer's needs are. 
Then they aim to pair that understanding with modern technology and banking principles to meet customers' needs in creative ways.
Home loans are another area of focus for Bison State Bank, building on Wiebe's years of lending experience as owner of First Mortgage Direct, a Kansas City-based company founded in 2009.
Fueled by historically low interest rates, First Mortgage Direct's loan volume skyrocketed from $445 million in 2019 to $1.5 billion in 2020, and its number of employees more than doubled. The high volume has continued this year.
Bison will allow for significant scaling up in the mortgage sector as the bank's charter opens up new markets far beyond the 22 states First Mortgage Direct lends in.
And while Wiebe anticipates home lending will cool overall in 2022 due to a slowdown in mortgage refinancing, he said there is no concern of a 2008-style mortgage bubble because of today's strict underwriting rules and the fact that home prices now are the result of "true supply and demand."
Trust Your Gut
As Wiebe works with small business owners from Bison's Kansas City branch, he'll relate to their passion and sense of urgency — because he's been there himself.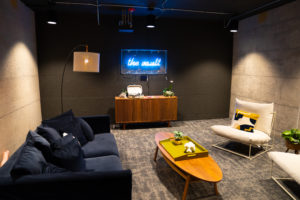 When starting his mortgage company in 2009, he went from initial business plan to his first loan closing in four months.
When he set his sights on buying a bank in 2016, after an initial phone call to pitch the idea and with the help of "divine intervention," he was in front of Bison's board of directors to negotiate a deal within three weeks.
And now with a Missouri bank branch about ready to open, Wiebe's already thinking about adding a 2nd local branch on the Kansas side of the state line.
Accordingly, the most important advice he offers business owners just getting started is the advice he follows himself: Trust your gut and your instinct — and believe in what you're doing.
"If you're passionate about something that means something to you, or the service or product that you're providing, really that's the first key," he said.
After that, Wiebe emphasizes the importance of business basics such as understanding the financials, inventory and control systems. This prepares entrepreneurs to then partner with a bank that can help them get from point A to B when it comes to capital and cash flow.
Coming Full Circle
Bison State Bank's headquarters is in Rush County, Kansas, where Wiebe's grandparents still live and farm in their 90s. 
He said rural communities in the area are rich in agriculture and oil but continue to see population declines.
With the bank's growth, he hopes to meld the best of both worlds — expanding small business lending not only in Kansas City, but also in those rural areas, while at the same time bringing some of Bison's community atmosphere to customers here.
"We're trying to drive business and help our customers out there develop and grow and really get back to their communities," he said. "So the more that we can be an active participant, both in Kansas City and in western Kansas, is a win-win. It's growing the underserved community, both in Bison or in Rush County, as well as Kansas City."
Chad Bettes is an award-winning writer and editor-in-chief of Thinking Bigger. He earned his master's degree from the William Allen White School of Journalism at the University of Kansas.