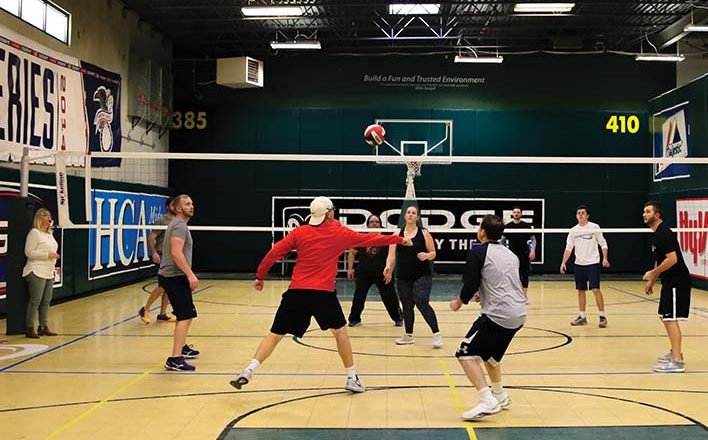 Perks Empower Workers
Let's keep it real: Pro Athlete has a LOT of employee perks. And we're talking about more than the usual—extra days off, afternoon at the K, Friday happy hours—that many businesses offer. At Pro Athlete, they take employee perks seriously.
STRATEGY
Take care of employees with a broad range of perks, and healthy attitudes and a strong bottom line will follow.
COMPANY INFORMATION
Pro Athlete, Inc.
Kansas City, Mo.
(816) 587-6050
ProAthleteInc.com
 TYPE OF BUSINESS
Operates baseball-supply e-commerce sites
YEAR FOUNDED
1987 
EMPLOYEES
54
The perks (all free) are part of the company's overall business strategy to create a fun, but productive, workplace, said Andrew Dowis, chief operating officer.
'The Right Way to Do Business'
There's an on-site chef who prepares breakfast and lunch for employees. There are unlimited PTO days. Food and drinks are always available. Tickets for Royals games and other sports are available, as well. If you need a ride home, just call Uber using the company's account. And then there is the on-site spa. There are massages on Mondays, haircuts on Fridays and a rotation of manicures/pedicures and facials on Wednesday.
New parents receive a baby bonus and a generous basket full of diapers, formula, onesies, etc. First-time homebuyers can receive a loan from the company to help with a down payment or other expenses.
None of those perks are Dowis' favorite, though. He is partial to the one that allows employees to give back.
"My favorite is our charity program," he said. "Instead of the company writing a check to a charity which may or may not align with who an employee wants to give money to, we give each employee $1,500 a year to give away."
That is the one perk that has a "fee" associated with it in the form of time. Employees have to donate time to charity in the previous year in order to earn the money.
"Our employees really love how it feels to give back," Dowis said.
The perks are fairly static, but when employees come up with something new they'd like to have, the management team is willing to listen.
"We believe this is the right way to do business," Dowis said. "Every decision we have made has been about putting the experience of others before money. That's how we think we get employees who are the best, who are happy, work hard and take ownership of what they are doing."
'An Empowerment Culture'
Pro Athlete operates four e-commerce sites: JustBats.com, JustBallGloves.com, BatWarehouse.com, and BallGloveWarehouse.com. The company has 54 employees at its North-land facility.
Dowis says he can't remember the last time an employee left the company because they were unhappy.
"If they leave, it's because a spouse got another job or another personal reason," he said.
It might sound like a daunting task for a small business to provide all of these perks, but Dowis said all businesses can manage to do something nice for employees.
"Food is a great way to people's hearts," he said. "If you start doing it early, it's not as expensive as you might think, and it just becomes a part of the budget. It's our No. 1 perk for keeping people on-site. It just takes that stressor away of 'What are we going to do for lunch today?'"
More than one person has asked Dowis, "Does anybody actually work around here?" But the perks aren't the focus for employees—their work is, Dowis said.
"We really have an empowerment culture," he said. "Everybody's a manager. We'll know if you're not performing."
Pro Athlete knows that such a big menu of benefits sounds outrageous to some business people—particularly in our volatile economy. But Dowis said there has never been a pullback from the company in the perks.
"We are committed to provide a great experience to our employees, our customers, vendors, lenders, to everyone," he said.
"It works for us here. It's fun, and we feel like it's the right thing to do. If we take care of our people, the bottom line will take care of itself. We believe in that."