Laura Schmidt is owner and chief positive person at notes to self socks in Prairie Village, Kansas. With her feet propped up on the dash during a road trip in 2011, she had the idea of putting positive words of affirmation on the toes and bottoms of socks. Today, Schmidt and her team are celebrating the 10-year anniversary of the business after a decade of exponential growth. Socks made by notes to self can be found online and in stores across the country, along with gift sets, a baby collection, and other inspirational products.
Q. What was the first affirmation you put on a pair of socks?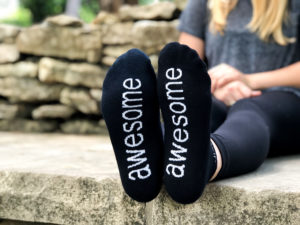 Laura Schmidt: Our first affirmation (and an all-time best seller) was "I am awesome," an affirmation I've always used personally and to affirm others. When I was prototyping, I literally drew the words "I am awesome" on socks to brainstorm where the words would eventually be woven into the socks.
Q. Once you came up with the idea for notes to self, how long did it take to bring products to market?
LS: When an idea catches my attention, I move pretty quickly, and I had a feeling I needed to move fast to get customer feedback, perfect the design and start the process of protecting my intellectual property through the establishment of trademarks. So from the idea's inception to the first sock delivery, it took seven months. And just over three months later, we went live on notestoself.com!
Q. Your business is known for its made-in-the-USA commitment. Where are your socks manufactured, and how many states and countries have they been sold in?
LS: Our socks are made in the USA in sock mills on the East Coast. They've been sold in all 50 states, and we've shipped online consumer orders to 26 countries.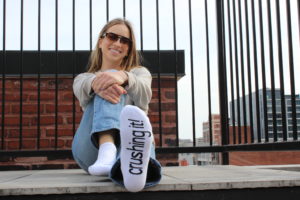 Q. As you look back on the last decade, what are a couple of milestones you are most proud of in the development of your business and how did you achieve them?
LS: There have been so many meaningful milestones along the way.
An easily quantifiable accomplishment we're extremely proud of has been our give-back. We've donated more than 97,000 pairs of notes to self socks to homeless shelters, women's shelters and children in great need. And by the end of July 2021, we'll have donated more than 100,000 pairs of socks!
While it's more difficult to quantify, the most meaningful part of this journey has been hearing stories from people about the impact of our socks on their lives from customer reviews about the socks' incredible construction to letters and emails about how they have made a difference when someone was going through cancer treatment, a heartbreaking loss or a difficult time. I find myself in tears almost daily, humbled by their kind words, resilience and generosity in including us in their life journeys.
And finally, I'll share a meaningful memory when one dream I had for this company was realized. I've always hoped our socks would help kids feel confident and smart. I wondered, "What if kids had 'I am smart' on the toes of their socks and they really believed it? How might that affect their entire lives and our world?" In September 2019, while filming a new company story, I spoke to a group of students at a local grade school about positive thinking and starting a business. I'd given them each a pair of our "I am smart" socks, and towards the end of the filming, a 2nd grade girl came up to me in her "I am smart" socks and said, "These socks make me feel smart!" I was blown away. Tearing up, I said, "That's the idea. You are smart." That one interaction felt like the realization of my dream.
I've always believed in the power of changing one life at a time, one positive thought at a time, and I was humbled to see the seeds of confidence planted in those students.
Here is a link to our company story video that shows that interaction.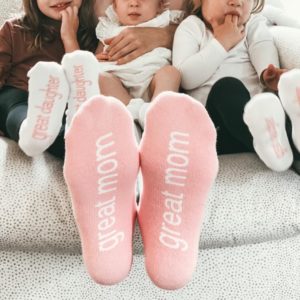 Q. Is there a lesson you've learned in your business start-up journey that might help other entrepreneurs?
LS: During our entire journey, it's been tempting to work in my home office a lot because there is always so much to do, and I find myself needing solitude to execute on the myriad tasks and to-dos that come with running your own business. Sometimes it feels like there's no time to step away from the day-to-day work of the business to grow the business. However, my company wouldn't be where it is without the time I spent meeting with and learning from other entrepreneurs. Every time I left my office to attend a class or event with other business owners, I gained key insights that helped my business grow in ways it couldn't have if I'd stuck to the same nose-to-the-grindstone routine every day.
Another small piece of advice is to document your journey. I luckily have (very grainy) photos from the first few years of my business that capture just how far we've come. It's so gratifying to look back on the past 10 years and remember the highs and the lows and think of all those who believed in us and have helped us get to where we are now. Those memories remind me why we started in the first place and inspire me to keep pushing for more growth so we can share our socks with as many people as possible and make this world a more positive place, one sock at a time!