Rethinking Corporate Wellness and the Remote Work Environment
If you follow me at all, you know I always make a point to talk about how the physical environment people work within directly impacts five things: culture, engagement, wellness, retention, and innovation. I probably sound like a broken record, and I often repeat myself because it's simple to control and easy to implement. Yet, there are still so many businesses that are not intentional about leveraging the built environment for growth success. My mission is to educate and help as many organizations as possible to have healthy, productive, prosperous companies.
This month, I'll focus on corporate wellness efforts in a remote world as part of the Reimagined Office series. I'll discuss how remote work plays into wellness initiatives, whether or not an employer holds responsibility for those work environments and how to find the right solution for your team.
Location, Location, Location
Pre-pandemic, people spent an average of 55% of their time in the workplace. For many employees, 55% has become a home-based location and with it a whole set of location-based problems. No joke, the simple fact of changing from an office to a work-from-home environment has brought on or exacerbated issues such as:
Musculoskeletal and Vision Issues: Poor ergonomic conditions and improper lighting drive considerable increases in employee complaints of eye strain, tension headaches, neck pain, low back pain, carpal tunnel, and other contact-stress related discomfort. These issues are 100% avoidable with the proper tools and training.
Weight Gain: You would be surprised by how much more a person moves during the day working inside a building than in the home. The foot commute from room to room is significantly less than when you get out of your car, walk into a building, walk to your workspace, walk to get something off the printer, walk to use the restroom, walk to the breakroom, and on and on. Those burned calories add up fast. Even a slight increase in weight can increase risk factors for type 2 diabetes, high blood pressure, heart attack, stroke, and some forms of cancer. Yikes.
Mental Health Issues: Overall pandemic fatigue, financial stressors, and the "always-on" mentality that comes with blurred work/home balance are contributing to a rise in stress, anxiety, sleep disorders. These mental health issues lead to cognitive symptoms such as decreased productivity and lack of engagement but also manifest in physical conditions such as headaches, digestive problems, and high blood pressure.
Those are just three examples! Simply changing the environment a person is working in can impact physical, mental, and emotional wellbeing.
So, where does employer responsibility fit? Should you as an employer hold any responsibility for supporting wellness efforts outside the physical office? Are you legally required?
I believe there is some legal precedent, but I'm sure the legal question will likely adapt as the hybrid work model evolves. This question is one an attorney is better equipped to answer! However, in my opinion, employers ethically share a level of wellness responsibility for their employees in any work environment.
If a company hired an office-based employee pre-pandemic, the employee received an office or workstation, a chair, phone, computer, etc. Just because people function in a remote environment doesn't mean they suddenly don't need the same support level. (I think even the most fervent ergonomic naysayers would now agree with me that an eight-hour day in a dining room chair is torture.)
So what can you do?
Luckily there are several cost-effective and straightforward programs you can implement to be a rockstar employer! I've broken down several options as they relate to the examples above and by financial expenditure:
No Cost
Implement a Work Curfew: Issue a company-wide mandate that stipulates no working during a specific set of hours. Example: Company ABC adds a policy to their employee handbook that employees should not be taking part in work-related activities between 7 p.m. and 6 a.m. Then enforce it! If you have employees sending late-night emails, gently remind them those are non-work hours and encourage them to spend the time with family or relaxing. The fragile work/life balance is wildly out of sorts with remote working. This guideline shows employees you care about their mental wellbeing and support their need to take time to rest and recharge.
Establish a Movement-based Zoom Culture: This one may sound weird, but trust me. I stumbled across this suggestion while I was attending a 90-minute Zoom webinar. The webinar host had us take two breaks to stand, stretch, and move around. It's simple, effective and it helps with fatigue that comes from too much computer time!
Curate and Promote Resources that Support Wellbeing: Build a digital library of items that all employees can access. This way, if someone is feeling overwhelmed, he or she can go to the folder and find a quick tip or link to help out! There is a ridiculous amount of free stuff out there. So much so it can be a little overwhelming. Don't know where to look? Check out this free Mindful March 30 Day Challenge.
Low Cost
Ergonomic Tools: A minimal capital investment can lead to substantial ROI on productivity and engagement. Using an annual salary of $40,000 per employee and a meager 2% productivity increase (the median average is 12%), you could expect to see a one-year ROI of 160% on a $500 investment. In three years, the ROI would be 480%. Are you interested in running your calculations? Check out this excellent ROI estimator from Cornell. PRO TIP: Training is critical. You can purchase all the world's tools, but if the employees aren't using them correctly, ROI is zero. Do you want to see if you or your employees would benefit from proper ergo tools? Click here for a quick evaluation.
Fitness Wearables: Help your team manage movement by subsidizing part or all of a fitness tracker's cost. You can pick up a Fitbit for less than $100! These things can track steps, calories burned, time spent standing, and more. By encouraging your team to be mindful of their movement and physical activity, you're helping them stay healthy and fight the battle of the COVID bulge!
Mental Health Support: Offer mental health support in the form of a company-sponsored therapist with whom employees can schedule calls, video-chats, and, when we get back to it, live sessions. Sometimes, an opportunity to vent their concerns, their fear, or just their frustration without judgment works wonders for stress relief and mental wellbeing.
We now live and work in a new world. It's critical to evolve to support your people in this new way of work so your company will move forward successfully. It's not rocket science, and it's not unaffordable. If you're not interested in creating a better remote work environment for your people, I may sound harsh, but you probably just don't care.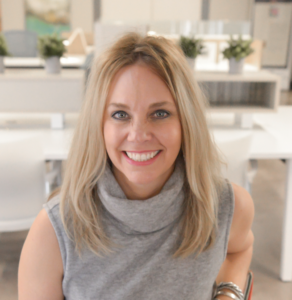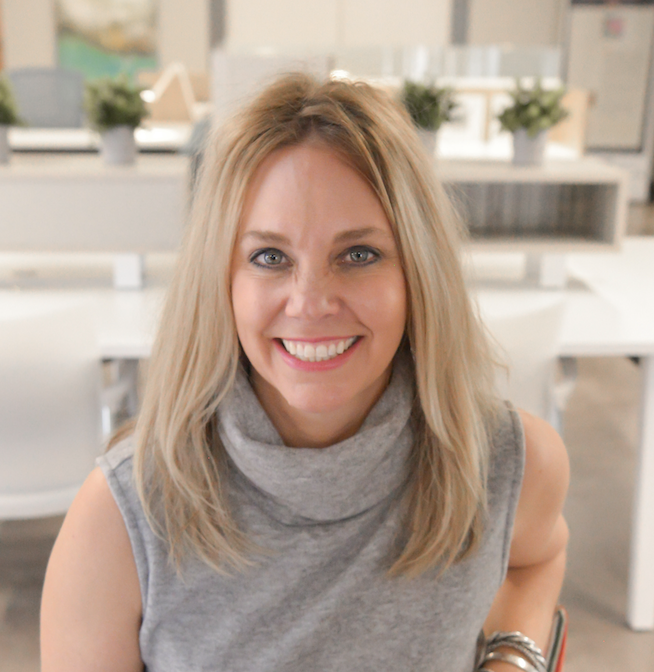 Courtnay Bradley WELL AP is founder and chief purpose officer at Trilogie and host of The Up/Down Podcast and Trilogie's Table Talk live stream series. Her passion for people fuels her obsession with helping companies design and furnish work environments that truly inspire and engage employees. In 2009 she started Trilogie with the sole purpose of creating kick-ass workspaces that help organizations thrive.
Photo credit, top of page: Eakrin Rasadonyindee