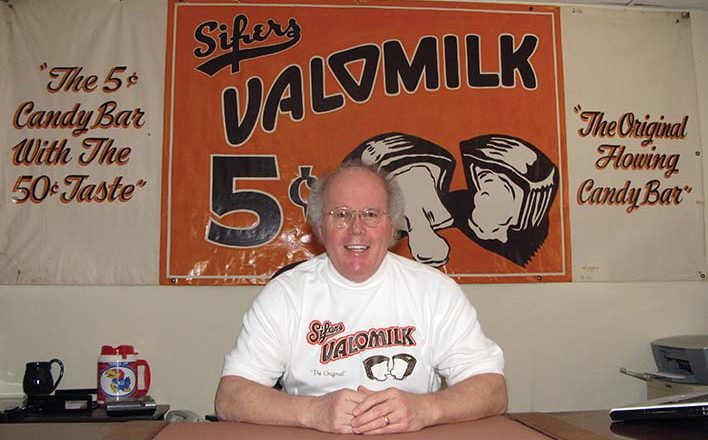 Round, Messy But Delicious
An astute entrepreneur turns accidents into opportunities—and sometimes, a treat for the ages. That's how VALOMILK Candy Company became a great American candy.
The business's founder was Samuel Mitchell Sifers, great-grandfather of Russ Sifers, who's now the president of Sifers VALOMILK Candy Company. Their family started making candy in 1903 in Iola, Kan.
The company later moved to Kansas City and created penny marshmallow candy during the 1920s and 1930s. One day, the story goes, one of their candymakers sipped a bit too much of the real vanilla they used in the production process. His batch of marshmallow didn't set up as it should have and stayed runny. But Russ' grandfather was inspired to turn the accident into a sticky success.
"My grandfather, Harry Sifers, was always looking for new ideas for candy, so they dipped scoops of the runny marshmallow into chocolate cups," said Russ. "It was messy but so delicious—a simple taste of heaven!"
Invented by Accident
In 1931, the company began making the new candy, called VALOMILK DIPS, and selling it for 5 cents. "So the Original Sifers VALOMILK Candy Cup was invented quite by accident," said Sifers.
Russ learned the VALOMILK trade from his father, Clarence Russell Sifers, and Dave Denton, who was the factory manager in the 1970s. Russ also graduated from the National Confectioner Association's candymaking school at the University of Wisconsin in 1970.
It is easy to identify the company's end users. "Anyone who enjoys fine, old-time candy," Russ said. The company gets a lot of fan mail with stories ranging from surprise engagements involving VALOMILK DIPS to a childhood crush sweetened by the candy.
A Treasure Hunt
Although VALOMILK isn't in every store's candy aisle, it's worth a search. It's available at Cracker Barrel, the Vermont County Store, Candy Favorites, Groovy Candies and Bitterman Family Confections.
VALOMILK was sold in 1970 to a Los Angeles company with the intent of gaining national distribution.
Russ joined the company then, the fourth generation to make VALOMILK. The venture didn't succeed, and in 1981 the Kansas City factory was shut, ending VALOMILK after half a century.
Russ acquired his great-grandfather's original copper kettles and other equipment in 1985 and reopened the plant in Merriam. He had help from wife Julianne; and children Tim, Wendy, Dave and Sarah and many church friends. Russ said Kansas City's central location is perfect for shipping, and ingredients and packaging materials are available.
VALOMILK is still made by hand, with the original family recipe and much of the original equipment. (You can see how the candy is made in a video on the company website.)
"The process is slow and difficult, but the results are truly old-fashioned, hand-made quality you can taste," Russ said.
'You Get to Be That Little Kid Again'
Russ is proud that VALOMILK has been a family-owned-and-operated company for 114 years. And they are planning to keep that streak going:  Son Dave, a fifth-generation Sifers candy-man, will take over the management.
Russ remembers the time he asked his daughter Sarah, then 6-years-old, what she liked about the family's candy.
"Well, Dad, they are round," she replied. "And they are messy, but that makes them fun."
Russ said adults want to be neat rather than messy. "However, when you eat a VALOMILK DIP as an adult, you get to be that little kid again and have fun," he said.