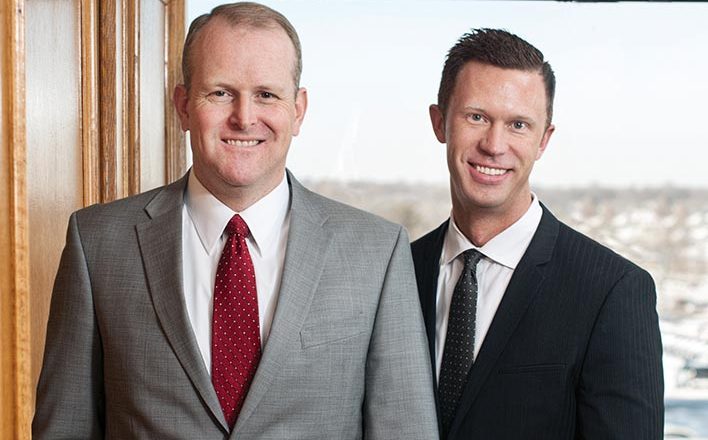 The Singularis Group's Singular Focus
Getting conservative political candidates elected to office is the business of The Singularis Group, a local firm specializing in campaign consulting for Republicans.
And business is booming.
During the 2014 election cycle, The Singularis Group produced more than 5 million pieces of direct mail advertising in one
40-day period, mostly in 5,000- to 10,000-piece runs, for the candidates who number among the firm's cache of 500-plus clients.
And in the 15 years since The Singularis Group was founded by principals Kristian Van Meteren and Jared Suhn, more than 80 percent of its clients have won their election campaigns in the Midwest and across the United States.
"I always say, tongue in cheek, that we're sort of recession-proof," Van Meteren said. "The country could be facing economic problems, wars and civil unrest—but somebody's always going to want to be in charge. We've got our work cut out for us regardless."
The efforts of The Singularis Group have helped produce significant victories for such Republican candidates as Kansas Gov. Sam Brownback; U.S. Sens. Jerry Moran and Pat Roberts in Kansas; Kansas Secretary of State Kris Kobach; U.S. Rep. Vicky Hartzler and State Auditor Tom Schweich of Missouri; U.S. Sen. Deb Fischer and Attorney General Doug Peterson in Nebraska and U.S. Rep. Steve Russell in Oklahoma.
In 2012, The Singularis Group's work proved vital in ousting one-fourth of the Kansas Senate, including the Senate president, and the firm's expertise helped North Carolina Republicans capture both the governor's office and the state legislature for the first time in the same year since Reconstruction. In 2014, they helped install a Republican majority in the Minnesota statehouse.
Other feathers in the firm's cap include working for Brownback and former Minnesota Gov. Tim Pawlenty during their campaigns for President.
"But we also take a lot of pride in our ability to help all conservative Republican candidates, no matter how big or small," Suhn said. "We say, 'Even if you're running for state representative, you're going to get the same quality of service from us as a candidate running for president.'"
THE KIDS ARE ALL RIGHT
Van Meteren and Suhn both grew up in small towns in rural Kansas and were raised in politically conservative families.
"Growing up, I loved Ronald Reagan," Van Meteren said. "I believed very strongly in the principles he espoused. That was about the time I was in high school and figuring out how government actually worked."
What Van Meteren believed in then, he believes in now.
"One of my biggest concerns is the sacrifice of individual liberties to a big government intent on providing for everyone," he said. "Individual liberties suffer the larger government gets. The more it provides, the more people are coaxed into becoming further dependent on government for everything."
After spending a summer in Washington interning for U.S. Sen. James A. McClure, Van Meterenreturned home wanting to make a difference in politics. In 1996, he ran against an incumbent Democrat, Richard Reinhardt, for a seat in the Kansas House of Representatives.
"I was a 28-year-old kid with no money, but I got 43 percent of the vote," he recalled. "It wasn't enough to knock Reinhardt out, but it was better than anyone else ever got running against him."
In 1997, Van Meteren was appointed executive director of the Kansas Republican Party in Topeka. There he met Suhn, who, at only 18, was the party's political director. Suhn had already victoriously managed the 1996 Kansas state representative campaign of Peggy Mast, who was a friend of a friend of Suhn's parents.
"Today, Peggy is speaker pro tem of the Kansas House," Suhn said. "She will tell you how she thought it was crazy to waste her time talking to a kid who wanted to manage her campaign. But because her friend asked her to talk to me, she did."
In 2000, Van Meteren and Suhn joined forces to form The Singularis Group, primarily at the suggestion of former Kansas Republican Party Chairman David Miller.
"He and others told us the same thing," Van Meteren said. "They said: 'There's this need out there. We've got people running for office whose materials don't look very good, and they're not written well, so maybe you guys could get together and help conservative Republicans get elected.'"
Van Meteren's writing and communications skills were a good fit with Suhn's graphic design talents, and the two had developed a close working relationship at the Kansas Republican Party.
"There was a unique synergy between us," Suhn said. "And so we put out a shingle to start this company in the basement of Kris' Topeka house with basically no clients."
BIG BREAK, BELATED GROWTH
After earning only $13,000 in 2001, Van Meteren and Suhn got their big break in 2002 when Tim Shallenburger, former speaker of the Kansas House, hired The Singularis Group to help him in his campaign for Kansas governor against Democrat Kathleen Sebelius.
"When we got our first $1,000 check, we thought we were in tall cotton," Van Meteren said.
Even though Shallenburger lost, the campaign showed what The Singularis Group could do on a big stage.
"Once you get a high-profile candidate like that, then others notice," Van Meteren said. "The materials we did for him were good stuff, frankly."
What was good about them?
"We were one of the first firms around to do full-color campaign literature in Kansas," Suhn said. "Most materials up to that point were spot color or two-color jobs to save money."
"There used to be a lot of 'Smurfs' running for office," Van Meteren said. "Every candidate would get blue and red, because they wanted red, white and blue—and they'd have their photos printed in blue."
Superior campaign materials and political savvy prepared the way for expansion at The Singularis Group. Still, the partners' financial caution in running their business was a hurdle that had to be overcome.
"The vast majority of our revenue is created in three to four months every two years during the election cycle," Van Meteren said. "And so when we started looking at that from the standpoint of branching out and adding full-time employees, it was a leap of faith, because we knew we were going to have to support people during the quiet times.
"But there were only so many hours in the day for both of us, and we hit the max of what two people could produce. We finally said: 'We don't have a choice. We're going to have to bring on help.'"
Looking back, both agree that they should have added employees much sooner.
"We were hesitant because of the cyclical nature of the business," Suhn said. "We didn't realize that once we stepped up and started bringing in new people, the business would grow like it did."
It didn't take long to see the profitable results.
"By 2008, we were doing pretty well by most people's standards," Van Meteren said. "But when we started bringing people on board in 2010, we were getting toward the end of the year, and it became very clear that the risks we took were well worth it.'"
Profits were further enhanced by The Singularis Group's move from Topeka to the Kansas City area.
"Kansas City has a more robust and competitive printing market," Van Meteren said. "We thought it would also give us a better base to branch out into Missouri and other states. And we just realized we were doing too much running back and forth between Topeka and Kansas City. We were on the turnpike all the time."
ONE-STOP SHOP
Unlike many other political campaign consultancies, The Singularis Group provides a full range of in-house services to its clients.
"That's what differentiates us and gives us a competitive advantage in our ability to win elections," Suhn said. "A lot of other firms are just consultants that are advising and then working with outside designers, voter list providers and so on—and that takes time.
"We turn things around quickly, because it's all streamlined here inside these walls. We have a team of graphic designers that can go to work for a candidate immediately. We produce all of our voter lists in house, along with our own photography work and copywriting."
That saves a candidate not only money, but precious time.
"Somebody once described a political campaign as a train which slowly builds momentum and speed," Suhn said. "It goes faster and faster, and once you're at full speed, every single thing that you have to do that delays you from getting the job done hinders your ability to win.
"In the heat of an election cycle, it's not uncommon for us to get a call from a candidate at night requesting a direct mail piece. And that piece is on the press by the next morning and in the mail later that day. It's
a 24-hour process."
While producing excellent work swiftly is critical to the success of The Singularis Group, Van Meteren takes his greatest satisfaction from the firm's long-term accomplishments.
"Kansas is a vastly different state than it was 15 or 20 years ago," he said. "When we first started getting involved in Kansas politics, yes, it was a Republican state. But it was a very moderate to liberal Republican state. And people like Sam Brownback were the rarity.
"Today, Kansas has become what I would say is a much more conservatively traditional Republican state. And I don't think it's bragging to say that we've had more than a little to do with that."