When the recession hit, many auto detailing businesses didn't survive. But Shamerrific Shine managed to thrive.
A Chamois That's Terrific
Owners Christina Scott and Kevin Neighley spent years working to perfect the services at their Overland Park detailing and hand car washing business—then called K&C Solutions. The company performs many specialized services such as full interior and exterior detailing, cigarette and mold removal, bumper blends, paint touch up, multi-stage buffing and sap removal.
But they actually grew their business by exploring a new market. The married couple came up with a microfiber chamois, dubbed the Shamerrific, that allows them to make more money by using less water. The patented product also saves time and eliminates the need for cleaning product, making it eco-friendly to boot.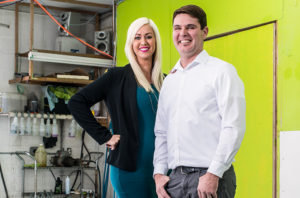 Scott and Neighley were aware of the Clean Water Act and the dangers of putting chemicals and soaps down drains. They wanted to differentiate themselves in the car washing and detailing market, abide by the rules and still have their customers' vehicles look top notch.
That's when the Shamerrific was born. Neighley and Scott spent countless hours brainstorming ways to speed up their process without sacrificing quality. Although Neighley is one of the best and fastest auto detailers in the business, even he could leave water streaks with a regular chamois. A regular cloth didn't work because it wore out too fast for commercial use.
"There has to be a better way," Scott said.
A lightbulb went off as she looked down at the microfiber towel she used to wipe sweat during her workouts.
"What if we attached a microfiber to a chamois?" she asked Neighley.
It worked perfectly. The microfiber glides across the vehicle without leaving a streak. The best part, Neighley said, is that microfiber works like soap, eliminating the need for more chemicals on the exterior.  The two tried it out and immediately knew they had a hot product on their hands.
They started sewing the Shamerrific out of their basement, made their first prototype and began the testing process. Through countless hours of trial and error, they developed the fastest way to wash a car with just a gallon and a half of water and the Shamerrific.
They've used the Shamerrific to wash almost two million cars in Kansas City already. The Shamerrific allows the staff to clean each vehicle in 60 seconds. To get an idea of how that works for auto dealerships, Shamerrific Shine has perfected a system that allows two team members
to wash more than 300 cars a day at dealerships. The speed and quality have allowed them to outpace competitors.
"Time is money, but quality and results have to be there," Scott said. "If you spend five minutes or a minute and five seconds on the car, you still get the same amount per vehicle."
The Shamerrific quickly became an essential tool for efficient and reliable work at dealerships and elsewhere.
The product also captured the attention of a veteran Kansas City entrepreneur. "They found a way to make a better mousetrap for that business," said Joe Roetheli, who co-founded the dog treat company Greenies. After hearing an enthusiastic presentation by Scott, Roetheli approached her and offered to serve as a mentor for Shamerrific Shine. He had an immediate gut feeling that Scott and Neighley had the passion and determination it takes
to succeed.
Patents and Growth
Neighley and Scott never stop thinking about how to grow their business and improve its operations. They officially changed the name of their company to Shamerrific Shine in 2014.
Shamerrific Shine has been growing by leaps and bounds. The company employs six to 12 people depending on the season, and the detailing side of the business has grown by more than 63 percent since 2013. It boasts an enviable list of customers, including several commercial accounts with car dealerships, where Shamerrific Shine employees travel onsite to clean vehicles. The owners have worked with most of their dealerships for more than 10 years. The company also has a growing list of commercial and residential customers that come to their Overland Park business for detailing.
The chamois was so different that they went to the Linda Hall Library on the UMKC campus to research patents. They couldn't find anything similar and filed their own provisional patent by using the basic tools on their computer.  They saved about $10,000 by filing the initial paperwork on their own before turning to a lawyer to complete the patent.
Their lawyers have helped them file four patents since then, including the latest version of Shamerrific, which has pockets for the user's hands. The pockets make it easier to glide the chamois across a car.
Chamois Challenges
Although the company has used the Shamerrific internally for several years, the path to retailers hasn't been a smooth one. Scott and Neighley have spent years perfecting the product and preparing for mass manufacturing. The biggest challenge now will be to scale up and bring in earnings before the patent runs out.
Roetheli gets calls when the couple confronts a challenge or needs an outside opinion.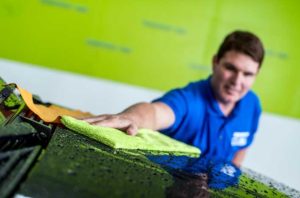 "They've been very coachable," he said.
He tells them what he thinks, but then encourages them to check it out for themselves.
"They will go out and do some research on it and decide if it's for them," Roetheli said.  "I value people who are willing to go out and think and not just be spoon-fed and think that's the only way to get it done."
Scott and Neighley said Roetheli's advice has been critical as they've worked through some setbacks on the manufacturing side.
Scott said they hope to have the problems solved soon to take full advantage of the 20-year patent. The two are in negotiations with a company and plan to roll out the chamois by the end of 2017.
When that happens, Neighley believes the Shameriffic will be a big hit for both commercial and residential users.
Scott said their goal is to get the Shameriffic into an automotive supply retailer.
They know the product will resonate with busy consumers who don't want to spend all day washing their car in the driveway.
Roetheli admires their grit.
"If you don't love what you do, about the first time you hit a major hurdle, you throw in the white towel. If you're really passionate about it, you will fight and get over, under, around or through," Roetheli said. "They've hit a lot of hurdles where people would have quit."
He points out that the manufacturing hurdles they've faced would have caused many to retreat back to their core business.
"Those things are frustrating and suck the juice out of a lot people, but they kept pounding on," he said. "They're not going as fast as they sometimes would like, but they're doing it smart, I think. They're not going out risking everything."
Details matter
The two aren't sitting idle while they work on manufacturers. Scott has participated in several entrepreneur programs, including ScaleUP! Kansas City and E-Scholars at UMKC, to hone her business savvy and gain more business insights. Both programs offered essential resources and connections with other entrepreneurs.
"You can lean on people," Scott said.
The classes have helped Scott and Neighley think about their next big push as well. The two expect to franchise their eco-friendly detailing and hand wash concept in other cities, opening wider markets to conquer.
First, Neighley and Scott said, they are perfecting their system in Overland Park by implementing the skills Scott learned through ScaleUP! and E-Scholars.
The classes have prompted them to make several changes, including writing out the business's standing operating procedures.
Scott and Neighley used to store that information in their head. The programs showed her why that was a dangerous proposition, especially as the business grows and employees take on more roles.
These days Scott has laminated copies of operating procedures for nearly every category of customers–rental cars, dealerships, residential customers–throughout the wash bay.
Neighley jokes that she has a standard operating procedure for how to write a standard operating procedure.
If one of the owners has an unexpected emergency, the business keeps rolling.
"We don't skip a beat," Scott said.
They also spend considerable time building relationships with every customer. That means a lot of communication happens between them and commercial customers. On the residential side, the two conduct thorough walk-throughs and get to know their customers when they step inside the door. It's an essential part of their brand that's not going away regardless of how big they become down the road