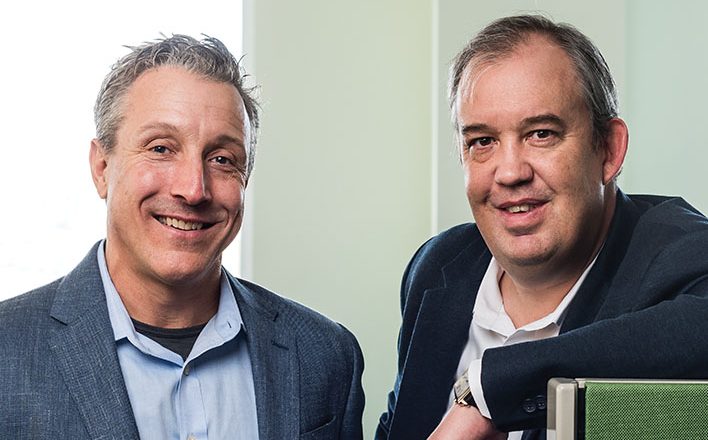 Tallgrass Freight Co.: On the road to $100 million
When he started Tallgrass Freight Co., Damon Anderson had a couple goals. He wanted to run his own small freight brokerage from his farmhouse in Leavenworth. And he wanted to give his clients outstanding service, the way he saw fit.
It didn't work out exactly like he planned, but the journey's still been pretty amazing. Six years after it launched, Tallgrass Freight Co. is one of America's fastest-growing private companies, going from $4 million in 2016 to $30 million last year.
Anderson and his business partner, David Barnes, employ about 16 employees at their Shawnee headquarters and work with another 50 affiliated brokers — some who live as far away as Ecuador.
"We move everything from rotors to military vehicles to alcohol, frozen turkeys, blueberries," Barnes said. "If you can fit it in the back of a 53-foot van or flatbed, we're moving it."

GROWTH MODEL
One of the secrets to Tallgrass Freight's growth is its agency model. Brokers are essentially the boss of their own business. They set their own hours and goals, and they keep two-thirds of the profits. In exchange for its cut, Tallgrass gives those brokers access to its cutting-edge customer relationship management platform.
The company handles billing and collections, invests in marketing and deals with other back-office tasks.  That's allowed Tallgrass to attract seasoned brokers from bigger competitors. These are people who know the business but are sick of the rules and high-pressure sales quotas of larger freight companies.
While Tallgrass promises more freedom to its affiliates, it's also a lot pickier about the people it selects. Anderson vets each and every person for a culture fit before they can join the team.
"We treat people with respect," Anderson said. "Dave and I take a lot of effort to make sure that we create an environment where people understand, hey, it's human beings you're working with. It's not just somebody you can step on to get where you want to go."
'I CAN DO THIS'
Anderson got into the industry back in 2006 when he went to work for a major freight broker here in Kansas City. It was a good opportunity. Beyond the salary and health insurance, he learned the business and earned a great reputation with customers.
It could be frustrating, though. He really liked his clients, and if they had a problem, he wanted to fix it quickly. Company policy was to kick any issues over to a separate department like claims or adjustments, but Anderson made a point of staying involved because he was personally invested.
One time, a client needed to book a shipment over the weekend, and Anderson's old company didn't allow him access to the computer system from home. So he drove 22 miles to the office. Then he knocked on the glass doors until someone finally let him in.
"Finally, I just hit the wall," he said. "No amount of money made it worth it. And I saw the numbers, and I thought: I can leave. I can do this on my own."
When he started Tallgrass Freight, Anderson planned to maintain a relatively small book of business, but it kept growing. Worried about customer churn, he was always on the prowl for new business, but the churn never came. His customers stuck with him.
"Because they see you care about problems and you're the buck-stops-here person," Anderson said.
As his book of business grew, Anderson brought on a buddy who wanted to go out on his own but didn't have the necessary certifications. And then another friend. And another. They all operated from Anderson's farmhouse.
To streamline their work, Anderson hired a couple of developers to build a database, which gradually evolved into a CRM. (The first server was kept in the basement because the farmhouse didn't have air conditioning, and that was the only place cool enough.)
While the extra people and the CRM helped, Anderson found himself drowning in work. He would book freight and interact with clients during the day, but he had to stay up until 2 or 3 in the morning to create invoices, manage billing and tackle other must-do tasks.
Finally, a friend introduced him to Barnes, who was working as a consultant. Not only had Barnes launched successful businesses of his own, he had freight experience, too.

Barnes was a life-saver. He helped Anderson discover some efficiencies and bring his workload back under control.
And it was Barnes who suggested they might be sitting on a massive opportunity. What if they expanded their agency model and started working with people Anderson didn't already know? With some enhancements, the CRM could support an even larger team.  Plus, the two of them clicked.
"Damon is the extroverted sales guy, can sell ice to an Eskimo," Barnes said. "And I'm operations and process, analytical — I'm a numbers nerd. So the things I really love to do, he hates. And the things he's really good at and likes to do, I hated."
After a few months, they decided to join forces.
"We negotiated me buying into the company on a napkin at the Hereford House, sitting by the bar," Barnes said.
ON THE ROAD TO $100 MILLION
Were they surprised by Tallgrass Freight's explosive growth?
"I personally wasn't," Barnes said.
Anderson laughed: "I was!"
"I knew the caliber of the sales agent that comes to work for us," Barnes said. "I had a very good understanding of what their value was from a monetary standpoint."
Right now, the company is on a trajectory for $100 million in annual revenue within 24 months.
Organic growth is enough to get Tallgrass Freight to $75 million to $80 million. They're also looking at acquisitions. In July, the company completed its first-ever purchase, buying Westport Business Group, and would like to carry out a few more deals.
"You can do incredible things when you go through and acquire good talent," Barnes said.
And that's really an echo of what Anderson has been trying to do ever since he had his first friend come work with him at farmhouse: Find good people, give them a shot at doing great work, and — if there's a good fit — you'll be amazed at the results.
Of course, not everybody is a good fit. Some people aren't ready to be their own boss. They need someone pushing them to make X number of calls every day to generate new business.
"In essence, every agent we get here is somebody starting their own company," Anderson said. "We can only give them so much. Make sure you really understand what it means to work. Because if your internal boss isn't pushing you, no one else is going to."
ONE STEP AHEAD
Finding good people is just one part of high growth.
Tallgrass also has continued investing in its platform so it can handle an increasing workload. If the platform weren't as efficient as it is, the company would have to hire more people, which would cut into profits.
Another key? Fast-growing companies often face a cash gap as they add people and resources to service new business. Having a good lending partner — and having a relationship in place before you need it — is critical.
"Growth costs a lot of money," Barnes said, "and you better stay ahead of that. Because banks don't loan money to people that need it."
SNOWBALL EFFECT
Every December, Tallgrass Freight hosts a Christmas party, and it's always bigger and better than the year before. Almost everyone turns out, even the brokers coming from the other side of the country.
A lot of times, it's the first time that Anderson has ever met the new brokers face-to-face. One of the first things they tell him? "Thank you."

Thanks to Tallgrass Freight, they're able to work when and how it makes sense for them. They're not under pressure to bill more and more and more every month, though they've got the freedom to pursue the brass ring if they want to.
"We get thank-yous all the time, and it's almost … I don't really want to say 'you're welcome' because we're all part of this together," Anderson said. "But like Dave said, we cried over a few people last year. Their stories are so exciting."
Barnes is proud of what they've built. "We don't need to be the biggest, we don't need thousands of employees and all of that," Barnes said. "But if you find the right people, and you treat the right people the right way, funny how things can come together and really start to snowball."