Last year, Lever1 was the fastest-growing private business in the Kansas City metropolitan area—in the entire state of Missouri, in fact.
ENTREPRENEUR | Erica Brune
COMPANY INFORMATION |
Lever1
510 W. Fifth St.
Kansas City, MO 64105
(816) 994-1300
www.lever1.com
TYPE OF BUSINESS |
Professional employer organization
YEAR FOUNDED | 2012
EMPLOYEES | 17
KEYS TO SUCCESS | "Secure some capital up front to invest in the infrastructure."
The company, based in the River Market, is a professional employer organization (PEO) offering outsourced payroll, benefits and HR services to other businesses.
For the three years ending in 2016, Lever1 reported growth of 6,559.79 percent. Annual revenue for 2016 alone was $27.6 million. As a result, Lever1 landed at No. 44 on the Inc. 5000 list of the nation's fastest-growing companies.
Not bad for a company that, when it launched, wasn't really designed to make big profits.
"I have several business partners, and we created Lever1 to serve as our back-office administrative company for other co-owned businesses,"
said Erica Brune, the company's president.
Lever1 delivers HR expertise to Gragg Advertising, IntegriShield, Target Direct Marketing and other companies that share common ownership. That way, those organizations can concentrate on their core businesses.
At first, generating a profit wasn't even a major goal for Lever1. But Brune and her team found a string of other businesses hungry for a service like theirs.
"Very, very quickly, we were able to start making sales, and it's just grown exponentially beyond the sister companies," she said.
The ROI of PEOs
In the United States, as many as 180,000 small or medium-sized businesses use PEOs to provide benefits and other services to 2.7 million
to 3.4 million workers, according to the National Association of Professional Employer Organizations.
When a company hires a PEO, the PEO becomes the official employer of record for that company's workers, though the client company continues to directly supervise its own employees.
The benefit for Lever1's clients is they no longer have to worry about managing all the HR functions on their own. The PEO will administer benefits, answer questions about employee disagreements—pretty much anything that a traditional in-house HR rep would.
A lot of smaller businesses take a piecemeal approach to those tasks because they don't have a full-time HR professional on staff. The owner might be responsible for HR and personnel issues, while the bookkeeper takes care of payroll and the firm's attorney puts together
an employee handbook.
A PEO brings all those tasks together in one place, where they can be managed by people who were trained to handle them.
And, because a PEO typically represents several companies, it creates a larger pool of workers, allowing the client companies to enjoy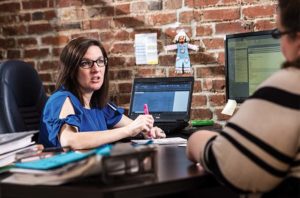 better rates from insurers, not just for health benefits, but for workers' compensation or discrimination claims, too.
That can make a big difference if a small business is hit with a large, potentially catastrophic claim.
"That is so disruptive to the cash flow and the culture—it's very hard to overcome that," Brune said. "When you have that spread across 60 companies, several thousand people, that risk is then mitigated."
For smaller companies, PEOs also provide the ability to offer benefits they might have trouble accessing otherwise.
"We have a client that secured health insurance for their employees for the first time," Brune said. "They looked at quotes for the three years they've been operating their business, and they simply (couldn't) find anything that was even reasonably priced."
Then Lever1 got involved. The employees now have better options, and the employer has another way to retain team members.
"That's impactful, and so we're really proud of that," Brune said.
'We're Allowing Them to Focus on Their Business'
Brune is a Shawnee Mission South grad who started her career in New York City and worked her way up to chief administrative officer for a law firm there. A certified theater buff, she loved catching the latest shows, but she was less enthusiastic about paying Upper West Side rent.
She returned to the Midwest in 2008 and was hired as director of operations for Gragg. Lever1 spun off in 2012.
Today, Lever1's sister companies account for only 15 percent of its business. The rest comes from companies in several fields: skilled
trades, law firms, property management, advertising and hospitality, among others.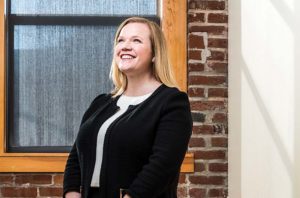 "The whole theory is, we're allowing them to focus on their business and mitigate that risk for them," Brune said. "They can grow faster, take those dollars and resources, and put them back into the business and grow. Therefore, (it's a) they-grow, we-grow kind of a concept."
While most clients are headquartered in Kansas City, many employ salespeople and other workers across the country. Because employees must be taxed where they live, if working out of a home office, and because workers' compensation programs live at the state level, Lever1 currently operates in 44 states—which means Lever1's staff must study and comply with the ever-changing regulations of 44 states. It's one staffer's entire job.
A big part of Brune's job is getting out into the community to give talks or appear on panels where she can introduce Lever1 to business owners who may not even have heard of PEOs.
"We really have to go out and market ourselves," Brune said. "So if they learn about it, they come on board. But a lot of them don't know it's still an option for them."
Referrals are another major source of business, but those often involve a lot of education during the sales process. While PEOs have become more popular, the concept is still relatively new in the Midwest.
Brune is able to be out of the office so often only because she has a team she trusts to put out fires and keep the day-to-day business running. She called her vice president, Nicole Tackett, her secret weapon.
"In the president's role, my job is to really be out in the community, creating awareness, driving sales, making sure we have the tools to be successful in the business," Brune said. "So that leaves somebody here in the office making sure clients are happy and that payroll gets processed."
Tackett, who's been with Lever1 from the start, has been essential to the company's growth.
"She possesses that skill set of you can count on them to do anything, trust them with your life—and that's not something you can train," Brune said.
'Every Day, Every Client Is Different'
Tackett is one of 17 people employed by Lever1. The company probably will add three to four more people by the end of the first quarter, Brune said.
The growth in head count hasn't been a straight line. When the company started, it employed accountants, public relations representatives and other service providers that didn't line up with its PEO mission.
"We were kind of the jack of all trades," Brune said, "and now we've really streamlined and focused on being just the PEO."
One of Lever1's biggest challenges has been finding employees who are OK with the constant changes that come from being an evolving company.
Brune might go out and give a talk on safety issues and attract five new clients interested in safety services. Suddenly, Lever1 needs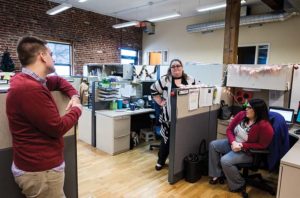 someone who can devote their time to that topic.
"While I love that environment, I'm aware that most people that you employ don't," Brune said. "And so that's been a challenge."
Lever1 is compensating for this by hiring for adaptability and making sure job applicants know that, if they're hired, change is going to be a fact of life.
"We are trying to be clear that every day, every client, is different," Brune said, "and to be really successful here, you're going to need to bounce around and try all areas of what we do based on the needs of the business."
'We're Not Seeing That Slow Down'
While Lever1 wasn't originally built to be a big moneymaker, its leadership has been deliberate and aggressive about pursuing growth.
Brune's advice for other entrepreneurs interested in becoming a fast-growing company? Secure capital up front, and be willing to invest in the people, resources and systems that will allow you to grow quickly.
"You can't exponentially grow if you bring on a client, hire a staff member, bring on a client, invest in the software," Brune said. "You get so far behind the eight ball, it's impossible to catch up."
In Lever1's case, it meant building its own time-and-attendance software early on. When a new client signs up, they start using the same software as every other client. That way, Lever1 avoids the cost of managing dozens of different systems.
It's easier to do this at the start of the client relationship, rather than adding 30 clients and then deciding to move them all over to a brand-new, proprietary timekeeping system.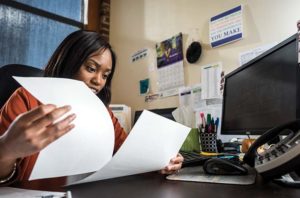 "The baby-step approach of one account at a time is fine, but it's not exponential growth," Brune said.
And that's what the Lever1 team expects to see in 2018. Growth in 2017—which will be realized this year—was strong. "We're not seeing that slow down," Brune said.
While the Inc. 5000 ranking was an honor, her proudest moment was something simpler.
"I think turning a profit was probably the proudest moment," Brune said. "Because you know it really shows that everything you've been doing does work. And I kept seeing it, and I kept feeling it, and I kept knowing that it was happening, but until the rubber hits the road and the dollars are there for your investors or your partners, you feel such a sense of pressure. And then once it's realized, it's such a relief."