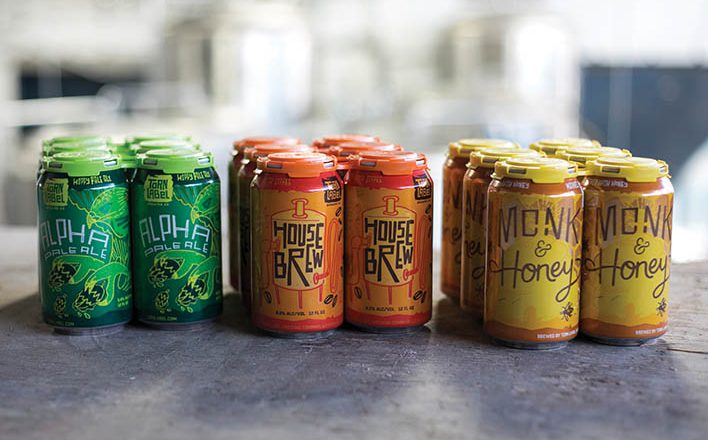 Torn Label Brewing Co.: Concocting collaboration
Having the opportunity to combine three of his favorite things — beer, Kansas City and working with others — makes Rafi Chaudry's job one of his dreams.
As one of the founders of Torn Label Brewing Co. (his partners are Travis Moore, Carol Troutwine and Chad Troutwine), Chaudry works to not only to promote the brewery's products, but also find partners the brewery can work with on developing others.
"Craft beer is all about innovation," Chaudry said. "Our fans enjoy seeing different beers."
Brewing up partnerships
"Travis was a very talented homebrewer," Chaudry said. "We spent a lot of time talking about working together and about beer."
The most visible partnership for the brewery so far has been with one of its neighbors, Thou Mayest Coffee Roasters. The two companies share geographic proximity and a similar outlook, he said.
"We have a similar philosophy of business," Chaudry said.
Torn Label uses Thou Mayest cold press for its House Brew, one of the brewery's three year-round beers. The collaboration came to life with a lot of trial and error, mixing beer and coffee until the perfect blend emerged.
"We worked with them to talk through the whole process," he said. "How we wanted the beer to be; how they wanted the coffee to be used, rather than just picking up the coffee and brewing. It was a real collaboration."
'Relationship-based' collaborations
Many of the other collaborations for the brewery come from its liquor distribution, bar and restaurant partners, and even other craft breweries.
"Everything we do is really relationship-based," Chaudry said. "These guys sell our beer. They understand what we are doing, so we're able to talk through concepts, promote them, etc.."
As for working with competitors in the craft brewing industry, Chaudry says those projects are a fun way to showcase what's going on in Kansas City with craft breweries.
Torn Label has some exciting projects coming up, including one with Eric Jones, who recently left Bier Station and is readying to start his own place.
Getting to know Jones when he was a bartender at Bier Station (which serves Torn Label), Chaudry and his team are excited to help him with the new venture.
The brewers also look forward to being back up to full capacity and more when it comes to production. A recently completed expansion will mean more beers on tap.
"We had been running low," Chaudry said. "While it's a good problem to have, we are looking forward to being back on top of our inventory."
The brewery recently embarked on an expansion, which may lead to more collaborations. Right now, there are limitations to the amount of beer the brewery can produce, so the year-round flavors have to come first.
"Sometimes we are limited by capacity," Chaudry said. "We have very few empty days."