Susan Tripp just wanted to stay organized at work. She ended up creating one of the country's fastest-growing companies.
Back in the early 1990s, senior chemist Susan Tripp was frustrated by her cluttered workspace at Marion Laboratories. She needed a better system for storing and accessing her samples, reagents, tools and equipment.
"I needed to organize my lab," Tripp said. "Purchasing didn't have anything."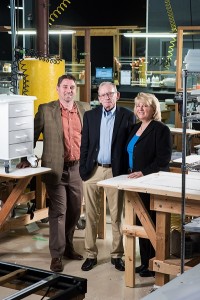 Tripp sketched a design and asked her handyman husband, Bob, to create a bench-top laboratory organizer. Bob built and presented a model three days later that perfectly suited her needs. Tripp realized that she had a viable product, one that neatly solved a common workplace problem and didn't exist on the market.
"Honey, this is our business," Tripp said to her husband.
Today, TrippNT has been recognized as one of the country's fastest-growing businesses, with a client list that includes NASA and Harvard. But the success was only the result of years of hard work and continuous, focused improvement.
With the Mighty Micro, as that first lab organizer was dubbed, Tripp launched TrippNT as a one-person operation in 1993 out of their home. She bought direct mail lists and called companies such as VWR International and Thermo Fisher Scientific that she had worked with during her 16-year chemistry career. By the third year, sales were growing, but they just were not profitable.
"I was selling mostly through direct mail and knew it wasn't working," she said. "I went to SCORE. A former IRS auditor evaluated my business and said that I couldn't afford to do direct mail anymore."
Tripp needed help to sell her product line. She went direct to distributors and slowly built a network that helped to boost sales. "We had no competition for years," Tripp recalled. "Now everyone copies us."
To keep ahead of the competition, Tripp expanded the product line to manufacture mobile carts, dispensers, bins and organizers.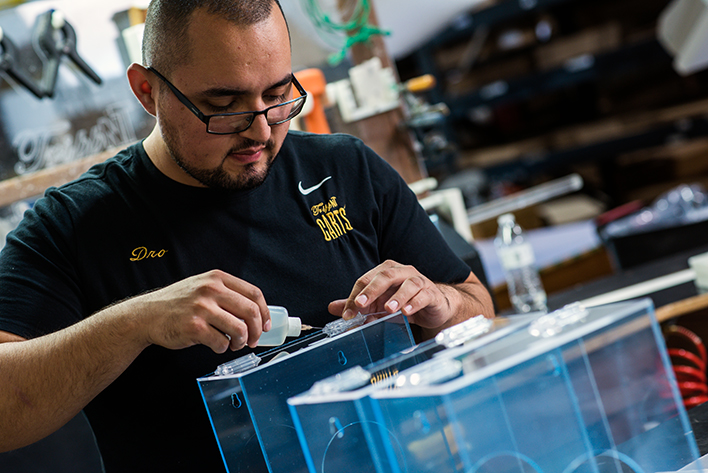 Growing Pains
As sales increased, TrippNT moved from its home-based operation in 2000 and expanded to a commercial location in Raytown. The company moved a second time seven years later into a 16,000-square-foot commercial property located near the far northern edge of Kansas City. Faced with continued growth and a need for more inventory storage, TrippNT anticipates another move in 2016 to a larger space that will house its headquarters and a larger manufacturing facility.
"In our first eight or nine years of operation, there was only double-digit growth," Tripp said, "and we've had steady double-digit growth in nearly every year since."
Yet that growth still isn't sufficient for Tripp. Other manufacturing companies were earning $100 million per year. She knew that the company could perform better.
Tripp and her team, including son and company vice president Sebastian McLeod, understood that employees were working hard. However, the company was only attaining modest increases in annual revenue. So about two years ago, they reassessed operations and underwent a transformation.
The company, with the help of a consultant, applied just-in-time practices to better manage inventory and costs through lean manufacturing. Tripp and her team adopted the philosophy and practice of kaizen, a Japanese term for "continuous improvement." Ongoing changes included rearranging equipment and workflow on the shop floor. As a result, they optimized the time and effort it took for raw material to progress from storage to manufacturing, assembly, quality assurance checks and shipping.
"We cut waste and saw a 30 percent improvement in efficiency," McLeod said.
In the office, TrippNT modernized its fax, email and phone operations. The company integrated accounting, billing, ordering, shipping and other processes, systems that previously didn't "talk" to each other. The company reduced data entry and minimized error rates.
While important, these sweeping changes only moved the needle so far. TrippNT needed to figure out how to jump-start growth.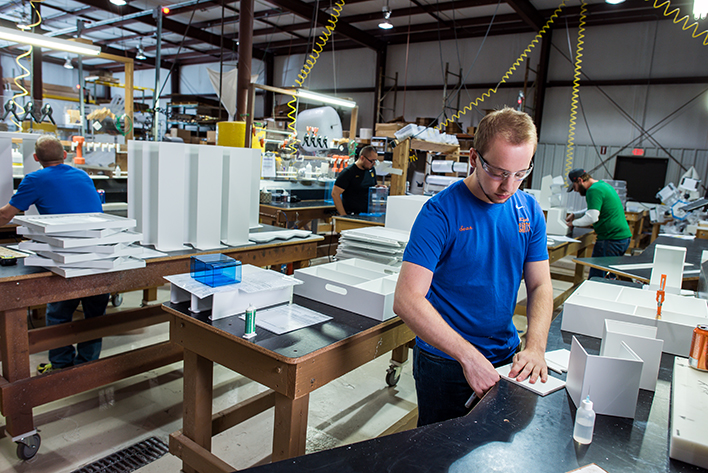 Laser Focus
The answer TrippNT sought was to get back to basics.
"We spent three weeks as a team. We looked at what we were best at," Tripp said. "When we started, all we did was lab organization. If we're going to get to $100 million a year, we needed to change what we were doing."
The company scaled back on its diverse product line. Tripp and her team now focus only on customizable mobile carts for a range of industries, primarily in health care and science. TrippNT's carts come in 40 base models with hundreds of configurations and accessories. The carts are durable, portable, affordable and resistant to corrosion, water and rust. The company offers a 100 percent, total-replacement lifetime guarantee on its products.
"Our mission is to create high-quality carts with the best value on the planet," Tripp said. "Now we're laser-focused. We're leaders of the pack."
By only building carts, the company could produce more daily. To boot, the carts generated better profit margins than the other products.
TrippNT's decision has paid dividends in sales and stature. Inc. magazine recognized TrippNT as one of the 5,000 fastest-growing private companies in America for 2014 and 2015, and the company is on track to make the 2016 list. Revenue has climbed from $2.4 million in 2014 to a projected $3.2 million in 2015 and $4.2 million in 2016. Approximately $15,000 to $20,000 worth of product ships out daily from the plant.
The company's carts are sold through distributors and TrippNT's website.
"Our clients include Mayo Clinic, National Institutes of Health, Coca-Cola, Boeing and Lockheed Martin," Tripp said. "Our products go to clients who are doing something good for the world. The best scientific minds use our products."
Find Good Fits and Make Space
For Tripp, achieving goals and sustained growth doesn't come at any expense.
"Our first priority is to be a great place to work. People have to work," Tripp stated. "We could be bigger, but we also value quality of life."
To that end, TrippNT fosters a close-knit work environment. The company offers meaningful perks such as having an in-house chef on staff that prepares family-style lunch and afternoon snacks each workday. On this particular day, Tripp and her staff dined together and bonded over lasagna, salad and limoncello for dessert. They shared news of engagements, children, home purchases and other details that intertwine their lives with a sense of community.
"We have a carefully selected group of people," Tripp said. "There's low turnover. We pay well and take care of problems while they are small."
Before lunch, Tripp shared an anecdote that highlighted the bond with her husband, Bob.
When Tripp started the business, she kept a legal notepad on a table by her bed. When a business idea emerged, she immediately wrote it on paper. She has recorded notes on multiple notepads, and compiled a three-year log of ideas.
"I evaluated each idea on a scale of one to 10 against three criteria," Tripp said. "Did the idea take advantage of my experience and education? Did the idea take advantage of my husband's experience and education? Could it be done during workdays?"
Tripp adapted this method to evaluate and determine if an idea fits, and continues to use the process today.
The inclusion of Bob's knowledge, skill set and experience is no accident—he's been an essential part of Tripp's success.
"Bob has always been supportive and an enabler for me," Tripp said. "If I need to travel overseas and change time zones to prepare in advance, he changes time zones with me."
Another key to TrippNT's achievements has been Tripp's own lifelong drive to be successful. One memory stands out.
"In college, I looked in the cupboard one day, and all I had were beets, eggs and potatoes," she said.
Tripp made a meal out of those meager ingredients, but thought to herself that she didn't want to be hungry and poor like this later in life. She took steps to graduate, earn a living and learn her trade as a chemist before launching TrippNT.
As the aroma of lasagna wafted throughout the office, Tripp's college anecdote formed a striking bookend compared to the person she is now as the leader of a thriving company.
After lunch and conversation, Tripp and her team returned to work. She's not one to rest on her laurels. TrippNT has customers in over 20 countries around the globe and orders that need to ship. After all, success doesn't just land anywhere. Tripp has to make space for it.
(photos by Dan Videtich)