Social media has become a part of our everyday lives. Did you know that an incredible 4.62
billion people log into their social platforms every single day across 58.4% of the world?
Social is no passing fad, and this is set to deepen with every generation.
If you're an ecommerce company who wants to make the most of your digital and social
opportunities, take a look at the benefits of building your profile online, and why you should
integrate social media into your overall marketing strategy.
Why Social Media Marketing is Good for Business
1. Build Brand Awareness
Social media is one of the best ways of building brand awareness. Consumers prefer to buy
from brands they are familiar with, and being active on social media platforms can help turn
your brand into a recognized commodity.
By being proactive on Instagram, Facebook, Twitter and TikTok – customers will get used to
seeing your name, logo and content – all of which breeds familiarity and trust. As customers
like and share your content, you'll also be introduced to a broader audience which grows
your network and your name.
Of course, you should be selective about the social channels you use. For example, if your customers
aren't on TikTok, there's little sense in you investing time and money there.
2. Engage With Your Audience
Being part of social media means joining the conversation. Social media is all about
engagement, conversation, interesting content and bringing the human touch to your brand.
Posts, tweets, pictures, video content and working with influencers all allow you to connect,
engage and have a discourse with your audience. Engaging your customers also feeds into
trust and brand image, while boosting your SEO.
71% of consumers who have had a positive experience with a brand on social media will go on to recommend a business, showing the power behind social media and positive engagement.
3. Gather Data
Social media can be a great way of collecting and curating data. Facebook, Twitter and
Instagram all provide analytics, so you can collect info on who is visiting and engaging with
your content, and also which content is getting traction and which is falling by the wayside.
This can be truly valuable information when it comes to piecing together your content plan
and finding meaningful ways to connect with your customers.
4. Improve SEO
The more your name is used across the search engines, the better chance you have of
rising up the search engine rankings. Organic SEO can come from having an active
presence on social media.
While Google will say that likes, shares and links don't directly impact rankings in a black
and white manner, any online visibility and positive responses to high-quality content will
naturally boost your visibility.
5. Generate More Leads
Social media marketing can help your brand establish, develop and even clinch new leads.
Social media helps to get your brand known and recognized, it connects you to a wider
audience, and it provides space for advertisements, content sharing and a call to action.
Instagram has features that directly link visual products to your web pages and store –
making it even easier for customers to find exactly what they are looking for. In fact, 66% of
marketers say that just six hours of social media marketing each week helps generate leads.
marketing each week.
6. Identify Trends and Connections
One of the major benefits of social media is that it can be a valuable tool for identifying,
following and even just becoming aware of current trends and conversations. This helps
your brand to stay relevant in an ever-changing world. Social media also helps you to make
those connections and collaborations that matter with other businesses.
7. Build Community
Community is much more than a buzzword when it comes to the future of marketing.
Connection and community are going to be two of the biggest trends and drivers in 2022,
and social media actively fosters this. Through the use of tagged photos, hashtags,
challenges, videos, influencers and authentic storytelling, customers can now become
models, narrators, influencers and active participants in the world of the brands they love.
This is community – and feeding into those feelings of belonging, togetherness and being a
part of something can bring even more meaning to your brand.
8. Cost-Effective Marketing
Social media is one of the most cost-effective marketing tools with a very healthy return on investment. Creating profiles on social platforms is mostly free, and even the paid promotions through these platforms are competitively priced in comparison to other means of advertising.
You also have the added benefits of bringing in quality traffic through targeted ads, you can
track the success of campaigns so you aren't wasting precious resources on ideas and
content that isn't working, and you can effectively build brand awareness on a tight budget.
9. Manage Your Reputation
Word of mouth is hugely important for brands, and the last thing any company wants is to be
blasted all over social media by an unhappy customer. Having social media marketing helps
you to manage your reputation in real time.
An estimated 67% of consumers turn to social media to directly problem solve with the
company, meaning that businesses need to address customer service via social channels.
Having someone from your company active on social media can help to identify how your
name is being used in the public space.
Active and timely social media marketing can also improve your customer service response
time and connection with your customers, which further deepens trust.
10. Boost Sales
All roads in marketing lead to boosting sales. Building brand awareness, strengthening
sales, engaging your audience, boosting SEO, generating leads, staying relevant and up to
date with trends, nurturing community and keeping your reputation sweet are all the tools
you need to build a steady stream of sales. 78% of marketers who use social media say that
sales increased as a direct result of using these platforms.
In a world where billions of people actively use social media every single day, it just makes
sense to utilize social platforms for your business.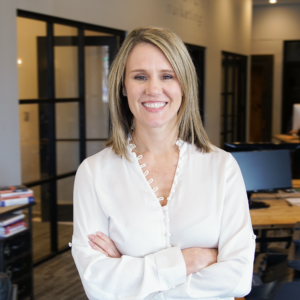 Brandee Johnson is the owner and CEO of LimeLight Marketing. After a 15 year run in corporate America, working for leading brands Deluxe Corporation and LEGO, Johnson followed her long-time dream of starting her own company and founded LimeLight Marketing, a brand, digital marketing and development agency that helps brands foster customer trust and grow market share. Since then, the agency has grown rapidly to serve companies across the US.