Lead generation can be a real challenge. And the type of B2B business you have can impact how you connect with your customers when it comes to generating leads.
If you're a company dealing in a niche product, you likely need a customized solution for reaching your target audience and helping customers understand how a specific product can help them.
Let's take LimeLight Marketing's recent work with a client, a business that designs, makes, and services machines for bakeries. It's a complex piece of equipment that slices, bags, and seals baked goods. Bakeries need it, but they don't know what it is and maybe aren't aware of how it could benefit them.
If you're in this sort of position, it means that relying on your website or blog posts may not be enough to draw customers in. A more customized approach for connecting with potential customers and communicating your message – and generating valuable leads – is needed.
Here are a few steps that helped us generate those leads for our client…
Step 1: Understand the e-commerce problem 
To get to a solution, the first step is to identify the problem. In this scenario, the problem is an expected and even common one when it comes to manufacturing businesses – the product is niche and the customer doesn't always understand it.
And if they don't understand the product, they don't always know they need it, or they may struggle to grasp how it can help them.
Therefore, your website's product page should not only connect with and inspire the customer, but also be very intuitive. It needs to reach customers where they already have knowledge and connect the dots to your solution. Which leads us nicely on to…
Step 2: Create the solution 
Back to our client's customers – bakeries. Bakeries know what they need. They know that they have a range of baked goods that need slicing, packing, and sealing. They know a machine would help. They have an in-depth understanding of their own product – the weight, shape, quantity, and the way in which the end result should look.
But they may not know which machine they actually need to help them with that. After all, they're bakers, not manufacturers.
It's important to switch to the customer's mindset at this point. When selecting which machine may be best suited for their needs, think about questions a customer might ask if you were talking to them face to face. You can then distill this down to several key questions that might help your customers define which product is the right fit for their personal needs.
Once you have those questions, you can get creative with the execution, i.e. how you might preemptively answer those questions. Leverage the experience to make it intuitive, interactive, and enjoyable – and to secure that connection with a potential customer.
In this case, we wanted to create a BuzzFeed-style quiz. We wanted it to be delivered in an engaging and fun way, with the aim that when bakeries completed the quiz they were told the exact machine they needed (along with a simple way to get a quote).
Step 3: Keep it simple 
One of the major aims when crafting a digital experience for lead generation is to keep it simple. No one wants to deal with something overcomplicated, and this may be the first experience they've had with your company – it has to count.
Our next step was building the quiz, with an emphasis on the interface and keeping the experience super simple so that anyone could use it.
If you're at this stage, we also needed to make decisions about the benefits of offering one question at a time so as not to overwhelm the customer, rather than going for the standard scroll. It's also when we considered images and other elements to keep it engaging and intuitive without compromising on simplicity.
Step 4: Branding through visual design
Once we had the outline for our quiz, we considered the visual "pop" and how to align the quiz with our client's branding.
We wanted to make sure that the quiz was unmistakably from our client. We added brand colors, custom iconography, and other elements that visually connect this digital experience to our client.
That's because a customer's trust will deepen when a brand identity is consistent throughout.
Step 5: The final test 
The final step in this process is to develop and test. This is a hugely important part of the process as you want to make sure that the digital experience is fun rather than frustrating, and that the results delivered will actually help your company with lead generation.
Remember the end goal is to offer your client a tailored solution to their problem – in our client's case, a machine that fits their customers' needs.
Extensive testing was needed to ensure that whatever path the quiz taker decides on got them to the right solution. Once the technical aspects have been put through their paces, the quiz was launched.
Solving your customers' problems 
The aim of this whole process is to creatively solve your customers' problems. You have a product they need…they just don't yet know they need it.
Rather than go through the hard sell, you can generate leads through a fun digital experience that presents a tailored solution. While the specific solution highlighted here may not work for every e-commerce business, it's a good way of showcasing how companies with niche or complex products can create an engaging connection with potential customers, and explain a complex product in a simple way.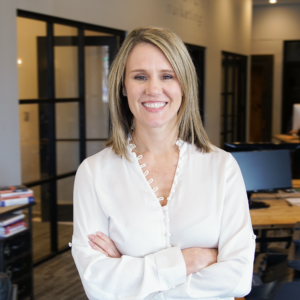 Brandee Johnson is the owner and CEO of LimeLight Marketing. After a 15 year run in corporate America, working for leading brands Deluxe Corporation and LEGO, Johnson followed her long-time dream of starting her own company and founded LimeLight Marketing, a brand, digital marketing and development agency that helps brands foster customer trust and grow market share. Since then, the agency has grown rapidly to serve companies across the US.