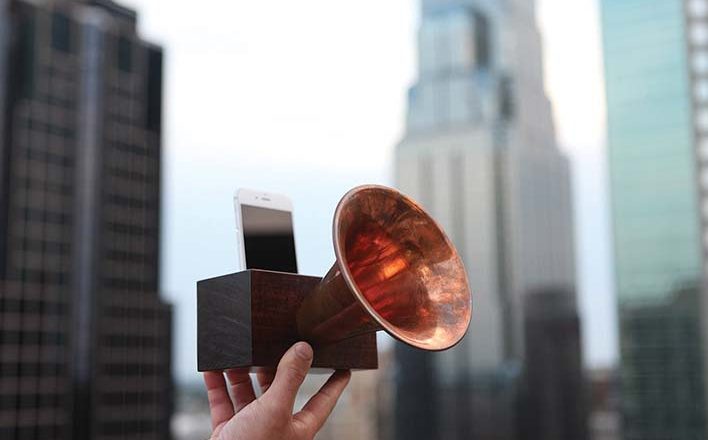 Blowing an Old-Time Sound
Edison Amps Made Music From an Annoyance
Tom Stein believes problems are only opportunities. You should listen to him, or at least listen to music via one of his Edison Amps.
Stein began making Edison Amps when his wife Julie suggested that placing his cell phone in an empty pint water glass to amplify the music while he was in the shower was unsanitary. So, he cut the bell off his old trumpet and put it in a block of hickory wood. The device holds the phone. The diffused sound is amplified by the brass. He had music, without a messy water glass holder.
Stein began to perfect the invention through a lot of trial and error. He first tried different sizes of bells, using cornets for the first products.
An Old-Time Sound
The Edison Amp appeared in several shapes and bell sizes during development. The final design was the Classic Edison Amp, which uses wood from Missouri and a hand-worked copper bell to provide an old-time sound.
"Our big breakthrough came when we started copying dimensions of trumpet bells," Stein said. "Then we could change the Classic Edison Amp and sell it online."
Edison Amps are made by ManTables, the firm Stein and Julie founded in 2009 to disguise mundane items by using quiet-cooling technology. ManTables uses that technology to hide a beer fridge inside attractive furniture.
Stein tries to make the Amps "pretty" in a masculine way. "Our stuff is heavy, solid and made well. It is not going to fall apart," he said. Kansas City is a good spot for woodworking, he said, because of the availability of hardwood and of kiln-dried lumber.
The Amish Craftsman Touch
Stein had been working with the Amish community on production for ManTables and immediately sent the Amp design to them. "They are incredible craftsmen," he said.
Amp customers are likely to listen to music at work or elsewhere and not need high fidelity. "Eighty percent of America enjoys music and 20 percent of them are audiophiles," Stein said. "The other 60 percent are our clients." His customers range in age from 35 to 50 years old, and the income group is middle class to upper middle class.
Stein said ManTables has other products in the pipeline. "One is a design for the lake, which is in the ManTables line," he said. "The other is The Fan Boy for the living room."
Aspirations and Ethics
Stein believes Kansas City is an excellent place to start a business because so many people offer help and advice. He said he received tremendous support as he developed the Amp.
"I believe Kansas City is a great mix of cosmopolitan aspirations with country work ethics," he said.
He advises entrepreneurs to develop curiosity and gumption, or staying power, because too often a good idea fails the first time.
Stein prefers the creative side of inventing over production. He believes anyone can be an innovator or inventor if they treat annoyances as opportunities to create new solutions.
"Whether I am doing something with music, woodworking or drinking beer and an annoyance pops up, I try to think of a way to get around that annoyance," Stein said.
Stein obviously follows the well-trod path of Thomas A. Edison. There is an Edison quote on his Amp website: "There's a way to do it better—find it." Stein takes that advice and runs with it.