Happy "gratitude" month, SMB leaders! As we head into the Thanksgiving season, it's time to prepare yourself to receive all the "we're so grateful for you" marketing messages out there. 
But before you start crafting that perfect one-off email and social media post expressing your gratitude for your customers, let me tell you a secret: Everyone can see right through that.
Gratitude isn't something you should practice once a year. It's something that should guide your business and marketing principles from the ground up. 
If all you're doing is focusing on improving customer loyalty and increasing sales, you're missing a fundamental principle of marketing: relationship building. It's important to remember that a relationship is a two-way street, and coming from a place of gratitude or authenticity is a great place to start. 
Gratitude is an attitude that constantly seeks opportunities to be thankful and appreciative of the actions of others. It's choosing to find appreciation in every moment instead of focusing on the less ideal circumstances that might be close by. 
It's not providing coupons or discount codes or upselling opportunities; it's engaging with your customers in an authentic and genuine way.
Why Authenticity Is Important
Authenticity is important in order to develop trust with others. And trust is what enables those relationships to flourish over time. If you are interested in pursuing long-term relationships with your employees and/or customers (which you should be), while being 100% certain you are both providing and extracting maximum value, authenticity is the starting point. 
The act of becoming authentic is the act of truly embracing who you are. The strengths and the weaknesses. The good, the bad and the ugly. 
Being authentic takes bravery. 
It is the only way to truly uncover your company's greatest potential. Like the saying goes, "No one is better at being you than you." 
And when you do it in a way that's truly believable, you'll see the difference in your relationships with your customers. 
They'll want to engage with you despite a lack of coupon codes. 
They'll be proud to tell others of their relationship with you. 
They'll believe in your mission because it's clear you believe in it yourself.
At MAKE, we continuously try to find ways to be thankful and appreciative of our teammates and clients. Whether it is taking time out of our day to write "shout-outs" for our teammates or finding ways to celebrate wins with our clients, we always do our best to not miss a moment. 
Marketing With Gratitude
Consumers are increasingly aligning themselves with a brand's values and overarching reason for existence in the business world. According to a McKinsey study, when people are making purchasing decisions, their top considerations include companies' values and how they treat their employees. 
And as millennials and Gen Z continue to increase their buying power, that's only going to grow.
Opening up and communicating what you stand for (becoming authentic) is the first step in building deeper, more meaningful relationships and transactions. It humanizes your brand and helps bring your mission to life in a truly impactful way.
A few ways you can implement gratitude in your marketing efforts include:
Going above and beyond with things like handwritten notes, freebies or food

Giving your time to listen to your customers

Saying thank you throughout the customer journey

Interacting with customers on social media and sharing their posts

And so much more
There is an infinite number of ways you can practice gratitude and authenticity as a component of your marketing strategy, but the most important part is that you first understand your values and what's important to your business on a fundamental level. Having that base understanding of who you are and why you do what you do will allow you to easily shout your values from the rooftop and create a list of devoted and bought-in customers that shout it from their rooftops too.
The moment your customer base realizes you truly own your values and they help fulfill the larger mission by purchasing from you … get ready for a monumental increase in raving fans who follow you wherever you go. 
One of our specialties is helping brands get down to the nitty-gritty of their businesses and truly define themselves on a fundamental level. If all of this sounds great, but you have no idea where to start, reach out to us.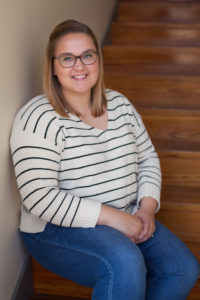 Lisa Frey is director of client strategy at MAKE Digital group, an innovative digital marketing agency that specializes in forward-thinking marketing strategies for small businesses. Lisa has 10+ years of experience creating and implementing marketing strategies for clients in a wide variety of industries. To schedule a free analysis of your marketing strategy, email Lisa at lisa@makedigitalgroup.com.